8 Amazing Ideas For Your Garden
Living & Lifestyle
2525 views
2525 views
If you think it's difficult to come up with home decor concepts, imagine brainstorming for unconventional ideas for your garden. It's a tighter space compared to the interior of your home, and there are only so many elements you can work with. We've come across some pretty clever ideas from all over the world, which have made gardens look that much more homely and beautiful.
1. The Minimalistic Approach
Credit: DECOmyplace
First off, let's take a look at something really simple. Instead of decking your outdoor space in a considerable amount of elements, you may go the other way and keep it as uncomplicated as possible.
However, that doesn't mean it has to look plain. With just a few easy changes you could make even a straightforward, no fuss garden look stunning.
Purchase pots of a simple colour scheme, in this case the owner has chosen white, silver and grey. They go well with one another, yet aren't conventional colours for a garden.. The various plants blend together to create a cohesive garden without much effort, with the chosen hues keeping it sleek and modern.
Another trick is to layer the garden with tiers. Once again, stick to your colour scheme and buy tiers with only these shades. Stack your plants onto the tiers, taking your time to arrange them by their type and also height. This adds a little more character to the space even though it's a really easy step.
2. Beige Colour Scheme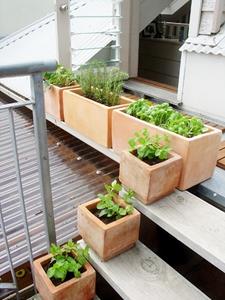 Credit: DECOmyplace
Sometimes you may be at a loss when deciding on a colour scheme that's going to compliment all that green. Beige is a great choice, because it really makes your plants pop.
The contrast between three elements, the pot, plant and soil, will result in a more outstanding garden, so much so that even if your plants are stowed away into a corner, it's bound to catch people's eyes.
Of course other light or bright colours work too, but we feel beige is our favourite choice because it looks really earthy, complimenting the entire setting.
3. Build A Greenhouse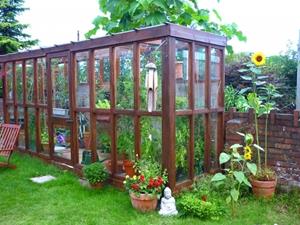 Credit: DECOmyplace
If your yard space (and budget) allows it, go all out and build your own greenhouse. It will look astounding with all its glass windows, and allows you your own private gardening space, a relaxing little area away from the world.
A greenhouse has advantages which help your plants too. Besides being a shelter from certain more extreme weather conditions, it helps keep pests out as well.
4. Day Bed
Credit: DECOmyplace
Now who would have thought of placing a day bed in the midst of a garden? But if you're the type that doesn't do conventional, then this method may really be cut out for you. You could grow incredibly beautiful trees around your day bed, providing shade and fresh air in the space.
The area will turn out looking really cozy, and can act as a serene place for you to retreat to on weekends, or even have guests over for a drink and chat.
5. Props From Around Your Home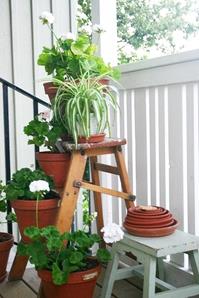 Credit: DECOmyplace
If you have absolutely zero clue how to start decorating your garden, perhaps turning to props you could find around your home may work. Some examples include small step ladders and stools, which can hold potted plants on each tier.
This way, the garden not only looks quirky, but you also spend nothing on it at all. Who knows, sometimes you may even find props around your house which inspire you to purchase other adorable items to add into the mix.
6. Outrageously Themed & Coloured
Credit: DECOmyplace
If you're the kind with a need for constant expression, then you may want to consider adopting a unique theme that's filled with a lot of colour. In the above photo, you can spot a strong oriental vibe going on, floral patterns dominating the furniture in bright hues.
It's both vibrant and inviting, making your garden look amazing as your plants surround the vivid furniture. Being in your garden will provide both positive energy and good vibes, which we're sure you and visiting guests will definitely enjoy.
7. Hanging Plants On Walls
Instead of only littering the ground with potted plants, you could make full use of your walls too. Select a beautiful colour for it, before hanging your plants on it, which adds a unique touch to the whole setting.
When you look at the finished results, the area will look stunning from head to toe, with smaller plants spaced out all over the wall, whereas your bigger plants sit at the base in their pretty pots.
8. Dining Area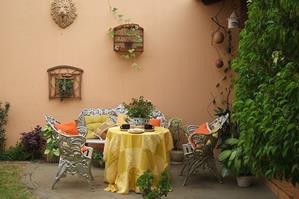 Credit: DECOmyplace
Dining in your garden might turn out to be quite a refreshing take; it allows you to be surrounded by fresh air, as you enjoy the cool breeze and a warm meal. The ambience is calming as well, which is great for evening conversation between you and your dinner partners.
Select outdoor furniture which will go well with your overall garden theme, as well as colours that would match. We suggest white, or light colours, to make the area feel more spacious as well. Add in things like cushions and table lamps to make the space look even more cozy and comfortable.
Request for quotes and we'll match you with a selection of Interior Designers!
Previous
5-Step Guide to Creating an Industrial-Chic Interior
Next
All You Need To Know About Renovation Costs (Part 2)