8 Best High-tech Restaurants Around The World
Travel
6399 views
6399 views
2015 is the year the screenwriters of Back To The Future predicted Hoverboards would exist. And while this mobility device is indeed available in the market today, they come with one disparity – the floating feature. Our society may not have reached that level of advancement yet, but we certainly are doing well in producing a new wave of restaurants that integrate technology with food.
In fact, these restaurants are so avant-garde that a large part of the experience comes from just being in them. We scoured the Internet to bring you 8 of our favourite ones that will blow the minds of even the most tech-savvy people.
1. Eatsa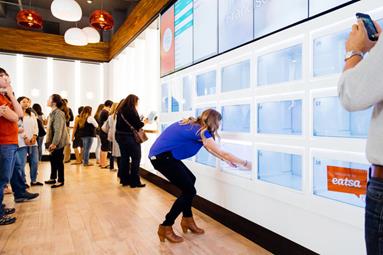 Credit: nytimes
This futuristic restaurant in San Francisco only serves one type of food – quinoa. Yet, it has become so popular that everyone in the technological world cannot stop yakking about it.
Eatsa is a 4-month-old eatery that has no wait staff, something made possible by its fully automated concept. It's a smooth process that moves customers station-to-station from the moment they swipe their credit card to the collection of food. But this isn't even the best part.
The truly eye-opening sight comes when an order is ready. Just like a high-tech movie, one of the transparent LCD screens lights up with the patron's name, and the food magically appears in the cubbyhole behind!
2. Inamo
Credits: inamo-restaurant
Expect to be greeted with tabletop menus and cutting-edge decorations at this restaurant in London. Inamo is an oriental-inspired eating house that's known for its interactive menu, beamed down onto each table from multiple projectors on the ceiling.
Credits: wired
Diners can do almost anything on the illustrated touch-screen table. Besides using it to place orders, they can play games, watch the chef prepare meals, and even book a cab through it when they are done.
3. C1 Espresso Café
Credits: concreteplayground
How awesome would it be receive burgers through a tube delivery system that travels at 140km/h? The C1 Espresso Café is fixed with transparent winding tunnels, and each table has an opening either above or under it where diners get their food.
FAST food, no less
The system is so fast that its owner, Crofskey, mentioned the speed the canisters zip around in can 'take someone's hand off.' But hey, what's life without a little danger?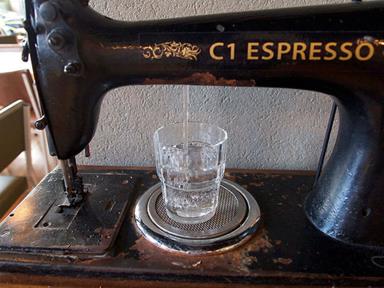 Thirsty? You can dispense water through the original Singer sewing machine! Credits: lostateminor
4. Ultraviolet
Credits: nytimes
Easily the most expensive place on our list, Ultraviolet in Shanghai only has one table that serves a maximum of ten people every night. Famous for being the world's first multi-sensory restaurant, this unusual place definitely takes eating to a whole new level.
Credits: Scott Wright/Limelight Studio
The highly immersive restaurant provides guests with an experience that provokes all five senses through its 20-course meal (Yes, 20!). Every dish is accompanied by moving images projected onto the 360-degree screen walls. Music is played from the surround-sound speakers, complete with overhead lights to create a carefully tailored atmosphere.
Located in a secret site, the dining room of Ultraviolet is enclosed and has no décor whatsoever, so customers rely on what's presented to them throughout the entire gastronomic journey.
5. Bell Book & Candle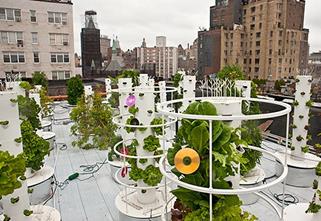 Credits: sipchatchow
The most outstanding aspect of Bell Book & Candle is its aeroponic rooftop garden, which is where the eatery gets its daily fresh produce from. As this is a restaurant situated in the city of Manhattan, the farm-to-table approach is particularly refreshing.
Because it is a soil-free setup, the plants are entwined around tall plastic columns, which help to lighten the rooftop arrangement. The vegetables are transported to the kitchen below via a pulley system, where they are used for whipping up delectable dishes.
6. Alinea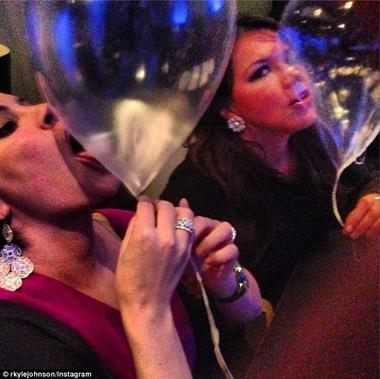 Credits: rkylejohnson
Congratulations everyone, you live in the age where edible balloons filled with helium exist. Unlike the others on the list, Alinea is one restaurant that brings advancement through its food instead of its interior.
This is one place where you won't be able to find the usual, traditionally cooked dishes. Incorporating chemistry into food, Alinea produces crazy desserts such as the dry-ice-loaded chocolate ball that drops and cracks into a – get this – pumpkin pie. That's two desserts in the form of one! Definitely a treat for the adventure-seeking taste buds.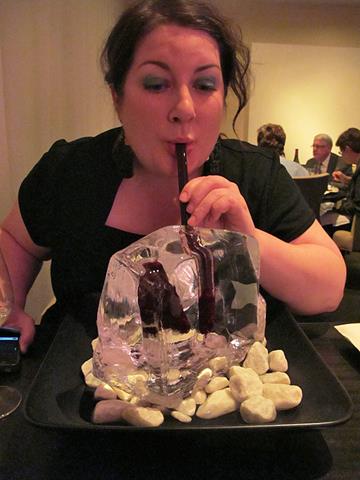 Fancy drinking liquorice through a block of ice? Credits: willtravelforfood
7. Hajime Robot Restaurant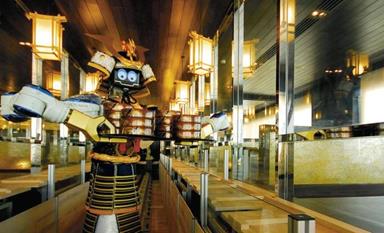 Credits: bk.asia-city
The nearest one to our country has to be this fusion restaurant in Bangkok. Instead of waiters, patrons are seated and served by robots dressed in samurai armour.
And as additional entertainment, the futuristic cyborgs transform into googly-eyed techno dancers while guests wait for food. Once orders are ready, they then glide along tracks around the eatery to deliver them to the respective tables. Certainly a fun sight for both children and adults, making Hajime a popular family-friendly spot.
8. MOJO iCuisine Interactive Restaurant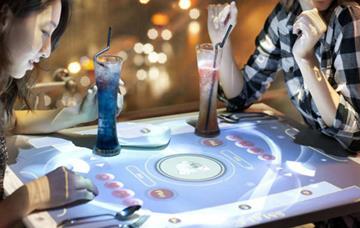 Credits: mediamenu
Believing that people should dine in a creative environment, MOJO features interactive tabletops similar to the ones at Inamo. Likewise, customers can do almost anything with the menu. From browsing and ordering to paying, it's a swift process that requires just a few pushes on the touch-screen sensors.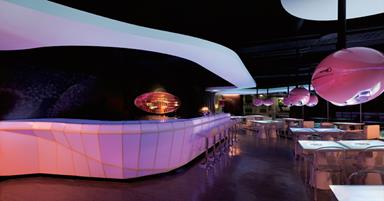 Reminiscent of space-age objects, the overhead installations not only add to visual play, they are also part of the digital menu setup. Another plus point is that the electronic fittings help to ease waiting time, as orders are processed as soon as the diners confirm them.
Request for quotes and we'll match you with a selection of Interior Designers!
Previous
4 Ways To Create A Chic White Kitchen
Next
7 Most Effective Ways To Save Money Around The House