8 Crazy Foods You Didn't Know You Can Find In Local Eateries
Best Eats
3865 views
3865 views
Forget eggs benedict. This usual suspect has been the talking point of brunch food for too long, and frankly, is becoming a has-been. Fortunately, more Singaporean cafés and restaurants are going all out in creating over-the-top items in their menus, taste-wise and aesthetics-wise. We've picked out 8 of our favourite ones that all you adventurous foodies must try!
1. Selfie Coffee
11 Haji Lane, 189204
Credit: bonvivantsg
This is one place that takes the Selfie game to a whole new level. Imagine sipping on an aromatic cuppa with your face digitally printed on it. We know it sounds borderline crazy, but this bistro allows customers to do just that. Using a high-tech machine, patrons can snap photos of themselves at the 'photoshoot' area, and have their favourite one printed on coffee foam. The café offers both caffeinated and non-caffeinated drinks, and there are even props for people to play around with if they want to jazz up their selfies!
2. South Bronx
1 Selegie Road, POMO, 188306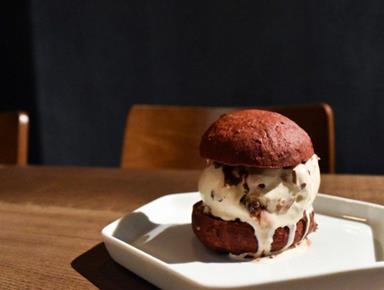 Credit: explodingbelly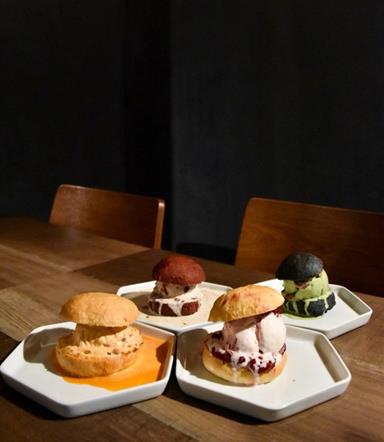 Credit: explodingbelly
Dessert in burger form, anyone? This is one sweet treat disguised as a savoury one. South Bronx offers four flavours of ice cream burgers – Red Velvet, Thai Iced Tea, Black Sesame, and Berries & Cream, with the first being the bestseller in the eatery. Sandwiched between two red velvet buns, the hazelnut rocher ice cream is also mixed with coconut nutella sauce and granola bits that when put together, is a divine and indulgent end to the perfect meal.
3. 7Kickstart
71, Bras Basah Road, 189555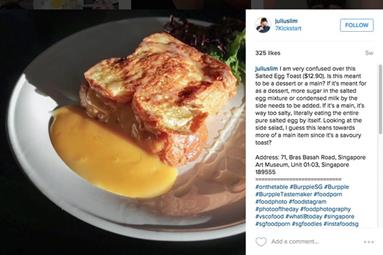 Credit: instagram.com/juliuslim
Started from just being the filling inside Chinese baos, salted egg yolk has expanded its presence in the food industry to being the star in countless dishes across our local scene. Not that we're complaining, of course. The yummy fare in question here is the Liu Sha French Toast, a heavenly piece of fried bread that oozes salted egg yolk sauce, complete with a drizzle of condensed milk to give it a slight hint of sweetness. The velvety, flowing sauce may look light, but is actually super thick and piquant, making it suitable for sharing.
4. Sin Lee Foods
4 Jalan Bukit Ho Swee, 162004
You will never see vegetables the same way again after eating the Broccoli Aburi Salad from this café. Think broccoli florets torched to crisp perfection, covered in white balsamic dressing and papadum pieces, with red sugar brushed against the side of the plate to provide it with a bit of sweetness. The mix of ingredients may sound a little odd at first, but trust us when we say that this dish is a wonderful explosion of flavours with every bite, and definitely a salad that we wouldn't mind eating over and over.
5. MEATliquor
99 Duxton Road, 089543
Credit: MEATliquor Sin
Taking local taste buds into consideration, this burger joint from London certainly stayed true to the Singaporean spirit with its launch here. It's probably also the only place where you can find Sambal Fries, a mouth-watering plateful of shoestring fries doused in chili sauce, topped off with fried shallots and two runny eggs. As it is located in Duxton, the eatery has also created an original cocktail named Duxton Fizz, a refreshing alcoholic beverage that includes Vodka, pear, strawberry, lemon juice, and carbonated water.
6. Vatos Urban Tacos
36 Beach Road, South Beach Quarter, 189767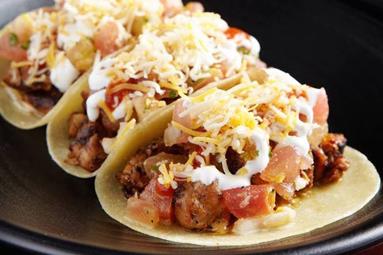 Credit: citynomads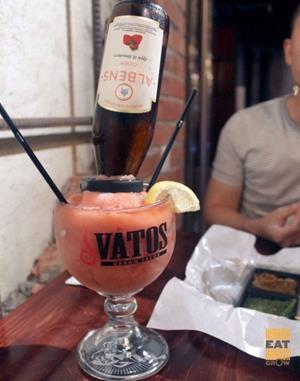 Credit: rubbisheatrubbishgrow
Part of the up and coming South Beach Quarter, this casual restaurant carries a menu that revolves around a fusion of two yummy cuisines – Korean and Mexican. Because both are bold in the taste department, they manage to produce wacky food items (coined KoMex) like Kimchi Quesadillas and Galbi Short Rib Tacos. The distinct combination also extends to the drinks with crazy brews like Makgeollita, a mixture of Korean Makgeolli and Mexican Margaritas, which looks and tastes just as unique.
7. A.E.I.O.U
111 King George's Avenue, 208559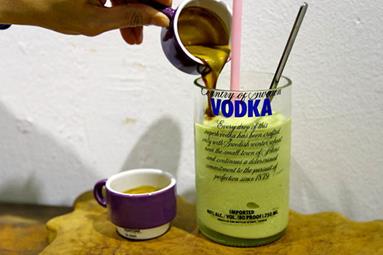 Credit: danielfooddiary
Don't be fooled by the intimidating vodka bottle – this drink contains no alcohol. Served in a recycled container, the avocado coffee is a lusciously smooth and delectable blend of flavours. Instead of the usual milk, this concoction uses avocado smoothie as its creamer component, which gives it a unique punch. It comes with double espresso shots so patrons can adjust the level of caffeine kick accordingly.
8. Springleaf Prata Place
No.1, Thong Soon Avenue, 787431
53 Jalan Tua Kong, 457251
Credit: sgfoodonfoot
Credit: sgfoodonfoot
We said eggs benedicts are passé, but we didn't mention anything about eggs benedict PRATA. Yes, the humble Indian staple has gone up a notch with this invention by Springleaf Prata Place. Created for the Ultimate Hawker Fest in 2014, the Plaster Blaster replaces the usual English muffin with plain prata, so you get a bit of crispiness with every bite. But this is not the only food fusion they have. The prata house also has something special called the MurtaBurger – lovechild of murtabak and burger – a stuffed prata of seasoned lamb patty, cabbage, and mayonnaise that makes for a great supper.
---
Cover photo: danielfooddiary, sgfoodonfoot, explodingbelly
Request for quotes and we'll match you with a selection of Interior Designers!
Previous
7 Commonly Made Mistakes When Selecting Wall Colours
Next
6 Surprising Tips That Will Make You Love Housework