8 Easy Ways to Maximise Space in a Small BTO Kitchen
Interior Design & Decor
22100 views
22100 views
According to this article by Channel NewsAsia, 60% of BTO flat buyers opt not to have a kitchen partition wall when given a choice. "One reason cited was that people do not cook as much as before, and households with less use for a kitchen can put the space to better use." 
Space is an especially big renovation consideration these days, what with houses getting smaller as the years go by. In tandem with the article on open kitchen concepts, we share our arsenal of space-saving tricks to maximise space in your kitchen.
Have a Multi-Functional Kitchen Island
A kitchen island that doubles as workspace, dining table, and even a bar counter with a wine rack?! A multi-functional kitchen island will help to save space (AND money) on unnecessary furnishing.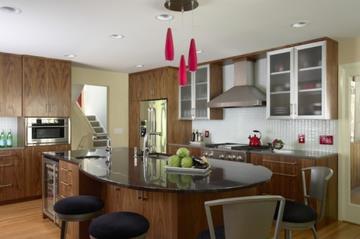 Use a Rounded Kitchen Island/Dining Table
Instead of the regular square/rectangular kitchen island and dining tables, consider using rounded ones. The smooth flowing shape of rounded kitchen island/dining tables gives you more room for seating – and will enable you to fit more people at the table.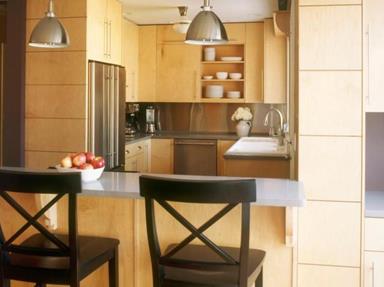 Have a Dining Table Right Over the Wall
Some people's open concept kitchens feature a wall at half height, instead of a fully removed kitchen partition wall. Instead of having half a wall to divide the space, why not utilise the wall by building a dining table/bar top right over it?
Stack Your Chairs
Stackable chairs will give you more room, since they can be neatly stored away. Keep the chairs under your dining table, or pack them out of sight in the storeroom, this is great for keeping your kitchen clutter-free.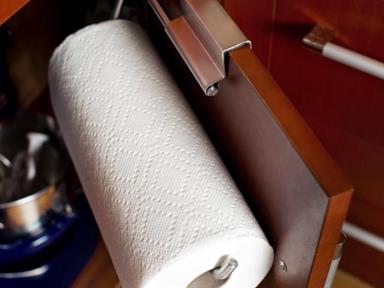 Utilise Every Inch of Space
Wherever possible, make sure to use every inch of space in the hidden areas in your kitchen. For example, place kitchen towel holders behind cabinet doors. This will bring you one step closer to keeping your countertops free of clutter.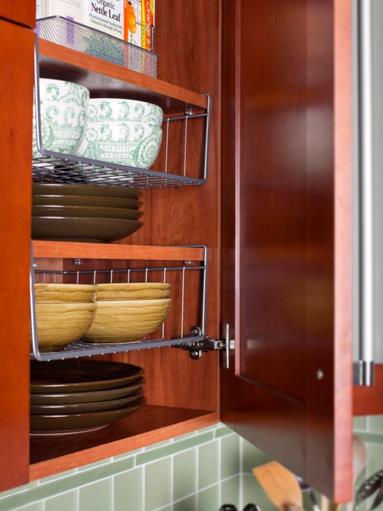 Create Double-Duty Shelves
Typically, when we store away our plates and bowls, we simply stack them up on shelves, leaving unused space between different shelving levels. This unused space can actually be utilised by smartly creating more storage levels with simple storage hacks like this!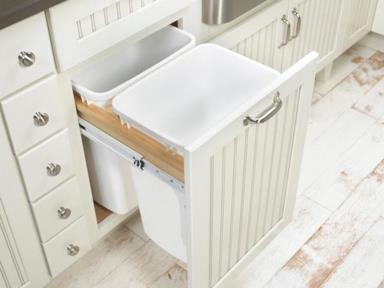 Hide the Trash Bin
Consider hiding the trash bin in your kitchen cabinet so it doesn't take up unnecessary floor space. This will once again, help to de-clutter your kitchen, while keeping the nasty out of sight.
Build a Dedicated Compartment for Your Herbs, Spices and Condiments
Chefs of the family, and those with OCD will love having this in your home. Being able to neatly organise cooking essentials, conveniently pull them out for easy access, AND pick out what we need with one quick look? Sounds like a good deal to us!
Photo Credits: Decoist; HGTV; House Beautiful
Stone Amperor: 100% Unbiased Advice & The Widest Range of Countertops

Request for quotes and we'll match you with a selection of Interior Designers!
Previous
Top 10 Cafes in Singapore Your Kids will Love
Next
33 Amazing Places for a Pre-Wedding Photoshoot in Singapore