8 Ways To Make Your Home Look Like A Vacation!
Interior Design & Decor
8645 views
8645 views
Bring the gorgeous interiors of hotel rooms all over the world to your home. Get inspired with these 8 holiday-themed interior designs specially hand-picked for you.
The New York Room
Mix it up with a blend of old world charm and modern fittings - the New York Room is easily achievable through a good mix of textures and lighting. When we say old world charm, we mean traditional fixtures like metal fencing and cement screed floors. Metal fencing is a unique way to break up your space without making your home look smaller. Easy on your wallet and oh-so-practical, cement screed flooring on the other hand, helps to pull the New York look together effortlessly with your modern fittings. To finish the luxuriously edgy look, complement your theme with a variety of textiles and warm lighting.
The Vroom Room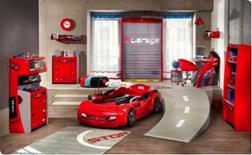 source: she777.com
If your little boy (or girl) loves cars, why not create their very own Vroom Room bedroom? It's simple. Look out for furniture with curved edges, like desks or cupboards, and simply paint on their favourite race car design. To make your children's racing dreams come true, get them a car bed. A cool addition to the room, it doubles as a place for sleep and play, with additional storage around the sides. Finally, finish off with road signs and racing car patterns around the room with carpets or patterned walls. Your children will adore this setup, we assure you!
The Maldives Room
Bring the outdoors in, and live the tropical life with the Maldives Room. Featuring wooden beams and furniture, to beach themed wallpaper, this theme exudes resort vibes. Lounge around, and sip on a Pina Colada or two – your tropical bedroom is complete with lovely laminate flooring that resembles the ocean bed with rays of light. Remember to introduce other elements like plants and seashell décor for example, to pull the look together. It is easy to feel right at home and comfortable with your very own resort-styled room.
The Egyptian Room

source: sato castle motel
Heavily accented in gold, the Egyptian Room is an eclectic vision of luxury and glamour. Think Cleopatra and her obsession with jewellery and the black kohl that lined her eyes. Similarly, deck your room in gold and black, with the occasional splash of colour. In true Egyptian fashion, also look out for baubles to accentuate your décor with. Hang a curtain of beads to bring depth to your walls and spice up the look. Remember, the magic is in the details!
The Nautical Room

source: hotel bayview hualien
Featuring clean white lines with a splash of blue, the Nautical Room beckons you to kick back and relax. Notice the white brick accent wall coming together with white and blue colours, reminiscent of Santorini? Further update the look with nautical-inspired pieces to flavour your walls. And of course, feel free to introduce small splashes of colour here and there - a pillow, a lampshade or more. With an almost minimalist outlook, the room is easy on the eyes while providing much for less.
The World Cup Room

source: sato castle motel
In tandem with the recent World Cup season, we simply could not miss out on this. Giving you the World Cup room, only for devoted soccer fans - style your room with everything soccer. Use a goal post as your headboard on one end, and a frame for your big screen TV on the other end. For a more authentic soccer experience, use flooring coloured in a nice grassy green. On the walls, also feel free to put up posters of your favourite players, soccer brands and better still, your main club. Once it's finished, you'll have the perfect room to catch the World Cup with your mates. Don't forget the beers too!
The Oriental Room
source: weiken
For a classy and refined room to wine and dine your family and guests, how about the Oriental Room? Take a peek at intricately carved wooden furniture and Asian art pieces. The theme utilises wood, metal, glass and even textiles – highlighting the idea of harmony through balancing various elements. Mirrors are also used to give an illusion of space and greater depth, contributing to the contemporary sophistication of the otherwise traditional look. Finally, don't forget to shine light on the well-designed room with modern lighting fixtures - your contemporary Oriental Room is ready to play host to any guest.
The Happy Hour Room
source: weiken
If some of us could have Happy Hour all day, every day, life would be perfect. So for those of us who feel that way, the perfect life is yours with your very own Happy Hour Room. All day, every day; chill out to great drinks, great music, and great company in your personal bar. Make sure to hunt for the perfect bar top and stool set for your preference.
There you have it, 8 great ways to holiday at home simply by freshening up your space. Which is your favourite? Leave us a comment and let us know!
Request for quotes and we'll match you with a selection of Interior Designers!
Previous
7 Creative Ways To Create Space For Your Shoebox Apartment
Next
Custom Vintage Furniture With Old Pallets