9 Dreamy Hammocks You'd Love to Chill Out In
Living & Lifestyle
5171 views
5171 views
Is there anything more soothing and holiday-like than a hammock to nap in? If you're craving a weekend getaway but can't afford to book a hotel room, then hang a hammock and have a staycation in your own home. Check out these hammock designs fit for any house design:
1. Man Cave Hammock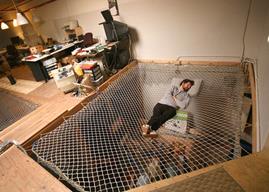 Credit: jeremyperson.com

Spotted at an Airbnb rental home, this bachelor pad features a giant hammock net on the second floor for guests to sleep in. On top of giving you a nice sneak peek of what's going on downstairs, this massive net bed also allows you to sink sleepily in the center, or roll around lazily from corner to corner in pure comfort.
2. Hammock Playground
Credit: Ruetemple.rue

Similar to the man cave hammock concept, this duplex home installed two nets on the second floor as a play and lounge area for children. Parents just have to be careful not to let too many children hop on at any one time. Perhaps consider installing a ball pit underneath for an added dimension in case the netting gives out.
3. Boho Hammock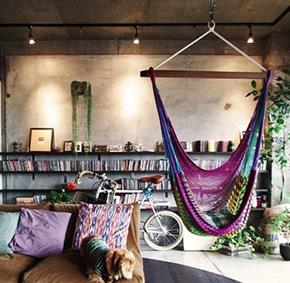 What's more laid-back than a bohemian-themed home? Use a tie-dye knit throw, pair it with a couple of plaid patterned cushions and hang it on a wooden beam by the windows. Artistic and colorful with a touch of hipster love, this type of hammock is perfect for swinging in while listening to your favorite indie soundtrack.
4. Small Hammock for Small Spaces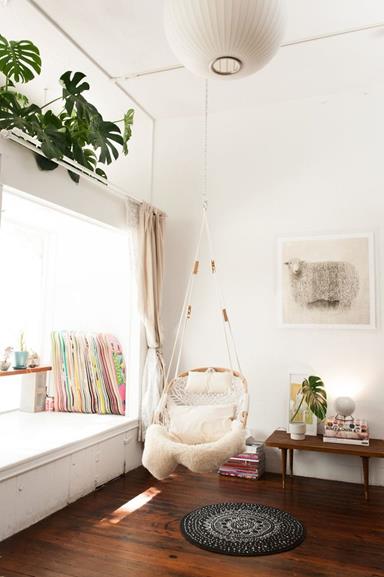 Credit: Refinery29

If you've got a small space, challenge the convention of having an armchair by installing a swing net chair. Keep the look clean and chic by using white fabric covers and cushions. This one-seater hammock is perfect for watching TV or, when the sunlight hits, reading an old paperback novel.
5. Hammock For the Balcony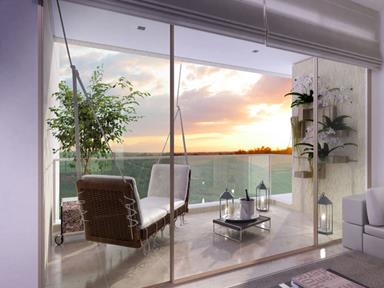 For a sophisticated but relaxed home design, opt for a two- or three-seater white cushioned swing set on your balcony. Great for entertaining guests, this modern hammock design allows you to have a drink with your friends while catching a gorgeous sunset view from the comfort of your own home. Light candle stands and decorate the walls with floral accents to finish the luxe holiday home look.
6. Hammock Bed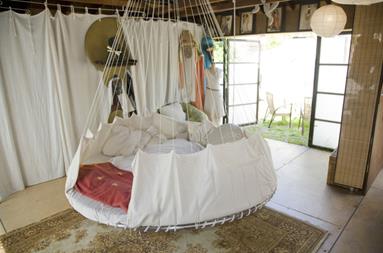 Sleep in the air with this gorgeous circular hammock bed. Hang this hammock to make it the focal point of your bedroom, where you can rest in, read in, read a good book in or study and work comfortably in. No matter what you're doing, this hammock bed will be sure to make you feel like you're floating on cloud 9.

7. Put Baby in the Hammock

Babies love a good nap too, so why not hang a crib for your little one to rest in? Add a spring to your rope so you can bounce and rock your baby while you sing sweet lullabies. Ensure that the netting of the crib is sturdy and well-cushioned to keep your bub safe.

8. Hammock Bunk Bed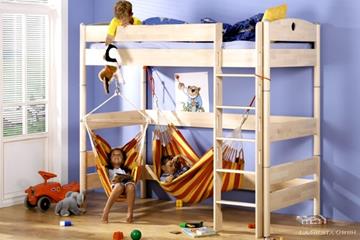 Double the hammocks means double the fun. Ideal for sleepovers or bedrooms shared with siblings and roommates, this twin hammock proves you can literally "hang out" with your buds.

9. Hang in the Wild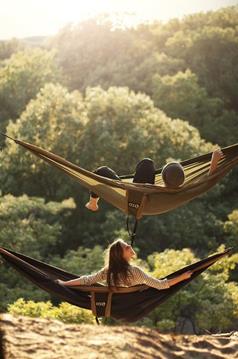 Finally, a good, authentic hammock experience is one enjoyed outdoors. The beauty of hammocks is that they are portable. On a lovely, haze-free day, be sure to bring out your hammock and enjoy a nap over a beautiful sunset, or a night of peaceful stargazing.
Request for quotes and we'll match you with a selection of Interior Designers!
Previous
Effective Ways To Compress Storage In The Household
Next
5 Ways To Create A Home Filled With Happiness