A Clean and Contemporary BTO Renovation Story
Interior Design & Decor
12455 views
12455 views
One great thing about Renotalk, is the collection of renovation stories our Singaporean friends have shared through their Reno T-blogs. We checked out many of these real life renovation experiences – and found Renotalker Septh (Terence and Jasmine), who aptly named their home "My Castle in the Air".
After four long years of waiting, Terence and Jasmine finally got the keys to their brand new 4-room BTO flat. With a specific vision in mind, the resourceful couple turned their BTO flat into the home of their dreams – designing, managing, and overseeing every aspect of their renovation themselves. How did they do it? We picked out 4 great things we particularly loved about their renovation story.
Planning the Right Layout
Starting with planning the layout for their home so that it meets their needs, the couple first visualised what they wanted – a spacious living and separate dining area for entertaining; a master suite divided into a bedroom, study room and wardrobe area; and a master bath with built-in tub.
They decided to hack walls in order to realise their plans. By shifting the dining area to bedroom 3, and combining the master bedroom with bedroom 2 – they managed to create spacious areas they wanted. Entertainment areas like the living and dining room, and a huge master suite that enabled them to have ample space for their sleeping area, study area, as well as a huge wardrobe.
Encountering and Resolving Problems
Referencing their inspiration moodboard of clean and contemporary images, they began work on their new home with the basics – choosing tiles, fittings and furnishings; and sourcing for sub-contractors to work on different parts of the home from the hacking to the carpentry.
The first problem they encountered was attaining the hacking permit and dates from HDB, due to a new ruling that required BCA licensed (hacking) workers on top of the existing HDB permit. After crossing that hurdle, they encountered more problems such as unapproved hacking for the master toilet due to the wall being a load bearing wall; cracked marble tiles, and more. They subsequently resolved these issues by being flexible and making small changes in their initial plans.
(For a more indepth look at renovation processes and what you can do, read this renovation story – Get a Designer Home on a $29,900 Renovation Budget.)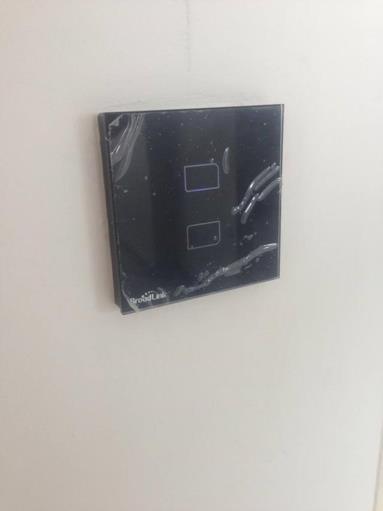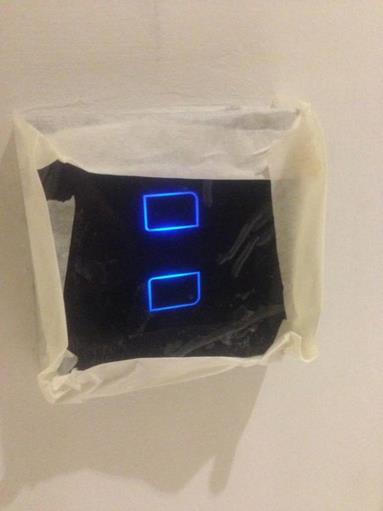 Moving towards a Smart Home
These switches are "...part of our smart home in the making..." which includes motorised curtains, and the ability to control lights and air-conditioning through their phones when connected to WiFi.
Despite the technology available, many of us have yet to explore the smart tech we can (affordably) incorporate into our home systems. We loved their venture into creating a smart home that provides welcomed convenience and ease of access.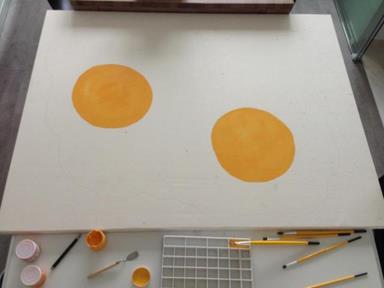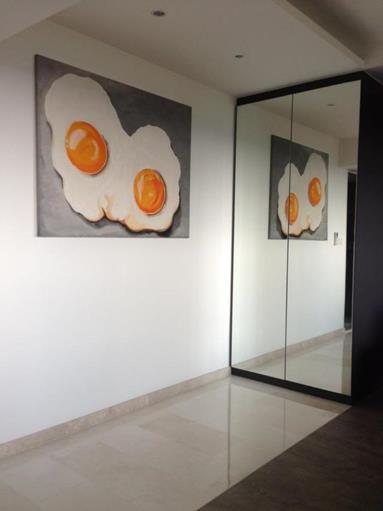 Putting a Personal Touch
Even after shifting in, this enterprising couple continued thinking of ways to improve their lovely home. Instead of heading to Ikea or art fairs for art pieces, they decided to give their home a personal touch and dived right into a painting project – resulting in this realistic sunny side up painting to brighten up their home. Creative and pretty amazing, isn't it!
---
After all that renovation, check out the 'after' photos of their lovely "Castle in the Air" below!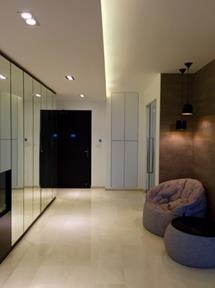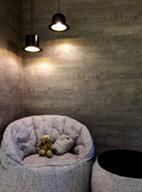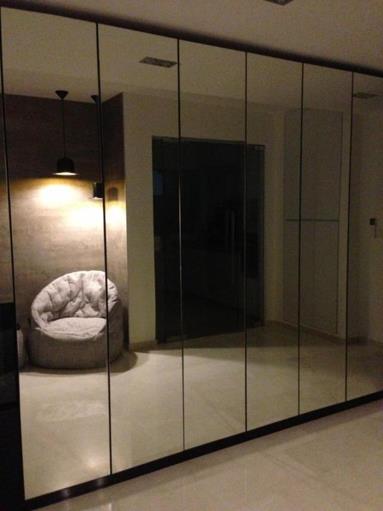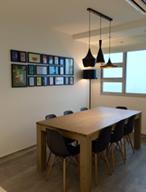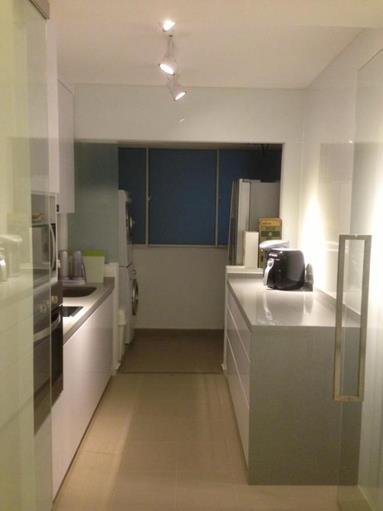 Request for quotes and we'll match you with a selection of Interior Designers!
Previous
15 Chinese Customs for Moving into Your New BTO Flat
Next
8 Simple Wallet Fengshui Tips to Attract Wealth