A Homeowners Gathering You Absolutely Cannot Miss!
Living & Lifestyle
3859 views
3859 views

What's happening?
Get set for our inaugural gathering for new homeowners, which is designed with you in mind. Held at V Hotel on 7 Jan 2017 (Sat), the 4-hour event will see guest speakers who are experts in their own fields. Our esteemed t-Bloggers will also be on hand to share their renovation journeys and dish out home décor tips and advices. For those who are more adventurous, don't forget to participate in our hands-on workshops. Bring your floor plan to get FREE consultations with established interior design firms.
Full list of our lucky draw prizes, guest speakers, vendors and co-sponsors below: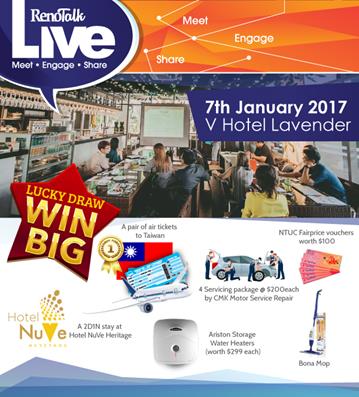 GUEST SPEAKERS
---
LUTHER SEET, Architect

With 11 years of experience under his belt, Luther has taken on a wide range of both local and international projects, including airports, shopping malls, art galleries, hospitals, offices, condominium units and landed properties. In his talk titled 'Crafting Spaces', Luther will reveal the intimate relationship between materials and interior design and how these elements can combine to create the perfect home.

ANGEELIA PHUA, Fashion, Style & Wardrobe Trainer & Consultant

A veteran in the Fashion and Image Management industry, Angeelia has over 20 years of experience training and mentoring individuals from various industries, including government ministries and aspiring fashion stylists and bloggers. The advocate of positive image has also won the 'Lady of Excellence' award, which recognises women who are a source of inspiration to others. Angeelia will speak about wardrobe management and home colour analysis.
+ other exciting talks, including "Water Quality at Home" by Ruhens Singapore, "Fun Facts of Smart Home & Digital Locks" by AN Digital Lock and "The Importance of Home Insurance" by Senior Financial Services Manager Mr. Frankie Tong!
---
VENDORS
---
IN INTERIOR DESIGN

Become one with your home. Guided by our design philosophy of Innovate, Inspire, Influence, we strive to mould your space into a sanctuary that embraces your needs, lifestyle and personality. Using new-age technology, we aim to transform every empty space into a sophisticated and classy enclave.

3D INNOVATIONS

A one-stop hub for interior design and renovation, we deliver discerning design services and specialised carpentry under one roof. The latter is possible courtesy of our in-house workshop, which lets us maintain a high level of material and quality control over all furnishings. The result is a home that's not just superbly crafted, but also perfectly customised.

RUHENS SINGAPORE

Enjoy cleaner water with Ruhens's award-winning range of water purifiers. They're equipped with Ruhens's patented pasteurisation technology, which uses boiling water to eliminate 99.9 percent of bacteria. The sterilisation is automatic, and works even when you're away for a long time, so you can have fresh water anytime you like.

STARRY HOMESTEAD


Every home is special. That's why your needs and preferences are important to us. Combine these with our expertise in creating an avant-garde interior design and you have a recipe for a truly breathtaking home – a house that's not just delicate and intimate, but also modern and chic. Our services are available for all residences, including HDB flats, condominium units and landed properties.

VIEWQWEST

Blaze away with Singapore's fastest and most dependable fibre network. ViewQwest is Singapore's first Internet Service Provider (ISP) that provides 2Gbps. With our ultra-fast Internet and our Freedom DNS, we empower our subscribers to access vast TV and entertainment content from around the world. Immerse in our world of innovative products and services and be pampered by our 24/7 customer service and technical teams.

RenoTalk Live Exclusive! Visit our booth for a mystery promotion.

INSIDE STORY

Building your home means building your story. At Inside Story, we pride ourselves on being there for you every step of your renovation journey, from the conceptualisation of your home to the completion of your project. This is backed by our dedication in using only the best colours, materials and finishes to bring you a highly personalised, yet aesthetically pleasing home.

AN DIGITAL LOCK

A leading retailer of home security solutions, AN Digital Lock carries and installs a wide range of digital door locks and electronic door viewers from major brands such as Samsung, Loghome, Kaba, Yale and Igloohome. A plethora of features, including RFID card access, PIN access and fingerprint sensors, work to ensure that your home is properly safeguarded.

Promotion! Visit our booth to get the Loghome LH300 (for wooden door) + the Loghome LH300MG (for metal gate) 2-in-1 digital lock bundle for the unbeatable price of just $688 NETT (U.P. $1,019).

HANSGROHE

Established in 1901, Hansgrohe has been rolling out bathroom and kitchen mixers, as well as showerheads, from its plant in Germany. Today, 80 percent of our products are manufactured in Germany. With an emphasis on research, innovative thinking and sustainable production methods, we have made durability, reliability and an exquisite, award-winning design our hallmarks.

STONE AMPEROR

If you're looking for countertops, look no further than Stone Amperor. We offer a wide range of both natural and engineered countertops, including marble, granite, quartz and solid surface, to fit any style and budget. Each countertop is custom-built to perfection, ensuring a beautiful set-up unlike any other. Marble floor polishing services provided as well.

FRANKIE TONG & ASSOCIATES

Home is where the heart is. That's why you deserve a comprehensive home insurance plan. Enjoy greater peace of mind with coverage for your furniture, fixtures, accessories, flooring and appliances, just to name a few.

RenoTalk Live Exclusive! Sign up for any home insurance plan at our booth to get FREE coverage for the first year!
---
CO-SPONSORS
---
BONA

Think wood floors, think Bona. With over 90 years of expertise in caring for wood floors, you can be sure that our cleaning solutions – tweaked specifically for wood – will make your surfaces last for generations!

For more information, visit https://www.bona.com/en-SG/.

RenoTalk Live Exclusive! Visit our booth to get the Wood Floor Spray Mop at $50 (U.P. $74.80). Stone, Tile & Laminate Floor Cleaning Kit and Wood Floor Cleaning Kit also available at $30 (U.P. $51) each. While stocks last!

CMK MOTOR SERVICE REPAIR

Mr. Chan Mun Keong started CMK Motor Service Repair in 1999 with a wealth of nearly 20 years of experience. Providing quality services such as repairs and maintenance, CMK places customers' needs first! Drop by to receive free consultation with no commitment.

HOTEL NUVE HERITAGE

Situated along Purvis Street, this gorgeous boutique hotel is housed in a two-storey Chinoiserie shophouse that pays homage to the elegance and spirited charm of the quaint neighbourhood. Its 19 rooms are divided into six unique types to suit every purpose. Whether you're looking to host a party, borrow a space for work or simply escape from the buzz of the city, Hotel NuVe Heritage has you covered.

For more information, visit http://www.hotelnuveheritage.com/.

ARISTON

Shower at the perfect temperature with Ariston's line of leading-edge water heaters. Featuring Constant Temperature technology, Ariston's Aures water heater range lets you enjoy a refreshing shower at your desired temperature – each time, every time, whenever! It's all wrapped up in a sleek design that wouldn't look out of place in any setting.

For more information, visit http://www.ariston.com/sg/.
---
Location: 70 Jellicoe Road, V Hotel Lavender, Enchanted Garden (Level 4), Singapore 208767
Register at https://goo.gl/forms/bxynqiEesapQD2ab2.
Request for quotes and we'll match you with a selection of Interior Designers!
Previous
A Quick Guide To Condominium Renovation
Next
3 Commercial Renovation Projects Too Cool Not to Look At