Air Purifying Methods To Remove Harmful Air Particles
Living & Lifestyle
12317 views
12317 views
After renovation, volatile organic compounds (VOCs) such as adhesive emitting from construction materials and furnitures can secrete harmful gas. While it may be impossible to keep VOCs out, we can ventilate the room and take a look at air purifying methods that can also clean the air from dust particles, bacteria, virus, mould and harmful pollutants.
Traditional Air Purifier
Traditional air purifiers are perhaps the most effective way to enhance air quality indoors. Get yourself acquainted to the wide array of purifier choices available before you select one that best suits your needs. Here are a few:
Honeywell: Honeywell models (e.g. 18250) are known to be effective in purifying air impurities of various sizes with its two filters: a marginal filter for trapping bigger dust as well as removing odour, and an inner filter for trapping smaller dust particles as small as 0.1 micron.
Osim: Many users have reported Osim purifiers to be relatively quiet. Some models feature filters that was washable, however there are also those that require regular filter replacements.
Maier: According to the CASE performance trial, Maier had a relatively inferior bacteria elimination count of 73.5% but came out as the brand with the highest yeast/mold elimination rate (87.14%).
Novita: Out of the 7 air purifier brands that were subject to a performance test by Consumer Association Of Singapore (CASE), Novita holds the highest bacteria elimination count of an impressive 99.39% - the perfect machine for waving goodbye to bacteria.
3M filters and Air Conditioners - The Cheaper Alternative for Air Purification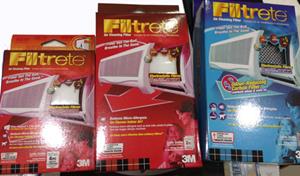 The 3M filter system is one of the most pragmatic and cost-efficient methods to manage indoor air quality. Many air conditioners incorporate UV filters that sterilise and clean the air, but some earlier models do not have a good enough filter system to trap dust particles that are smaller than 0.1 micron. To take full advantage of your AC system, you can opt to install an additional 3M air filter. These use electrostatically charged fibres that work like tiny magnets to attract and trap pollutants that pass through the filter. They're also really inexpensive yet favourable alternatives (cost about $28.90) as they provide efficient purifying and only need to be changed every 1-3 months.
Filtrete Air Cleaning Filter (red pack): Reduces Micro-Allergens; reduces micro-allergens such as dust mite, smoke & pollen.
Available in single sheets or pre-cut pieces.
Filtrete Air Cleaning Filter (blue pack with carbon filter): Reduces Micro-Allergens; reduces micro-allergens e.g. dust mite, smoke & pollen, as well as odour.
Simply take out the aircon mesh screen, and cut out the filter sheet to cover 70 - 80% to allow some airflow through.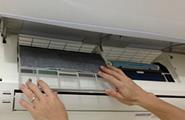 Stick the filter sheet to the mesh frame with 3M tape provided, and place it back. Each box comes with 2 pieces that measure 30 x 60cm.
Vacuum Cleaner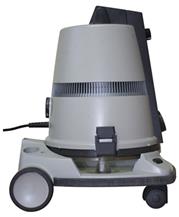 Several newer vacuum cleaner models incorporate a filter-free air purifying system, but there are several shortcomings. For one, it has a higher noise level than a traditional air purifier. Online reviews also describe Rainbow and Delphin vacuum cleaner purifiers to be "efficient if you can withstand the noise". Both models are proficient in reducing the amount of dust particles and cleaning mattresses as well as other furniture. However, a vacuum cleaner is often the most expensive purifying method, though they do display great results when purifying air.
Trickle ventilation
Trickle ventilation is an excellent filter to enhance indoor air quality if you prefer natural ventilation; in fact, building regulations now require trickle ventilation systems to be fitted in all new windows. Trickle vents aid in maintaining the indoor air quality above a certain level even when windows remain closed. However, they are categorised as background ventilation systems, and are often insufficient on their own. Moreover, many have discredited these vents as "noisy on a gusty day".
Finding the cause
Not all indoor air qualities are created equal. Why does the air quality at your friend's surpass the air quality in your home, when the two of you uses the same air purifier? Consider some root causes, many of which are detrimental triggers to the degradation of your air quality.
-Ovens & stoves (keep the kitchen window open/ turn on fan)
-Water heaters & space heaters
-Ranges
-Pets (try purifiers designed exclusively for pet owners, e.g. Rabbit Air MinusA2)
Request for quotes and we'll match you with a selection of Interior Designers!
Previous
A Country Cottage Style Haven
Next
10 Creative Vintage Ideas To Decorate Your Home