Amazing Feature Wall Ideas For Your Home
Interior Design & Decor
5205 views
5205 views
Staring at walls – a euphemism for staring blankly at the walls. However, if your walls were interesting enough, you would be staring at them in wonder, not in boredom. There are many ways for homeowners to dress up this surface and make it a focal point in the house - without having to fork out a hefty sum too. So here are some awesome ideas for you to do that!
1. Frame Them Up!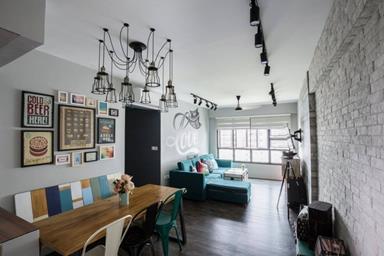 Credit: 9 Creation Pte Ltd
Usually, homeowners prefer to paint the walls in white as it helps the residence appear more spacious and clean. White walls make the perfect canvas for the owners' art collection or family pictures. Using picture frames in contrasting colors will help to draw the eye to the artistic display. For those who are more creative, simply framing up interesting fabric pieces will help to break up the monotony of the ivory façade.
2. Wall Decals
If framing sounds like hard work, try using wall decals! Easy to stick on and peel off, it's perfect for the fickle-minded person or for someone who gets bored of looking at the same décor everyday. Another plus point is that it causes no damage - perfect for those who are living in rented quarters. Furthermore, these wall decals are inexpensive to boot!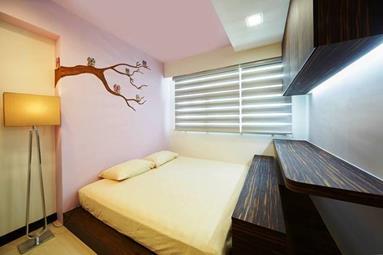 Credit: Design 4 Space Pte Ltd
Here, we can see how Design 4 Space Pte Ltd is able to create a cutesy theme for the children's room by adding a wall decal. It is simply done but has an impact.
3. Colours
To change the atmosphere of a house, you don't have to repaint the entire crib. Instead, try colouring one wall with a contrasting hue to add some oomph to the rest of the room. This provides a refreshing change to a place without having to invest a lot of effort in it!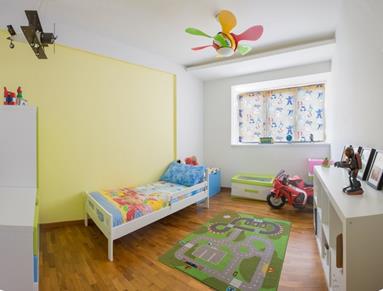 Credit: H2O Interior Renovation
This design by H2O Interior Renovation shows how homeowners can create an atmosphere simply by using colours. Alternatively, these shades can also be use to denote an area.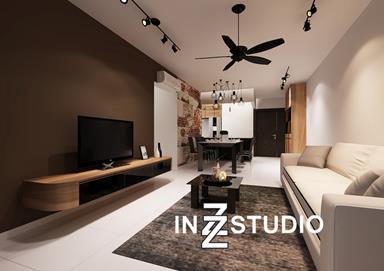 Credit: Inzz Studio Pte Ltd
By painting the wall, Inzz Studio Pte Ltd makes a room division, away from the dining area, serving a dual purpose.
4. Display Cabinet
For homeowners who have interesting items, don't hide them away in your closet, use the walls to display your favourite bags, shoes or one-of-a-kind pieces proudly.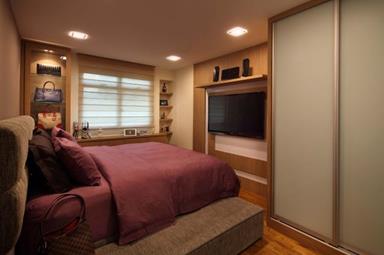 Credit: Urban Design House Pte Ltd
This wall shelves showcase this homeowner's collection of bags, done by Urban Design House Pte Ltd. They are especially handy as the shelves utilise the areas beside the window, freeing up space in closets.
All in all, there are various ways on how homeowners can decorate the walls, which would be able to reflect their personalities, tastes and preferences. By mixing and matching these tips, we're sure your abode would look stunning in no time!
Request for quotes and we'll match you with a selection of Interior Designers!
Previous
5 Exciting New Household Products That You Haven't Heard Of
Next
Interior Designer Tells Us About What Goes On Behind The Scenes