AURASTONE: Creating Beautiful Countertops, Perfectly
Interior Design & Decor
2421 views
2421 views
The kitchen is one of the most important rooms of the home – no question asked. It provides the heartbeat of every happy household. It is where a family feeds; not only on physical nourishment, but emotional ones as well. It helps create a home that reflects the character of the family. But hold on, how should one begins to make all that possible? AURASTONE is where the answer lies within.
Introducing AURASTONE
AURASTONE is an emerging and fast-growing supplier and fabricator of quartz and granite surfaces. Standing at the forefront of the industry, they offer a great variety of unique textures and colours as well as perfect geometry of each stone.
Their signature product is none other than its quartz surfaces. Made of natural quartz, there are a myriad of styles to choose, hence providing endless design possibilities for your kitchen countertops, bathroom vanities, floors, walls, and interior designs.
As a manufactured product, AURASTONE's quartz can be made in a variety of colours to suit the tastes of the day. This is a huge advantage compared to natural stones such as marble or granite where your style options can be limited. This means that you have a better chance finding a quartz countertop that matches your kitchen renovation goals.
Commitment to Innovation
Using some of the most up-to-date manufacturing equipment, AURASTONE promises high-end products and wide-ranging ideas for your home. Backed up with 16 years of workman experience, they believe their clients deserve the best. Therefore, they live by three pillars to make sure they get the excellent workmanship, friendly customer service and quality materials.
AURASTONE is dedicated to adding value for their customers by having unparalleled support from their sales team. Their sales consultants are technically trained to be able to answer any queries you might have regarding their products.
Furthermore, their team of professional and experienced craftsmen work very hard to ensure every completed set leaves you beaming with pride. They continuously learn and improvise on their standards and to offer only high quality products and services.
Trusted Brand by Interior Designers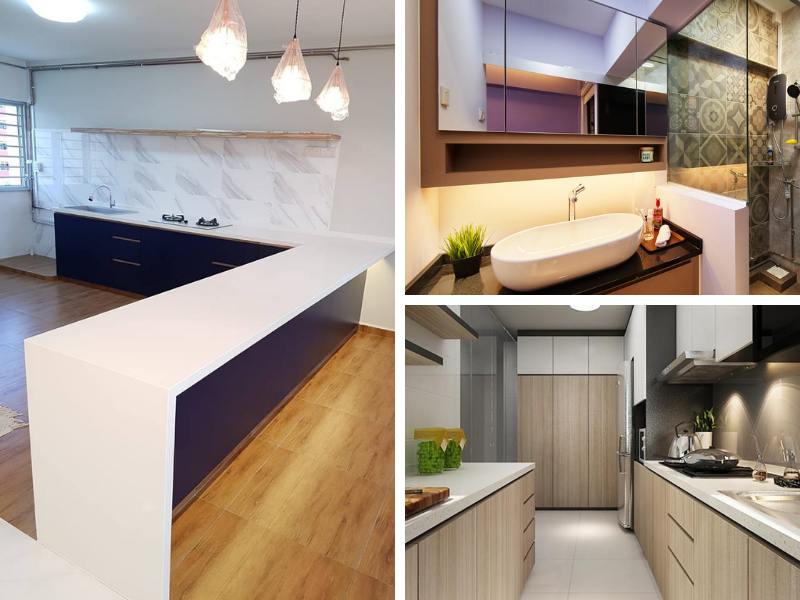 Image via aurastone.com.sg
AURASTONE commits itself to excellence, innovation, and expertise. The company takes pride in sales success and in expanding the network of homeowners, interior designers as well as dealers in Singapore.
The company strives to create value with every step and develop innovative and reliable products to meet the needs of our customers in every residential, commercial, healthcare and hospitality sector.
No detail is overlooked when it comes to building your dream kitchen countertop. AURASTONE has the right expertise, tools and machinery to support your great stone masonry from fabrication to installation.
In conclusion, AURASTONE is here to help you complete the perfect heart for your home, starting with the focal point of every kitchen – the countertops. The company firmly believes that kitchen is where family members will gather and grow; where friendships are fostered; and where many of your pleasant memories will centre around.
Request for quotes and we'll match you with a selection of Interior Designers!
Previous
6 Gadgets That Help Your Elderly Parents Live Comfortably
Next
10 Home Upgrades To Help Elderly Parents Living At Home