Beautiful Renovation Projects Under $40,000
Interior Design & Decor
26796 views
26796 views
Purchasing a house and getting it done up may not come easy when you're on a budget, but if you work smart and search for the best possibilities pertaining to your ideas, your place can look way more than it's worth. In this feature, we show you what your home can transform into with a budget of $40,000 or less.
4 Room HDB BTO Flat at Yishun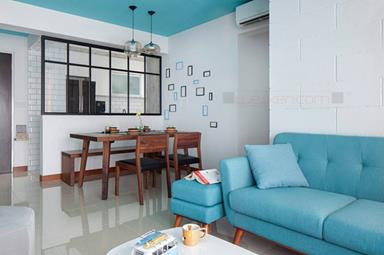 Credit: Weiken Interior Design Singapore
Modern and simplistic design can go a long way, especially if the decor is well coordinated. What we love about this house is the presence of a clear focus: the colour scheme. It's set to be vibrant, with well selected shades adding a pop against the predominantly white backdrop.
This is a smart idea, because the eye-catching colour palette becomes the central element, pretty loud on its own, causing no need for excessive decoration. This is a thrifty move, the owners managing the make the place look striking with mere paint.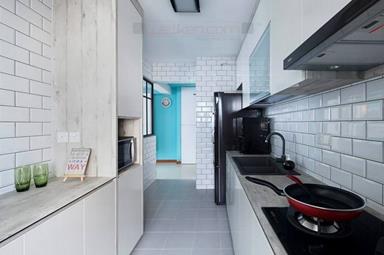 Credit: Weiken Interior Design Singapore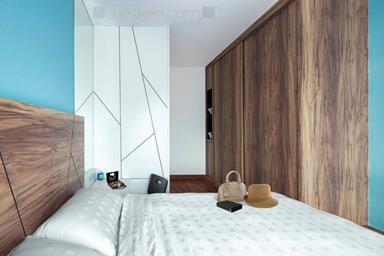 Credit Weiken Interior Design Singapore
Secondary details like textured walls and cupboards help to further enhance the space as well, so it doesn't stay too one dimensional.
4 Room Resale HDB Flat at Teck Whye Lane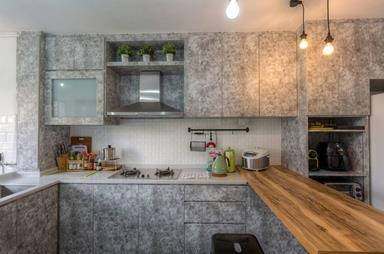 Credit: Redzone Interior Design House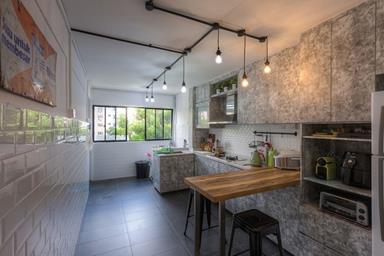 Credit: Redzone Interior Design House
Heavily inspired by an industrial theme, this home is stylishly decked in a large amount of grey, as well as various raw looking elements. There's no other way to describe the kitchen other than stunning; we can't seem to peel our eyes away from the lovely set-up.
The textures chosen compliment the intended vibes really well, and as a whole the cupboards and counters look flawless, the hint of wood fitting in perfectly.
Credit: Redzone Interior Design House
Credit: Redzone Interior Design House
Although the rooms are free from any major masses of grey, it still stays true to the theme, with its rustic and old school mix of furniture. The fact that the space is intentionally kept under polished adds to its beauty as well, upholding the spirit of an industrial theme.
4 Room HDB BTO Flat at Segar Road
Credit: H2O Interior Renovation
This home makes it to our list based on the sheer amount of intriguing elements. We don't think you can find any ordinary corner in this particular abode. Right when you enter the main living space, there's so much going on you don't even know where to start.
For instance, the carpet right in the middle is meant to look like grass, while the sofa sitting on top of it contains three pillows but none of which look the same. The chairs scattered around are also each different, with the one reflecting a chinese chess piece being out favourite.
We could go on and on gushing about the various items, but what's most important is how the pieces don't clash despite their individually strong personalities. Instead, they go hand in hand in creating a cohesive and quirky space.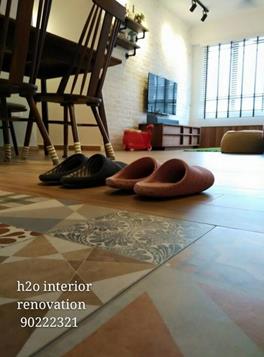 Credit: H2O Interior Renovation
Credit: H2O Interior Renovation
Even when you look through some of their other areas, you'd notice their floor tiles aren't uniform, and their letterbox isn't typical. Every inch of this home is plastered in bouts of personality and it never seems to get boring. If that's not a smart way to accessorize your home with your budget then we don't know what is.
4 Room DBSS HDB Flat at Trivelis Clementi Ave 4
Credit: Weiken Interior Design Singapore
Clean-cut and to the point, this home is straightforward and minimalistic. Interestingly enough, it looks incredibly luxe even without overcomplicating things. Choosing a muted colour scheme was a clever choice, it makes the place seem infinitely more modern, with the textured walls adding an extravagant touch.
The space may also be minimalistic in nature, but is by no means sparse. The decorations littered around are tastefully chosen, each seemingly having a purpose at their spot, each also being able to relate to the main theme.
Credit: Weiken Interior Design Singapore
Keeping the rooms simple allows the area to look wider than it actually is, with plain white helping in the process. Elevated bed frames also steer it away from being boring, because sometimes too much white tends to look a little mundane.
Renovating your home should be an enjoyable experience, so if your budget ever weighs you down, think of ways to work around it, adopting some of the features these homes have used to make their apartments look nothing less than splendid.
Request for quotes and we'll match you with a selection of Interior Designers!
Previous
4 Super Solutions For Small Spaces (Part 1)
Next
8 Instagram Inspirations For The Interior Hungry