Bang and Olufsen: Beosound 1 and Beosound 2 feat Google Assistant
Home Appliances & Tech
3804 views
3804 views
Bang and Olufsen are well-known for their high design standards. The affluent heritage built around the endless determination to create products that push the boundaries of audio technology continues to place the company at the forefront of audio innovation.

Any product from them has this lustrous, modern B&O look - smooth aluminium, polished black control screens, conspicuous shapes.
Today, every Bang & Olufsen product is still characterized by the unique combination of beautiful sound, timeless design, and unrivalled craftsmanship.
To add to the already amazing line of audio technology they have, they are now presenting us with Beosound 1 and Beosound 2.
The Beosound 1 and Beosound 2 are the two newest additions to their long list of luminous-designed, high-quality speakers.
What's new? It is now back with a built-in Google Assistant! Let's have a look at both of these stunning, cutting-edge innovations, shall we?
The Beosound 1 - Freedom of Choice


"Place wherever. Play whatever. Powerful flexibility and portability with no strings attached."
The first is the Beosound 1. It is a portable wireless speaker that is crafted in solid aluminium and designed for a stunning 360-degree sound experience.
The Beosound 2 - Flexible Functionality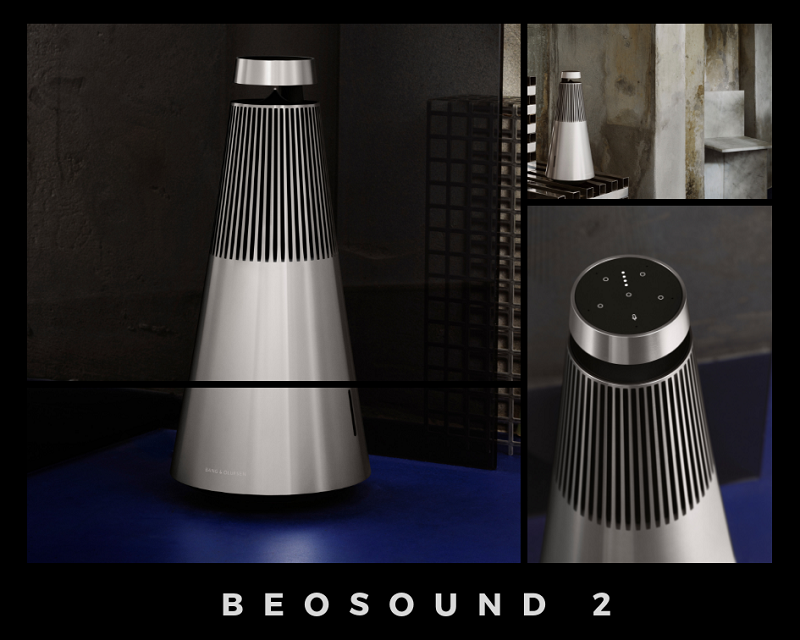 "Room-filling sounds even when tucked away in the corner. Discover the aluminium powerhouse in a rich tone."
Secondly, the Beosound 2. Also crafted in extruded aluminium like the Beosound 1. Beosound 1 and Beosound 2 share some identical features such as exuding stellar 360 sound, intuitive control, acoustic lens tech and multiroom.
Features of Beosound 1 and 2
Beosound 1 outstanding feature :
Compact with a
built-in rechargeable battery
, you can bring the music, the party everywhere, anywhere you go. The party must go on! A single charge delivers up to 16 hours of cordless play time.
Beosound 2 outstanding feature
Forceful Sound, Powerful Bass
The sound performance of Beosound 2 is truly out of this world. The
exposed tweeter
with the
acoustical lens
is paired with a
5 ¼ inch woofer
and dual
2-inch midrange
drivers
deliver crisp highs and solid lows, even when pushed to the limits.
B&O used the wide base of Beosound 2 to fit a large bass driver that exudes incredibly rich and accurate bass to your music. Their acoustic engineers decided to place the driver upside down, letting the bass spread evenly across your room. If you are looking for something more powerful, the Beosound 2 is the one to choose.
4 similar features of the Beosound 1 and Beosound 2
Music All Around - 360 Experience
Nothing better than a great music-listening experience - for
everyone
. The immersive 360-degree sound performance allows everyone in the room to share the same experience.
You will experience an almost spherical sound that is loud yet extremely subtle at the same time. So, you'll be able to enjoy all the beautiful details your music has to offer.  
Designed with the consumer's heart in mind, it is designed for flexible lifestyles, to fit in with ease. Beosound 1 responds to your touch and your device, connected seamlessly through
Bluetooth 4.2
.
It's a speaker that senses your presence. The proximity sensors in the device allow you to interact with the control from any directions.  
Put on different music in different rooms or let the same sound flow throughout your home. Beosound 1 connects wirelessly with other devices (as long as it is a compatible wireless speaker), utilising the latest tech like
Chromecast
and
AirPlay
.
The Design
Let's talk about the
design
of these speakers. It doesn't look like any other wireless home speaker. The
compact conical design
differentiates it from the others, adapting seamlessly to your interiors making any setting its perfect place.
As mentioned, they are crafted in high-grade aluminium with great attention to detail. The reason behind them using this material goes beyond aesthetics.
The speaker has a slight opening at the top for acoustical reasons, as it uses the Acoustic Lens technology as mentioned earlier in the features.
As for Beosound 2, it also provides superior acoustic properties due to its material stiffness and seamless surfaces that eliminate any distortion to the sound.
And most importantly, when you look closer at the structures of the aluminium you get the sense that this has been made by hand, almost formed like an instrument - which makes it so special.
Aluminium has always been B&O's signature and it was not chosen purely from a design perspective; but because a closed aluminium cabinet provides the best acoustic properties. Both the Beosound 1 and Beosound 2 comes in three extravagant colour which is
Infantry Green

Natural

Brass Tone
As you can see, Beosound 1 has a smooth reflective surface whereas the Beosound 2 has clean lines on its body.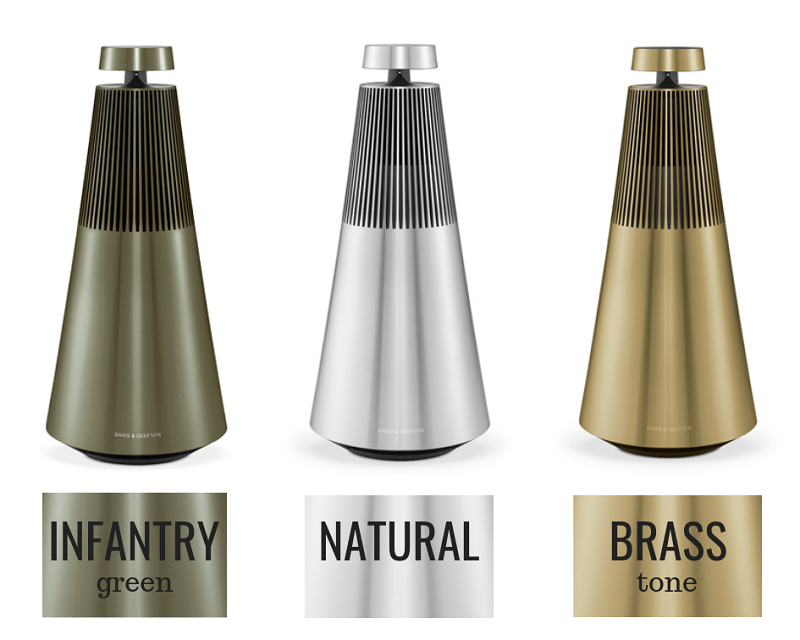 What's NEW with the Beosound 1 and Beosound 2?
Google Assistant
The new release of the Beosound 1 and Beosound 2 comes with a built-in
Google Assistant
to make your experience better and easier.

Have you ever tried to play music and talk to Google Assistant through a Google Home Mini at the same time? The voice assistants have a hard time hearing you over your favourite metal jam.

B&O's engineers have designed these new speakers with a ground-breaking echo-cancelling technology. The speakers will have five microphones built into them, which will determine what sounds are coming from the speaker itself and what sounds are commands from you.
With this, you don't have to worry if your song is going to overlap your commands!
Assign tasks to a single button


Other than that, B&O has added
four favourite buttons
to the top of the speakers. You can simply assign the speaker to a single button. A single tap to play your music, double tap for your playlist, swipe to change track and many more.
The buttons are content agnostic, thus they work with any device and music service that are Google Assistant compatible.
Chromecast and AirPlay 2


Image via currys.co
With both Chromecast and Apple AirPlay 2 integrated into the speakers, any major music service can be streamed to Beosound 1 and Beosound 2 from your smartphone and distributed in a multiroom product setup.
And with the Google Assistant built-in, the speakers have advanced smart speaker functionally, for controlling your speaker or other smart home devices.
Taking everything into consideration, Bang and Olufsen's has always come up with a line of minimalist, elegant leading-edge technology. If you are a fan of these amazing speakers and want to get one for yourself or for your loved ones, they are now available at the Bang & Olufsen stores at Hyatt, Takashimaya and TANGS at Tangs Plaza.

As for selected Airport Duty-Free stores (Beosound 1 only), Isetan Orchard, Challenger Great World City and Challenger Orchard will be available from October 2018. For more information on the product, click the links below.
If this article got your interest, you might like these too
Request for quotes and we'll match you with a selection of Interior Designers!
Previous
HI-MACS Acrylic Solid Surfaces – Limitless In Design
Next
COSENTINO: Villa Omnio with Dekton and Silestone