Make The Best Of Your Living Room Flooring With 5 Top Materials
Interior Design & Decor
487 views
487 views
After a tiring day, the living room is where you want to sit down and relax. Besides, it is a place where you will entertain your guests. One of the largest footprint spaces in your home, it is important you choose the suitable living room flooring material.
Whatever type of living room flooring material you choose, it can greatly impact the space and affect how you feel when you are in the space. Flooring is a big investment, and it isn't easy to replace. You will want to research before deciding which material to get.
The best living room flooring materials should be inviting, easy to care and practical for your living room. With so many options in the market, you will surely find one that suits your needs and home design. Each material has pros and cons, and we will discuss the 5 top materials to make the best out of your living room.
Living Room Flooring Material #1 - Marble
Image Credit: Building And Interiors

Looking for a luxurious feel for your living room? Natural stones like marble can create an elegant look for the living room. What's good with this living room flooring material is that each piece is unique and can offer a truly individual floor for your living room.
Marble has various colors, color mixes, and patterns for you. You don't have to worry about couldn't find the right fit for your home design. But one thing you need to remember is that marble will need higher maintenance than other flooring materials.
You will have to arrange for routine cleaning to maintain the surface. Besides, marble flooring will need regular sealing due to its porous nature. Spills or water must be cleaned immediately, or you will end up staining the material. Acidic cleaning materials have to be avoided.
Living Room Flooring Material #2 - Concrete
Image Credit: Homedit



A concrete floor is definitely a good option for your living room if you are going for a modern style. Concrete flooring is originally used for commercial space for its durable feature. Besides, concrete doesn't require much maintenance, which is why it is becoming a popular living room material option.

You can find two types of concrete in the market: poured and concrete tiles. Poured concrete will be more expensive as you need a professional crew to install it. Go for concrete tiles if you want a more practical and versatile choice. It will be easier to repair too.
It has various finishes you can use for the concrete floor, which can give different textures and looks to your living room. Not only can the finishes provide the look you want for your living room space, but they can also help to increase the longevity of your living room flooring. It also makes the flooring more stain-resistant.
Living Room Flooring Material #3 - Practical Engineered Wood
Image Credit: Eco Floor Industries
Nothing can compare to using the beauty of solid wood to add aesthetics to your space. Because of its practical benefits, such as the ability to be fitted over underfloor heating, engineered wood has become a popular living room flooring material.
Bringing nature into your living space can be a great idea, especially for those who love nature. But not all wood flooring is suitable for each room in your home. For example, solid flooring is the first choice for interior design, but it is unsuitable for an environment with high humidity. It also can't be used with underfloor heating. At the same time, engineered wood can be fitted in most rooms in the house.
Living Room Flooring Material #4 - Porcelain Tiles
Image Credit: Pinterest

Porcelain tiles are another option to create a luxurious look in your living space. Porcelain tiles can create a sleek and seamless look in your living room. Porcelain tiles are fired at higher temperatures and built of dense clay, making them a durable living room material option.
You will be able to feel the coolness in the tiles, which is great for houses in Singapore and Malaysia due to the hot weather. They are not easily scratched and require low maintenance. They are less likely to crack due to the dense of porcelain tiles.
But if you are on a tight budget, porcelain tiles won't be a good choice as they are more expensive. The installation is also expensive, as the tiles can be hard to cut properly.
Living Room Flooring Material #5 - Vinyl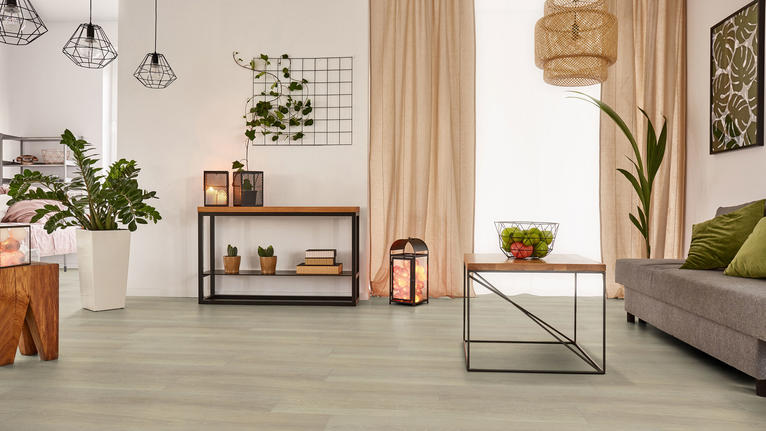 Image Credit: Tarkett Asia

Luxury vinyl plank can create a striking geometric look for your living room space. It is popular among homeowners because of the various pattern in the market. Not only does it mimic the look of natural hardwood, but it can also mimic natural stone material, allowing homeowners to get it without a high price tag.
LVP is an upgrade from vinyl. It comprises several layers, making it five times stronger than a vinyl sheet. Besides, it is one of the easiest flooring materials to maintain where a simple regular cleaning is enough. But you should take note that although LVP is water-resistant, steam cleaning should be avoided as moisture will cause warping. It is also a material that suits families with kids and pets.
Living Room Flooring Material #6 - Bamboo
Image Credit: Floormania

The benefit of bamboo flooring is similar to hardwood flooring, but one biggest benefits you can find in bamboo flooring is that it is a fairly eco-friendly natural resource. Trees will take decades to grow, but bamboo stalks only take five to six years to mature. Besides, the material is normally taken from mass-production farms instead of natural forests.
One thing you need to remember is that bamboo is prone to scratches and cracking if it is exposed to humidity. But it can be a durable material and can last for a decade if you maintain it properly.
Here are the top 6 living room flooring materials to make the best out of your living room. You wouldn't want to miss out, but remember to research before deciding on the material.
Request for quotes and we'll match you with a selection of Interior Designers!
Previous
5 Best Bathroom Walls To Fit Your Home Design
Next
Best Practices for Real Estate Photography