Bodega Living: Customising Your Very Own Little Wine Shop
Interior Design & Decor
2614 views
2614 views
Bodega Living Pte Ltd is a homegrown company in Singapore distributing and marketing wine cellars and wine related accessories that bring pleasure, conviviality and comfort to established partners across Europe and Asia.

The luxury brand is brought to you by a global team with more than 100 years of experience combined in the area of consumer electronics, wine cellars product development, sales & marketing as well as customer care.

Most importantly, the global team shares the same passion to offer the the best quality wine cellars for professional sommeliers, connoisseurs and wine lovers alike.

Expo Collection: Bespoke Wine Cellars For Luxury Homeowners

Bodega's Living's newly launched Expo Collection truly aligns with the company's mission to offer high quality wine storage and display appliances to every wine lover in the comfort of their very own home or office. Building to the exact standards of professional wine sommeliers, it is a seamless blend of innovative technology and strong expertise in manufacturing.
A free standing unit with front and back access
The unique central cooling technology means that all sides of the wine cellar could be encased in glass, offering a perfect 360º view of the interior, a first in the wine chilling / storage category!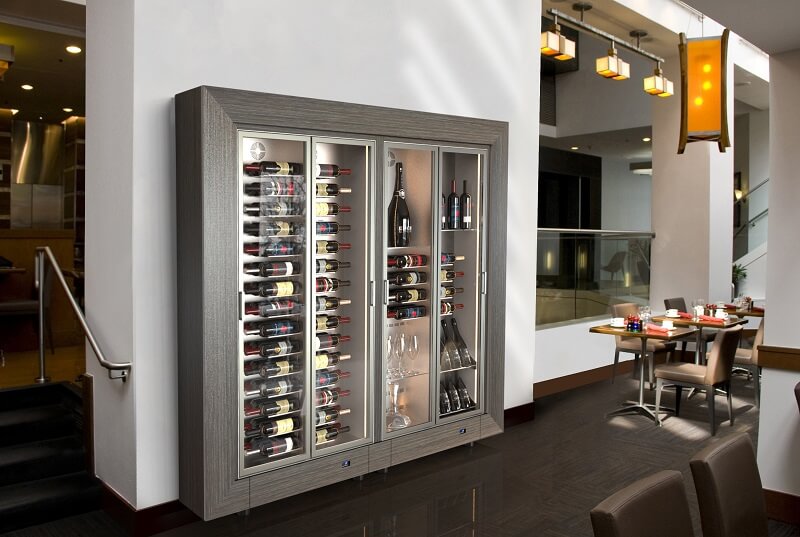 A free standing unit with customised wrap around frame finishing and interior to fit different bottles types
The different accessories allow you to customise the interior of the wine cellars – choose from horizontal wine bottles display of your Bordeaux bottles to 45º display of your Burgundy bottles to showcasing of 1.5L magnum bottles!
Developed with the latest décor trends, the Expo collection offers a complete installation solution that allows the wine cellars to be fitted sleekly and perfectly in all homes or establishments.
A Bodega with full integration with customisable frame design, finishing and colours
Offering a modular system with options of free standing, wall-back, built in or full integration, the Expo collection comes complete with an array of external frames and finishing options which are easily installed and changeable to fit the interiors and ambience.
A wall hung Bodega wine chiller with customisable interior, frame and design

As you can now tell, Bodega Living's wine storage solutions are created
without any M&E requirements
in mind. They are
completely plug and play
for your convenience. Ultimately,
Bodega Living makes sure you get to
maximise your winning and dining pleasures
by
having access to your favourite wines at any moment of the day.
What makes the difference between good and bad wines?

The answer to this very question lies within the wine cellar by Bodega Living! Mimicking the storage conditions of a underground wine cellar, Bodega offers the ideal temperature, humidity, air circulation and storage conditions for the maturing and storage of your favourite wines.

Proud to be part of the wine connoisseurs and wine lovers community, Bodega Living aims to further enhance your wine drinking experience. Together with their strategic partners, they are committed to continually educate the community on the finer arts of wine appreciation.
So what are you waiting for? Have a conversation with the friendly team from Bodega Living today for a complimentary consultation on building your very own wine cellar!
Request for quotes and we'll match you with a selection of Interior Designers!
Previous
Evolve Your Home With Singapore Design Week 2019!
Next
5 Storage Space Solutions with IKEA Furniture