Bringing Nature Home
Gardening
5450 views
5450 views
The home of business owner Olena Sukhina is dotted with vases of lovely synthetic plants, but today it has a new centrepiece: a mini garden lining one side of the balcony. The installation was conceptualised by Prince's Landscape & Construction Pte Ltd and designed using fresh plants from its nurseries. We sit down with Aster Law, who manages projects for the landscape specialist, to uncover the recipe behind a beautiful home garden.
Hi Aster, what sets Prince's Landscape & Construction apart from other landscapers?
We'll be celebrating our golden jubilee this September. In that time, we've grown from a flower shop to a full-service landscape company with two nurseries and a dedicated team of florists, horticulturists, designers, project managers and workers. This means that we're involved in your landscaping journey from the start to the end, including importing the right kind of plants, grooming them for Singapore's tropical climate, designing your garden, installing it and finally, maintaining it.
How do you come up with the design of the garden?
Once we've received your requests in the enquiry form on our website, we'll arrange a house visit to assess the growing site and discuss your needs and preferences in more detail before recommending the types of plants that are suitable for your home. Flowers and edible plants, for example, thrive outdoors, so we may also need to relocate the growing site if necessary.
What's involved in the maintenance process?
A little pesticide keeps parasites off, while fertilisers improve the fertility of the soil. You should also loosen the soil from time to time to give the roots some breathing room and trim and prune the plants regularly to prevent diseased or damaged parts from affecting growth. It's easy to make the mistake of under-maintaining your plants and still expecting them to look as beautiful as they were when they were just installed. Through effective maintenance, we strive to keep your plants healthy and looking their best.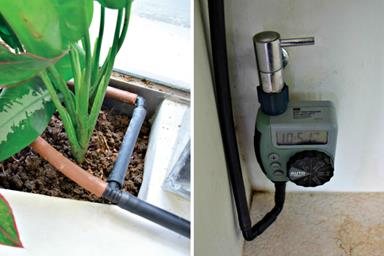 Will my plants survive if I forget to water them?
Some of the plants that we curate are slow growing, so they don't need to be watered frequently. Others are tolerant to droughts, meaning they can survive for extended periods without water. But if you're growing plants that demand more meticulous care, we provide a drip irrigation system (pictured above) that can be programmed to automatically disperse water at scheduled timings, so you don't ever have to worry about being away from your garden for too long or overwatering it.
Where's a good spot to keep my garden?
Every house has a different environment, with each spot offering a unique microclimate. For HDB flats and condominium apartments, we recommend the balcony, which affords more exposure to direct sunlight. If you don't have a balcony, try positioning your garden in an area where the sunlight can be angled to hit your plants. For landed properties, a garden is commonly set up in the lawn. Planters and vertical green walls have also become more popular among homeowners.
What are the types of plants I can choose from?
We have three main varieties: shaded plants, semi-shaded plants and full-sun plants. Shaded plants are resilient, possessing high chances of survival in areas without direct access to sunlight. Semi-shaded plants are less durable, but they can still get by with just a few hours of sunlight per day. Full-sun plants require maximum exposure to sunlight to flourish, so they may not be suitable for HDB flats and condominium apartments.
" My previous garden was a disaster. The plants were ravaged by bugs and suffocated by pots that were too small for them. The gardener, who often turned up late for maintenance, also didn't have an eye for how my garden should look like. They (Prince's Landscape & Construction) solved these issues. Plus, they did the impossible! They improved my irrigation system so that it now covers plants that were too far away from the water source. I used to find it difficult to maintain my garden as I travel a lot, so this new system has been very helpful. "
For more information on their products and services, click here.
---
This story is brought to you by Prince's Landscape & Construction Pte Ltd.
Request for quotes and we'll match you with a selection of Interior Designers!
Previous
5 Steps for a Minimalist-Industrial Look
Next
5 Everyday Appliances with Surprisingly High-Tech Features