Bringing 'Hotel' Into Your 'Home'
Interior Design & Decor
2210 views
2210 views
How To Make Your Home Like A Hotel?
Prepare to fall in love with Sentosa all over again, especially with what Far East Hospitality has in store for both locals and tourists. Come mid-2019, visitors to Sentosa will be spoiled for choice with three new hotels, all located at Artillery Avenue and within walking distance from some of Sentosa's much-loved attractions.
These three hotels are Village Hotel at Sentosa, The Outpost Hotel, and The Barracks Hotel. They are all located within tight proximity of one another so that everyone visiting the area will have accommodation aligned to their tastes.
Each of the three hotels is designed by architect Laurence Liew, director of Arc Studio Architecture + Urbanism, who worked with KKS International to create the hotel rooms, and each of them have differing traits to cater to different visitors.

The Village Hotel at Sentosa is the latest mid-tier accommodation off the local Village Hotel chain, and
caters to families, staycationers, groups, and business travellers
. The hotel's 606 rooms include family rooms that come equipped with two en-suite bathrooms. Highlights include pools for all ages, including an
infinity pool
facing the horizon, and
The Commune
, a group space which can host parties for
up to 480 people
.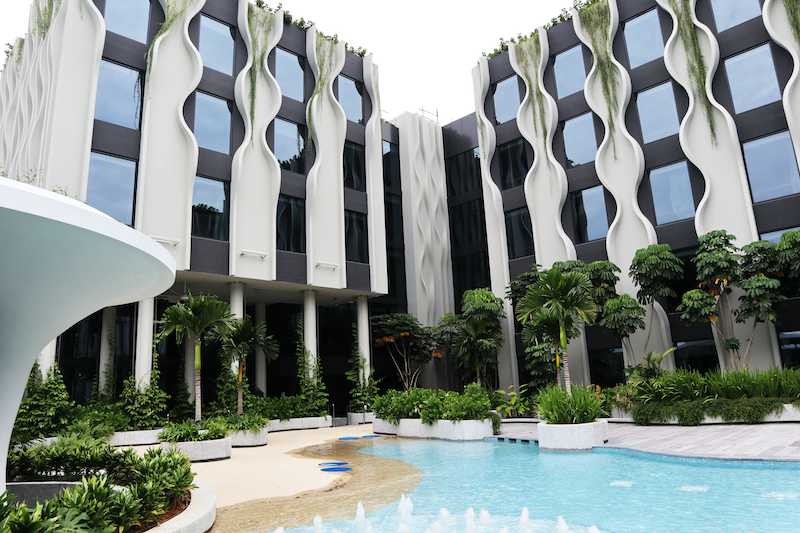 Facade of The Village Hotel Sentosa. Image © RenoTalk Media
Style: Nautical Comfort (washed-wood textures, light cool colours, and blue hues)
Interior: The Village Hotel Sentosa aims to create a beachfront ambience with its design, and that is seen at both the boardwalk, the pools, and the rooms themselves. Blues, whites, and light browns are the main colour palette here. Growing vines cascade down organic columns built into the hotel's facade to emulate waterfalls.
The walls and floors are crafted from wooden planks specially treated to emulate water-washed driftwood for a nautical feel. Beds are placed next to full-length windows where you can be treated to a view of the pools, and colourful koi swimming right outside your room.
The family rooms are partitioned into two, where you can close the doors on either side of the TV area for additional privacy (and also open them if you need to watch your children in the next room).
Perks of the rooms include TV consoles that fold outwards to serve as a study table and hanging rungs for your clothes that can be folded away to save space. As saving space is important these days, The Village Hotel Sentosa has done well in incorporating that element into its interior.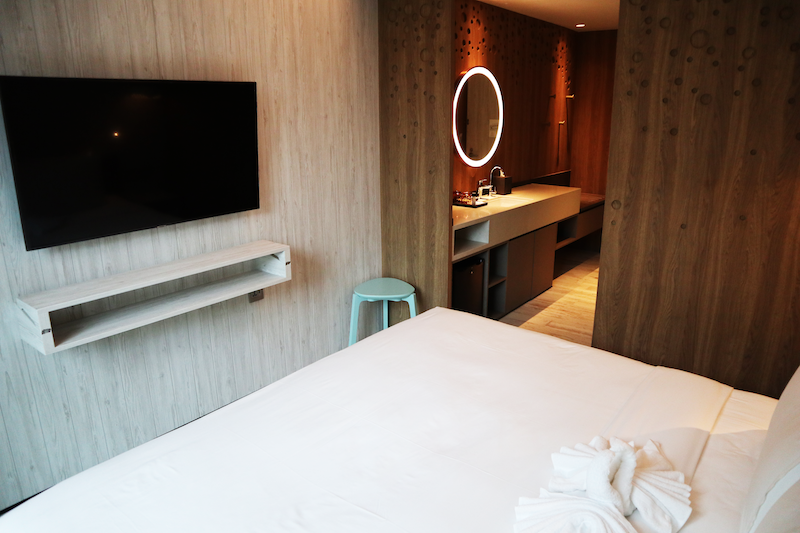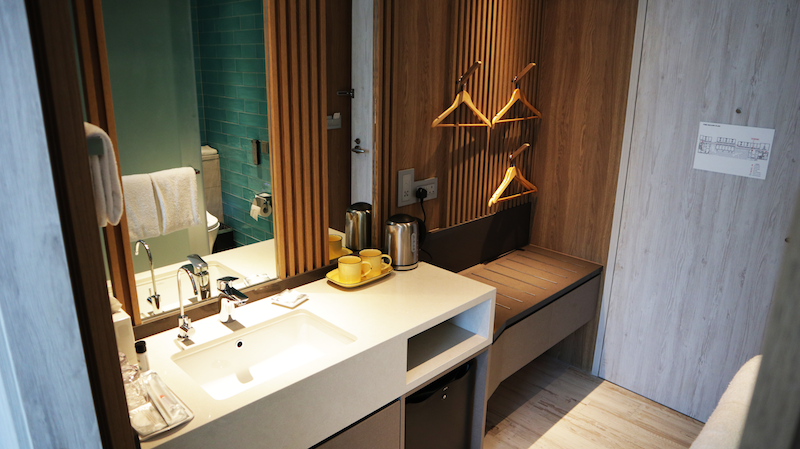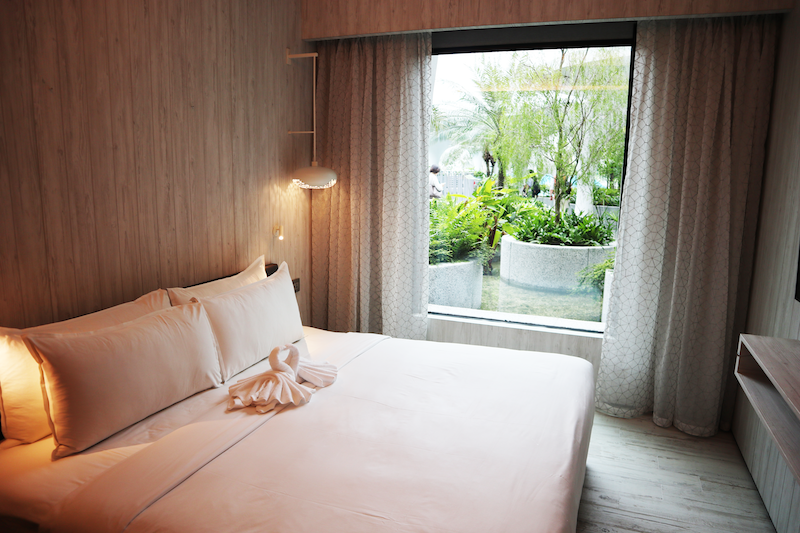 Images © RenoTalk Media
Crossing a corridor from the Village Hotel brings you into The Outpost Hotel. While sporting a similar facade to the former, the interior of The Outpost Hotel is a stark difference to its family-oriented neighbour.
Monotones
rule the space, catering to a discerning demographic that leans towards the intimate and intricate.
Individual travellers and couples will feel at home in any of The Outpost Hotel's 193 rooms, designed to give them a private and comfortable space away from everyday hustle and bustle.
Facade of The Outpost Hotel. Image © RenoTalk Media
Style: Chic, Contemporary Luxury (bold monotones)
Interior: Bold monotones give The Outpost Hotel's rooms a sleek, chic feel, which is just right for visitors seeking comfort and intimacy in the lap of luxury. This striking design palette will resonate with young couples on their honeymoon or immediate post-wedding stay.
A full-length window by the bed provides a scenic view during the day, and a romantic one at night. Black-and-white photos on the wall above the bed add a homely touch to the room while complimenting the interior.
The furniture saves space not just in size, but also in the functions they hide; the bedside lamps have rotatable heads so that you can swing them one side to be a night-light, and another side to be a reading lamp while you laze on the little black sofa next to your bed.
The coffee table is not just a coffee table, but also a reading ledge that you can slide right over your lap whenever you need to read or work.
When making accommodation work for its visitors, especially discerning ones, The Outpost Hotel does not compromise the comfort of its interior for luxury, but has found ways to combine these two traits into a successful selling point.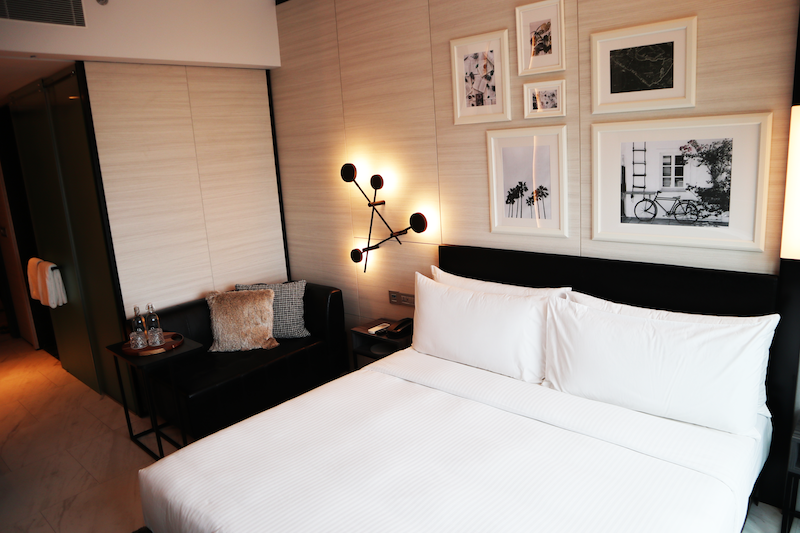 Images © RenoTalk Media
The Barracks Hotel is the only hotel out of the three that will be opening much later; its doors will only be opening in the
third quarter of 2019
. However, the preview images will make the long wait worth it.
The Barracks Hotel will make history buffs feel nostalgic due to its old-world facade, being built within a conserved colonial building. Strong greens and neutrals in the interior bring visitors back in time to when expedition and exploration ruled the Asian peninsula and first brought the British to our shores nearly three centuries ago.
Home to a mere 40 rooms, a pool, and a jacuzzi, The Barracks will attract visitors seeking heritage and history in their travels, and willing to splurge for it.
Image © Far East Hospitality
Style: Forest-Colonial (strong cool colours and medium-toned wooden textures)
Interior: Greens, whites, and browns reign supreme in The Barracks Hotel' rooms. Couple those hues with olden textures such as brick and weathered concrete for that colonial charm that is The Barracks Hotel' signature aesthetic.
The wooden furniture plays a role in amplifying the ambience - expect to see plenty of rattan and teak chairs from days gone by in every space of the hotel. Through using these colours and patterns, the interior of The Barracks Hotel has accomplished its aim of taking visitors back in time and away from modern stresses.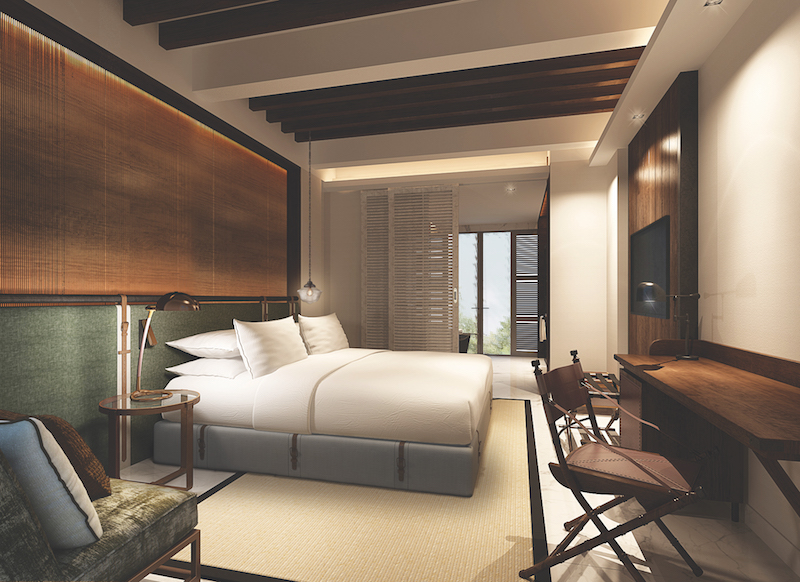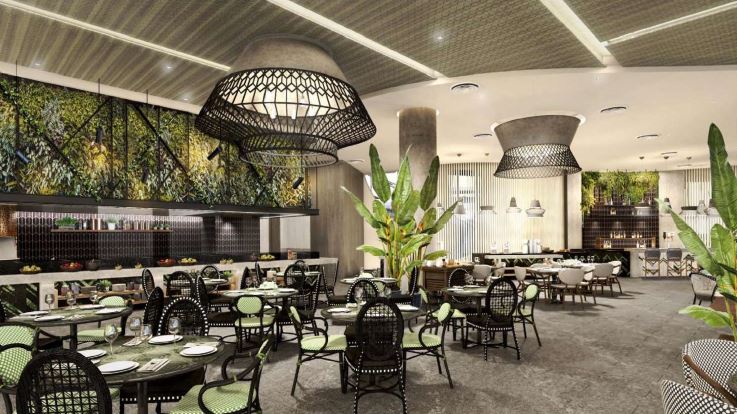 Images © Far East Hospitality
Tips & Tricks
Mr Liew and Mr Kunio Iwata, Managing Director of KKS International, shared their experiences on working on the three hotels.
For Mr Liew, it was about
incorporating Sentosa's heritage as a tropical island outpost
for British military into the hotels, citing parts of that past as inspiration for some of the hotels' spaces.
"Village Hotel at Sentosa, The Outpost Hotel and The Barracks Hotel is an overlay of Sentosa's incarnations as a place of resort," he explained.
"Sun-washed hues in the Village Hotel at Sentosa set the mood of perennial fun in the sun. The Barracks Hotel brings back memories of Singapore's colonial past in the textural, luxurious rooms housed within handsome heritage architecture.

The Outpost Hotel links the past, present and future in its timeless palette of black and white, and crisp lines and contemporary design."
So, how can you bring that
Far East Hospitality spirit
into
your homes
? Mr Liew and Mr Iwata have a few suggestions.
Mr Liew observes that through the interior design in the three hotels, visitors can look forward to
forming memories and experiences
while staying there. Factors to foster such an environment, according to that observation, comprise:
"the memorable arrival experience"

"taking in the intricately unique architecture"

"immersing in spaces of discovery and wonderment"

"understanding colours and textures which bring pleasant sensations to the fore"

"...and not the least of all, all the small, elegant touches."
"
The home
is about memories," he concludes. "With the right design touches, it is also about the
making of memories
."

Mr Iwata adds on that it is all about the greatest goal of any hotel - "creating memorable guest experiences", as he states, complementing Mr Liew's words on visitor experiences and memories made.
"This is why many homeowners are looking at incorporating elements of the hotel experiences into their home as it reminds them of memories during their travels," he says. "At the end of the day, it depends on each individual owner to express their requirement on what degree they would like to reflect their experiences into their home."
He leaves us this tip for making a hotel-like home:
"It is important that home is a long-term experience [compared to staying in a] hotel. Ensure the design is timeless and flexible enough to modify or add time to time."
---
Soft Launch rates available for booking from 7 November 2018 – for a limited time period only
Both Village Hotel at Sentosa and The Outpost Hotel will be offering Soft Launch rates from 20% off room rates.
Booking period is from 7 November 2018 to 30 June 2019.
Stay period is from 19 February to 30 June 2019.
For more information, or to book this special promotion from 7 November 2018, visit www.StayFarEast.com/Sentosa.
Request for quotes and we'll match you with a selection of Interior Designers!
Previous
Customise Your Cosy Home with COURTS 2019 Furniture Collection!
Next
Taobao, Lazada and Qoo10 DIY-ers: The New Threats to Interior Designers. Or Are They?