Can Feng Shui Help in My Studio Apartment?
Interior Design & Decor
35652 views
35652 views
Feng Shui for Studio Apartment
I am often asked about the application of Feng Shui for apartments. After all, the theories of Classical Feng Shui were created before living in high-rise buildings became common, so how is it possible to apply Classical Feng Shui to apartments and condominiums?
Here's my answer: Have you been to Hong Kong? It's completely jam-packed with apartments, and yet there are also many high-profile Feng Shui practitioners. If we could not apply Feng Shui to apartments, how would all these Feng Shui practitioners be able to make a living? In fact, these Feng Shui practitioners are extremely proficient in applying Feng Shui to apartment units, ranging from elaborate luxurious penthouses to closet-sized apartments.
It is true that there are limits when applying Feng Shui to small apartment units. The lack of space and the combination of room functionality means it's not possible to obtain the full benefits of Feng Shui. Nevertheless, I have always been a believer that you should never let the restrictions and limitations stop you from doing what you can. Even if 100% is not possible, don't let that stop you from moving forward!
How Do I Apply Feng Shui to My Studio Apartment?
Common Classical Feng Shui dictates that the main areas in a property are the kitchen, the bedroom, the main door, and the study. However, a studio apartment might save space by combining all of the above into a single room! If that's the case, treat individual objects as the rooms instead. For example, your Bed is now the Bedroom, your Stove is now the Kitchen, and your Work Desk is now the Study. After that, apply Feng Shui accordingly!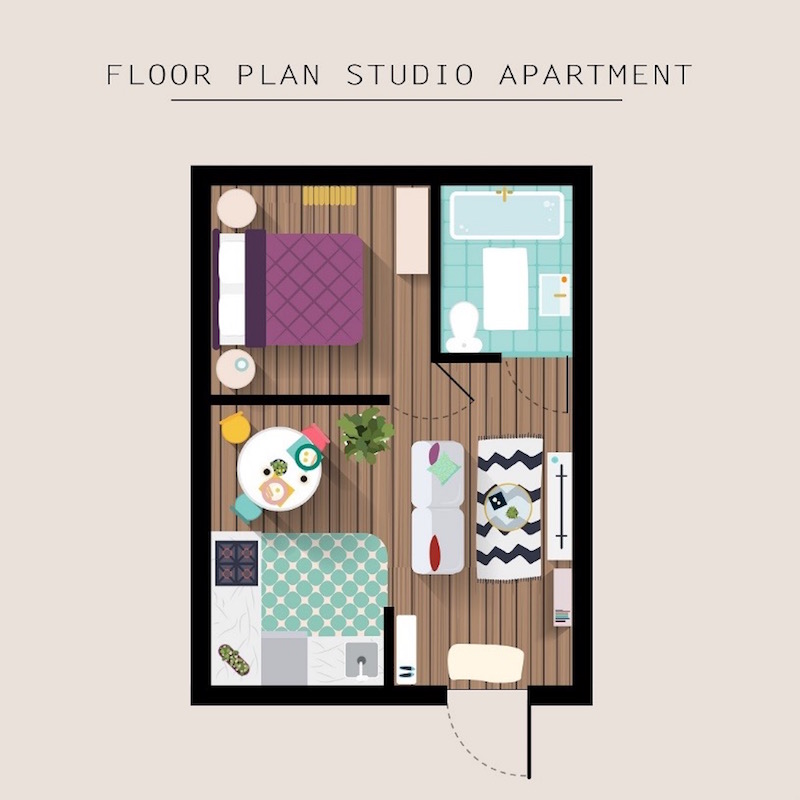 Small? Yes. Still a home? Yes. Can Feng Shui work on this? YES.
What if your studio apartment has no stove though? Lacking a kitchen is actually very bad for Feng Shui. Imagine if your body has no heart. In the same vein, if your studio apartment lacks a stove, it means that it's lacking a key part in its structure, leading to imbalance within the property. It's easy to solve though, just get a stove!
Finally, the basic rules of Feng Shui still apply. Make sure that the main door does not directly face the stove or the bed, as those need to be in stable locations. Also, as the stove is associated with the Fire Element, do your best to ensure that it's as far away from your bed as possible to ensure that your sleep is untroubled. Finally, your bed headrest should be against the wall to ensure stable Qi.
Not so good as the door is facing the bed.
Credit: Team Joey Yap
About Joey Yap
A luminary in his own right, Joey Yap's expertise in the study of Chinese Metaphysics is well sought after. He has been featured in international media outlets such as BBC, CNBC, TIME, Forbes, CNN and Bloomberg. He was listed in the Malaysian Tatler's Top 300 Most Influential People in Malaysia; and Prestige's Top 40 Under 40. He is also a best-selling author of 179 books, with more than 4.2 million copies sold worldwide. Earlier this year, some 20,000 participants attended his Live Seminar to hear his expert insight on Chinese Metaphysics. For more information, check out Joey Yap's website here: www.joeyyap.com. 
(Images courtesy of Dato Joey Yap)
Request for quotes and we'll match you with a selection of Interior Designers!
Previous
Talk Shop - Beauty Parlours
Next
Everything You've Ever Wanted to Know About Stone Countertops