Choosing the Perfect Countertop
Interior Design & Decor
5903 views
5903 views
One of the most important decisions when remodelling your kitchen is what material to choose for the countertops. This choice will have a huge impact on the look and functionality of your kitchen — and the budget. We sat down with Glen Ho, product specialist from Hua Khian — market leader in natural stone, quartz and tiling, home renovation and commercial projects — to help you decide which material best suits your needs.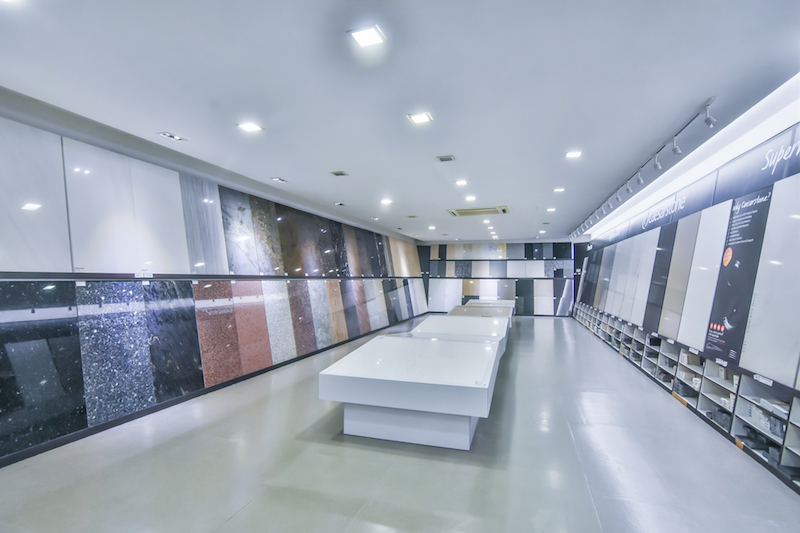 RenoTalk: Granite, marble, quartz, butcherblock … there are endless varieties of stone countertops in the market now. How does a homeowner even begin to choose the right stone for their kitchen countertop?
Glen: The days of cheesy laminates are long gone. Modern homeowners, from all walks of life, prefer stone countertops. They like the sleek look of marble that they see in all the cooking shows. Some favour the country home feel of the wooden butcherblock. Trendier buyers seek the industrial vibe that concrete and granite countertops offer. But the undisputed king of countertops today is quartz.
RenoTalk: We've noticed quartz is a popular choice amongst our readers as well. What's so special about quartz countertops?
Glen: Well, quartz's main selling point is its durability. Quartz is one of the most low maintenance materials. It's very resistant to stains, etching, cracks or chips. If you do a lot of heavy-duty cooking, especially Singaporean food like stir-fries, then stains various sauces are unavoidable. With quartz countertops, you can just wipe away these stains. Materials like marble and granite, however are more porous and will stain more easily. Quartz also comes in a large variety of colours, patterns and finishes. Our partner, Caesarstone, one of the world's leading quartz suppliers, offers over 37 varieties! Homeowners can visit our 50,000 sq ft showroom to see the stunning array of quartz and natural stones we offer in person.
RenoTalk: Seems like quartz is the clear winner then?
Glen: The answer isn't set in stone. Hah. The kitchen is the heart of the home and your countertop is the heart of the kitchen. It really depends on your needs and lifestyle and of course — your budget. Many clients find the upkeep of marble worth it because the classic marble countertop is super chic and will never go out of style.

RenoTalk: What would you recommend for busy Singaporeans who want the timeless elegance of marble but simply don't have the time for the maintenance due to our hectic lifestyles?
Glen: Hua Khian has actually come up with the ideal solution! We've just launched Arkstone™, a stunning range of quartz that are true marble look-alikes. The veining of Arkstone™ mimics natural marble beautifully without compromising the durability of quartz. Arkstone™ quartz currently comes in over 20 varieties and with many more in the pipeline. Arkstone™ is at the cutting edge of technology and trend. Quartz marble look-alikes are the perfect marriage of beauty and strength. This line is a little more economical and even though Arkstone™ is a new product, it's already a favourite with our clients.
RenoTalk: With quartz taking over the market by storm, marble look-alikes must be getting more common. Most homeowners wouldn't know very much about marble and even less about quartz countertops. What would you recommend to ensure they are happy with the end results?
Glen: It's true. Marble look-alikes are flooding the market. Many homeowners only get to choose from the tiny sample booklets that interior designers usually carry around and then find themselves in for a nasty surprise once the kitchen countertops are done. Instead of the beautiful Italian dream they envisioned, they are underwhelmed by a poor imitation. And by then it's too late to change. At Hua Khian, we ensure the interior designers we're partnered with carry around photos of the full slabs of quartz marble look-alike in addition to sample booklets. We do this so clients can have a full appreciation and understanding of the veining and colour of the marble. Or, homeowners can just visit our showroom to see the full slabs in person. After all, seeing is believing.

RenoTalk: Any further advice to help homeowners avoid disappointments?
Glen: The best advice I can give is to find a reputable supplier whose knowledge and expertise you can bank on. At Hua Khian, we are specialists in natural and engineered stones with over 44 years of experience in the business. We really take the time to educate our clients on the porosity, veining, striations, etc. of the stones so they can make an informed decision. We don't leave any stones unturned. Hah. Hua Khian is also the largest fabricator of quartz in Singapore with two dedicated factories. We also provide installation services with skilled and experienced contractors to ensure quality workmanship. This means that our clients can expect a smooth process from measurement to installation — without the shady middlemen.

RenoTalk: It sounds like you really help to make an important and often daunting decision much easier.
Glen: Remodelling the kitchen is a big investment. At the end of the day, we want our clients to walk out of the showroom feeling confident about this big decision — that what they see, is exactly what they are going to get. I know I've done my job well only if my client feels truly satisfied.

~
Hua Khian's showroom is located at 3 Defu Lane 4, Singapore (539408)
Contact them at 65-6289-6402
Showroom opening hours:
Mon-Sat: 0830-1800
Sun & PH: 1030-1700
Website: http://www.huakhian.com.sg/home/
Request for quotes and we'll match you with a selection of Interior Designers!
Previous
Getting Back Into The Interior Design Business - Perseverance and Passion
Next
Five 3-Room Flats With Attractively Spacious Designs