Colour Your Home Happy
Furnishings
8648 views
8648 views
Visualise colours like orange and yellow in your mind and, more likely than not, you would feel happier in some degree. That's the basis of colour psychology, which is the study of colour and its effect on our mood, emotion and behaviour. Whether we notice it or not, colours have a powerful effect on us. One easy test is to observe how you feel and behave in eating establishments.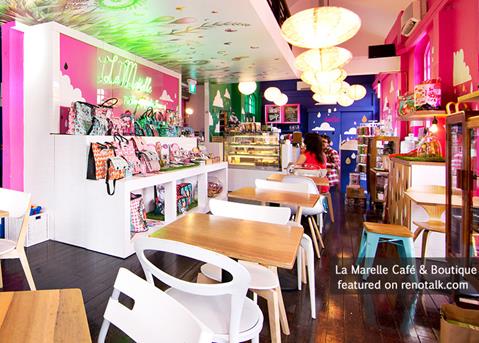 La Marelle Café & Boutique
For example, you might find yourself engaging in animated conversations in a café with bright hues. And in a cosy, woody restaurant, the tendency is to feel relaxed. You might even find yourself speaking in soft tones. With that in mind, it's essential to choose the colours in your home carefully. We highlight colours that are suited for the various parts of your home.
BEDROOM

In 2014, colour trends for the bedroom include warm grey tones and browns. These colours evoke a relaxing feel that gets you in the mood for sleep. If you're looking for something more, red is known to represent passion and love. If you're not keen on true reds and prefer toned down hues, try dusky reds. Note, too, that like red, purple and gold might be too stimulating for the mind. For the best shot at maximising sleep hours, experts recommend blues and greens. These are also mood-lifting colours that are excellent for getting you up and about quickly in the morning.


LIVING ROOM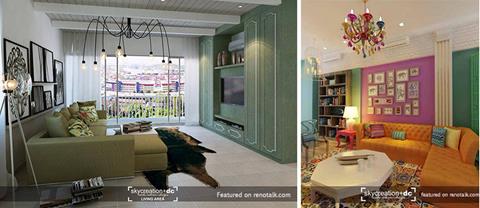 Sky Creation

While there may be colours to avoid in other spaces, the living room is one space that can take virtually any colour family. To start off, envision how you would spend time in the living room. For families with young children, introduce bursts of yellow and orange to stimulate their senses. Bright colours also create the illusion of space, bringing about a sense of openness that enhances the mood.

Teal, which is Dulux's Colour of the Year for 2014, is excellent for the living room.


DINING ROOM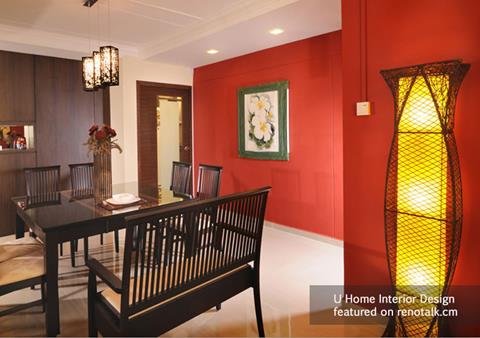 Red is the go-to colour in the dining room if you're looking to jumpstart your appetite for food. Red tones also evoke a welcoming mood, which is great if you host guests frequently. For other colours, take inspiration from food, and try purple and green. Colour experts note that blue can restrict the appetite, so avoid blue especially if you have finicky eaters in the family!
Need some proof? Which plate takes your appetite away?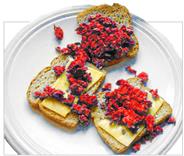 And instead of using one strong colour in the dining room, blend it with other complementary colours to minimise sensory overload. For example, purple goes beautifully with subtle yellow or green tones.


KITCHEN


Childhood memories have much to do with home-cooked food that came out from our mothers' kitchens. Colour experts recommend going for colours that bring back fond childhood memories. Still, note that for the same reason blue is not recommended for the dining room, it should also stay out of the kitchen.


STUDY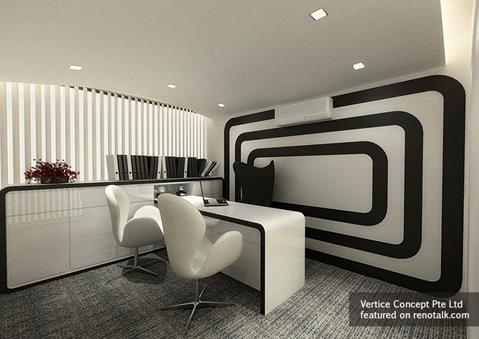 Want to encourage optimal concentration and focus? Green is known to aid concentration, so this hue makes an excellent choice for the study. It is associated with Nature and it effortlessly promotes a sense of serenity, but don't just stick to one shade. Inject tones like apple green or olives to keep the room looking fresh, and not too laidback.
Be aware of colours like orange that can over-stimulate so use this sparingly. Even grey might feel slightly drab if the right tone is not picked. Monochromes in interesting patterns not only appear timeless, they engage the mind and provide just the right amount of stimulation too.



BATHROOM


White, a colour signifying purity, keeps the bathroom looking clean and fresh. Added to that, the bathroom, being the smallest space in the home, can benefit immensely from the space-enhancing effect of white. If you have a powder room, consider warm colours that put your guests feel at ease when using the space. For your personal bathroom, inject lively blues, greens, yellows or even oranges to refresh the senses.
Request for quotes and we'll match you with a selection of Interior Designers!
Previous
Kitchen Design Inspiration - Making Small Kitchens Bigger
Next
Whimsical Wonderland – Homes Abroad