Common questions regarding renovation works in a HDB bathroom
Interior Design & Decor
7036 views
7036 views
Perhaps your bathroom is long due for an overhaul, or perhaps you want to transform it into an idyllic oasis. No matter the reason, starting on the right foot is important as you don't want your renovation plans to go haywire. Not to worry, we've got you covered with several frequently asked questions about bathroom renovations - all answered crystal-clear just for you.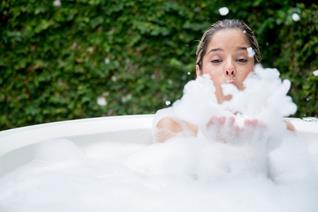 Q: My husband and I are the proud owners of a new Build-to-Order flat. Can we replace the existing tiles with new ones?

A: Congratulations on your new home! While the toilet floor and wall finishes in newly completed flats can't be replaced until the restrictive period of three years upon block completion is over, you can always lay new floor finishes of your choice over the existing ones using adhesives. Have fun choosing!


Q: What should I look out for when replacing windows?

A: First, you need a permit. Subsequently, you have to ensure that the minimum thickness of each glass louvre should not be lesser than 6mm, it is made up of wire-glass and that it comes with an aluminium u-channel cleat for safety.


Q: I'm envisaging myself relaxing in a warm bubble bath with a book in hand. Does HDB allow the installation of tubs though?

A: Yes, it is allowed. Before your contractor gets started, fill him in on these important guidelines first:
- The area beneath the tub cannot be filled with cement mortar. It has to be left empty.
- The floor slab must not be tampered with at any costs.
- The standard shower stall cannot be extended to accommodate to the tub
Enjoy your newly installed bath tub!


Q: Can I widen my bathroom area?

A: Not if your house is less than three years old. Other from that, older houses require a permit first. Take note that this extension can only be used as a dry area. For example, shelves for your towels or wash basins. In addition, the maximum extended width and area is 600mm and 0.6sqm respectively.


Q: Due to my knee problems, I'd like to change the squat pan to a pedestal one.

A: The older generation houses are usually fitted with squat pans. If it is absolutely necessary for your heath, you are encouraged to make the change. Do lead your contractor to the HDB site to follow the necessary guidelines for safety reasons.

Get Renovation Quotes from multiple renovators for your home on our request form.

Request for quotes and we'll match you with a selection of Interior Designers!
Previous
Advance 3D Panel : Wall of Fame
Next
The Essential Guide for New Homeowners