Cool Office Spaces You'll Want To Work In
Interior Design & Decor
3762 views
3762 views
If you think about it, we spend most of our week tucked away in our work quarters. Therefore, a well done up office is actually as important as a nicely decorated home. Enjoying the environment you're working in may escalate productivity, something which will make work a more pleasant experience.
In this feature, we showcase three uniquely themed office spaces, with elements a typical office may not have.
1. Industrial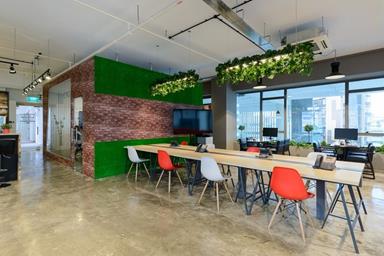 Credit: Starry Homestead Pte Ltd
This particular office has based their interior decisions according to an industrial themed guideline, while pulling in other elements to brighten up the space a little more. The walls, flooring and ceiling lights contribute to the industrial bit of the design, while bits of greenery litter the space as well.
Credit: Starry Homestead Pte Ltd
The colour scheme is cleverly picked, the mix of wood, white and orange leaves the area lively, which works well for their open concept.
Credit Starry Homestead Pte Ltd
The meeting room adopts a more minimalistic spin; white walls and chairs a beautiful contrast against a dark table. It's also barely furnished, creating as little distraction as possible.
Credit: Starry Homestead Pte Ltd
Lastly, the office even has their own bar, which we're sure must be a big hit. It's a great element to add, allowing employees time to unwind when the day gets a little too stressful, which may produce greater results in the long run.
2. Modern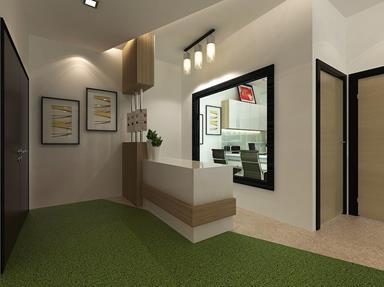 Credit: Al Concept Pte Ltd
There are many ways to work around a modern theme, and this office has done it with a muted colour palette, while injecting a heavy dosage of astro turf all around the space. As a result, the office looks a little more grand and spacious, which is especially great for a reception area, because it leaves incoming guests with a good impression the minute they walk in.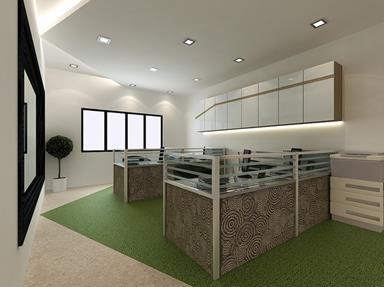 Credit: Al Concept Pte Ltd
The general work space features work tables stationed in a U-shaped formation, while the surroundings are kept minimally decorated. However, textured cubicles and hints of green add a sense of excitement to the area. Who knows, those elements may help brain stimulation when the day seems to be crawling through the afternoon hours.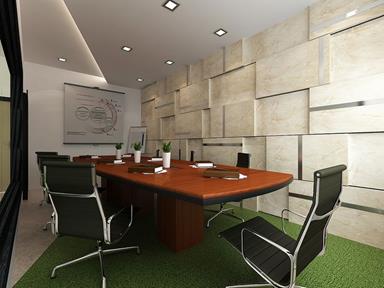 Credit: Al Concept Pte Ltd
The meeting room is a little more compact, which may not be a bad thing at all. Business partners and colleagues can hold cozier meetings, which may lead to a less intimidating or distant atmosphere, allowing all involved to actively participate.
3. Farmhouse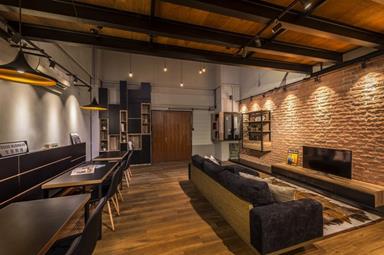 Credit: Inzz Studio Pte Ltd
Among one of the most unique themes we've seen, this farmhouse inspired office has a quirky characteristic which will work well with creative companies. The setting creates a more casual environment, allowing a balance between both work and play.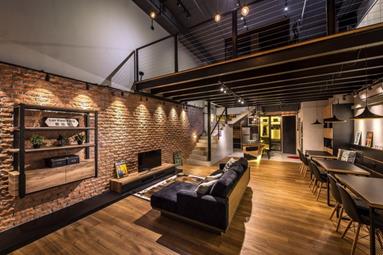 Credit: Inzz Studio Pte Ltd
The place is dominated by wood, from the flooring to just about every piece of furniture. What keeps it classy though, is the mix of materials. Various metals and suede and thrown into the mix, so although each piece of furniture contains some sort of wooden element, it's not done in overwhelming components.
Credit: Inzz Studio Pte Ltd
The actual workspace is located upstairs, which works as a great idea because both work spaces and play spaces are separated, allowing employees to wholly focus on their tasks. The major use of black gives the area a more serious atmosphere as well.
Request for quotes and we'll match you with a selection of Interior Designers!
Previous
5 Brilliant Ways To Make Use Of Balconies
Next
All You Need To Know About Renovation Costs (Part 1)