Crazy Door Designs for Dramatic Entrances
Interior Design & Decor
5901 views
5901 views
Everyday, homeowners walk in and out of rooms without thinking about the importance that a door has to their lives. In reality, doors form a core part of your home design as they have many functions: they divide one living space from another, they provide the entranceway to a designated area, and they offer privacy where privacy is needed.
Aesthetically, a doorway defines the place that you are about to enter. For example, a hospital door would look distinctly different from an entranceway to a Church – both doors have their own unique look that lets you recognize right away what lies behind them. So why not get creative and give each of your internal doors a special look? Check out these impressive themes for some creative doorway inspiration:
1. Home Sweet Home
This adorable entryway to a playroom is every child's dream. Forget Harry Potter's miserable little cupboard under the stairs – this cottage-themed doorway comes complete with two flower-adorned windows, a rocking chair and even a mini mailbox for all your child's letters.
2. The Bookworm's Arch
Use your door as an indicator to your guests that your study room or home library is for quiet reading time only. In this example above, the homeowners have framed their reading room's entryway with an arched bookshelf using the same wooden color tones and texture as the door, creating an elegant and striking entrance to a cozy study room.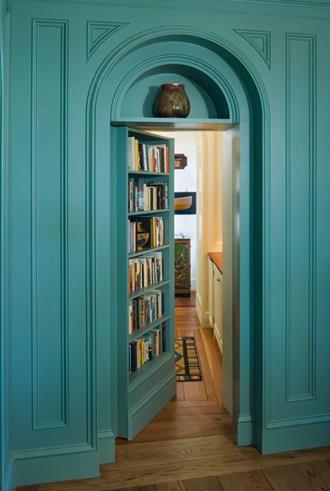 Alternatively, you can opt for a more modern approach by creating a mysterious hidden reading nook. This home above has transformed their entire door into a brightly colored bookshelf with hinges that opens up into a secret room with even more bookshelves.
3. Box Office Special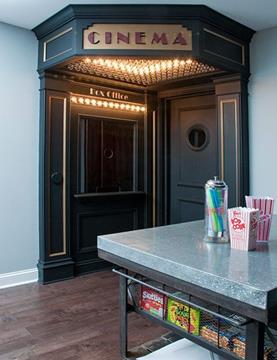 Roll out the red carpet and bring out the popcorn! This corner doorway above is renovated using a classic black and gold cinema theme – including a ceiling with yellow lightbulbs, a faux ticket window. To complete the look, the homeowner has added favorite movie snacks and candy on the kitchen island nearby.
To create a film-inspired door that is a little bit more discreet, opt for this look above which uses an enlarged door-sized vintage poster leading to a home theater.
4. Ahoy Matey!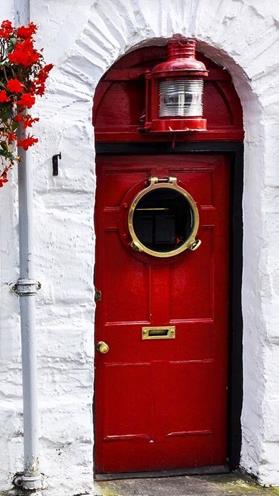 Sail away in the home of your dreams by creating a nautical-themed entrance to your home. This example above uses a lamp light and golden-rimmed metallic circular window found in submarines and ships. Complementing this window are a golden letterbox and doorknob against a striking red wooden background. For your interior doors, try using a boat frame to shape your doors.
5. Arabian Nights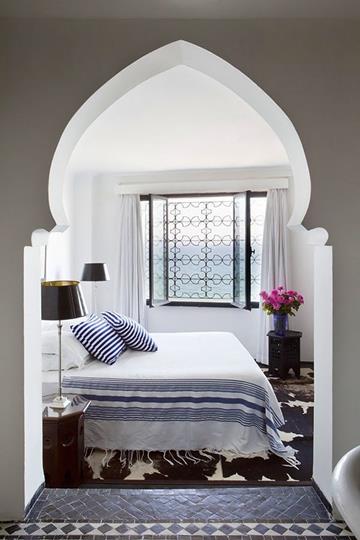 Sleep in an Arabic palace by transforming your bedroom door into a Middle Eastern-themed entryway. This home above has shaped a bedroom divider into a beautiful Moroccan-inspired outline, using white and blue color tones to create a clean, majestic and elegant look.
6. The Alice Door Knob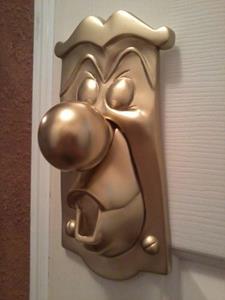 Finally, if your renovation budget or home design doesn't call for a complete door overhaul, you can always give your doors a unique personality with small touches. In your child's bedroom, for example, replace a regular doorknob with a door knob straight from Alice in Wonderland. Whether you want a sci-fi, fairy tale or horror-inspired door, remember that door knobs and door handles can be easily changed to your liking.
Request for quotes and we'll match you with a selection of Interior Designers!
Previous
5 INCREDIBLY AWESOME Staycation Spots In Singapore
Next
5 AWESOME Home Accessories You Probably Can't Find In Singapore