Creating Greener and Smarter Homes of The Future with the Küche Smart Collection
Interior Design & Decor
2226 views
2226 views
The future of the kitchen is now with the Küche Smart Collection, an eco-friendly, new state-of-the-art line of kitchen solutions that blend sleek design with intelligent features. Inspired by German quality and function, the appliances are equipped with a range of innovative safety functions and designed to be controlled remotely with just one mobile app. It also allows for syncing and controls via Google Home Assistant thanks to its inter-operability capabilities.
Exclusively distributed by City Energy through Life by City Energy at Plaza Singapura, Küche is powered by piped town gas, the environmentally friendly energy choice. City Energy is Singapore's sole trusted provider of piped gas for generations and aims to provide innovative green energy solutions that meet the needs of homes and businesses, while enabling smarter living with integrated technology. Available at excellent value, appliances powered by piped gas are eco-friendly solutions that contribute to lower carbon footprint.

How does the Küche Smart Collection benefit homeowners?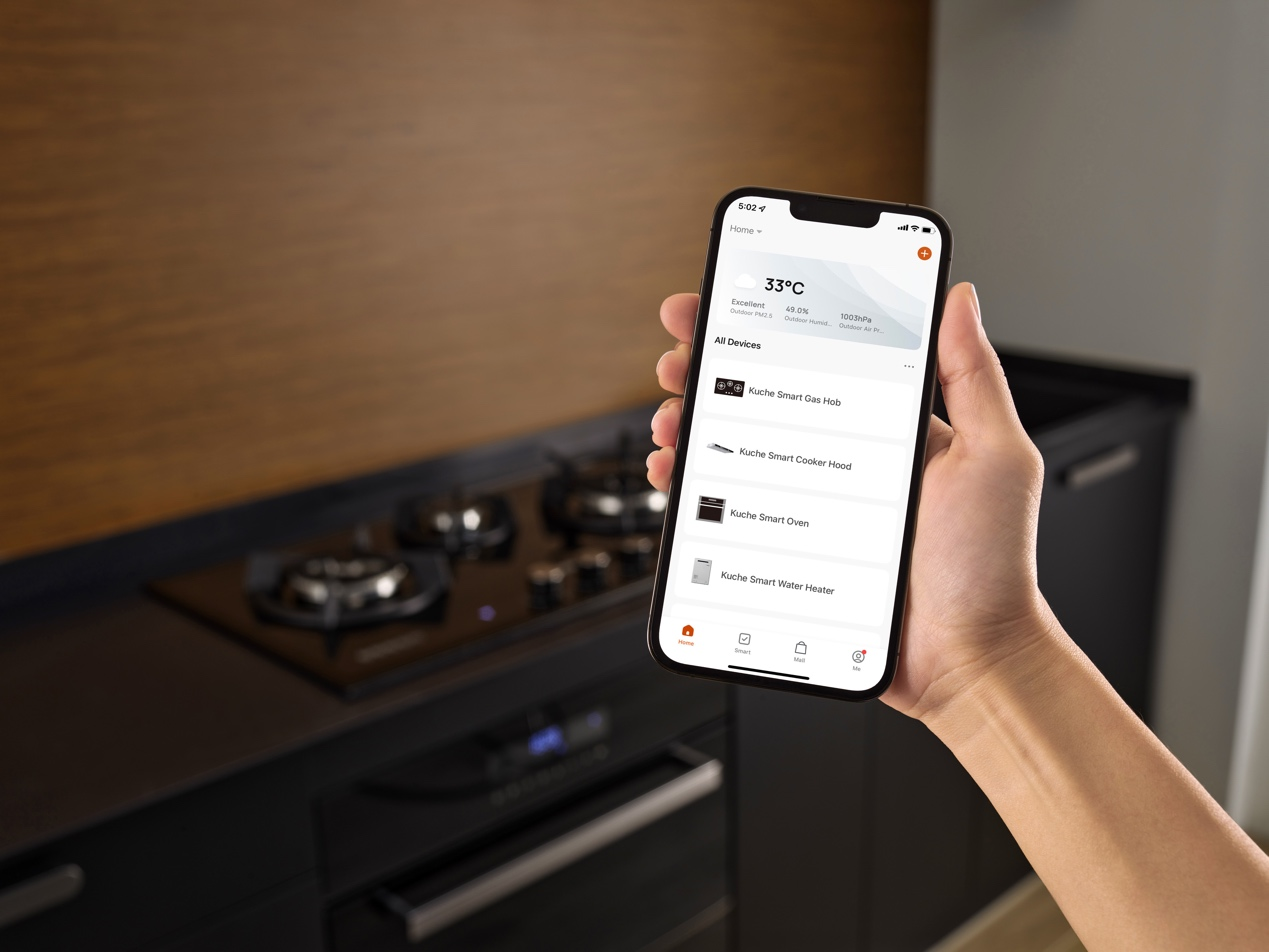 As a premium choice offered at competitive prices, the Küche Smart Collection brings greater convenience to homeowners with control and customisation made possible with the iAppliances app, available on the Apple store and Google Play. Save the settings for your favourite recipes or set your preferred shower temperature for a rejuvenating shower after a long day. You can even keep track of your gas consumption on your Küche Smart Collection with the app.
The Küche Smart Collection is made with technology and safety as the most important features. You can switch off your Küche appliances remotely with your smartphone and receive safety notifications to alert you of any potential dangers, so that you can rest assured knowing that you can keep you and your loved ones safe.
Küche Smart Gas Water Heater
Start or end your days right with a long, rejuvenating shower with the Küche Smart Gas Water Heater. Relax with showers heated to your preference and enjoy up to 60°C instantly with the preheating function on the iAppliances app.
The Smart Gas Water Heater has 26 built-in safety features and does a self-safety check every time before operating. It also comes in a weatherproof model for outdoor installation at private condominiums.
Based on a study by ZEB Technologies Pte Ltd for public agencies in Singapore, a gas-powered instantaneous water heater can save you up to $190 a year, as compared to an electric storage water heater.
Küche Smart Gas Hob
Available in four different sizes, the Smart Gas Hob is perfect for different household sizes and any home chef. Achieve mouth-watering flavours and aroma with wok hei that only gas hobs can deliver, all while making a positive impact on the environment with the use of piped gas.
Equipped with an electrical ignition for easier starts and an inner flame ring for low-heat cooking, those who love boiling soups and stewing will rejoice. Homeowners are also able to set a timer for individual burners which will turn off automatically when the timer ends.
Did you know that unattended cooking is one of the top 3 causes of fire in residential premises in Singapore? Designed with safety in mind, the Smart Gas Hob is equipped with a flame failure device. Homeowners can receive notifications via their iAppliances app if there has been prolonged hob usage and turn it off remotely.
Küche Smart Hood
Make your kitchen stay fresh for longer with the Küche Smart Hood. Stubborn food smells don't stand a chance with the Smart Hood's extraction power of up to 600m3/h, incorporated aluminium grease and charcoal filters, and three-speed fan setting control. Users can use the iAppliances app settings customisation, remote shut down, and cleaning reminders to keep the Smart Hood in the best condition.
With the smart interlocking function made available, users can initiate smart pairing with the Küche Smart Gas Hob to switch on both appliances at the same time.
Küche Smart Oven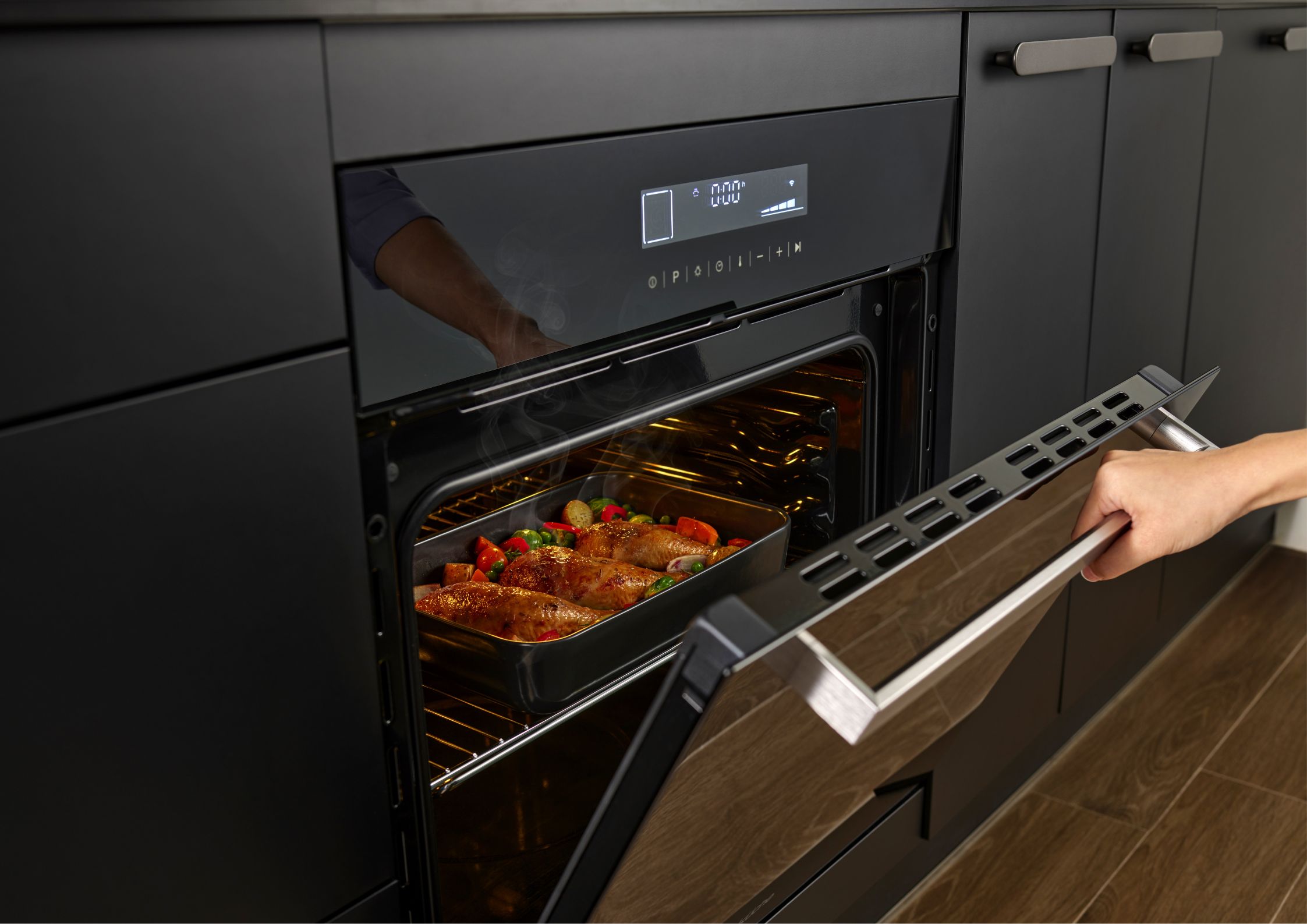 Enjoy minimal fuss and maximum satisfaction as you revolutionise the way you cook with the Küche Smart Oven! Gone are the days where you have to depend on your memory or written recipe instructions – program your favourite recipes and activate them with a simple tap using the iAppliances app. The Smart Oven also offers 11 cooking functions and boasts a generous space of 67L (enough to fit an entire turkey)!
The iAppliances app allows users to remotely control and monitor the Smart Oven – you can now master the kitchen from anywhere!
Why homeowners and property developers should choose Küche
The Küche Smart Collection levels up your home and everyday experience by creating a greener and smarter lifestyle. Powered with piped gas, the eco-friendly energy choice for Singapore homes, this range of smart home solutions brings homeowners greater assurance and convenience. Property developers can leverage on Küche's smart interlocking features and in-built safety functions to elevate the homes and living experience they create.
Watch how Küche brings you the better lifestyle – it's sustainable, safer, smarter, and simpler.
To find out more, visit www.kuche.com.sg or arrange for a live demonstration at Life by City Energy at Plaza Singapura #03-78. This National Day, get a Küche Smart Hob and Hood to enjoy 57% off your Küche Smart Oven as a purchase with purchase! Promotion runs from 8 August to 26 September 2022 and is limited to the first 57 sets only. Purchases can be made in-store at Life by City Energy or on www.cityenergylife.com.sg.
Request for quotes and we'll match you with a selection of Interior Designers!
Previous
SHARP's New Multi Door Fridge Prevent Nutritional Loss and Keep Energy Consumption Low for Fresher,...
Next
6 Exclusive Ways To Choose The Right CCTV In Johor Bahru