Creative and Trendy Flooring Ideas
12798 views
12798 views
Take a look at these stylish flooring ideas which exude creativity and character. Be it country style or a rustic look, the right floor tiles or patterns is essential to enhance the look and feel of the overall interior design.
Rustic Wood Patterns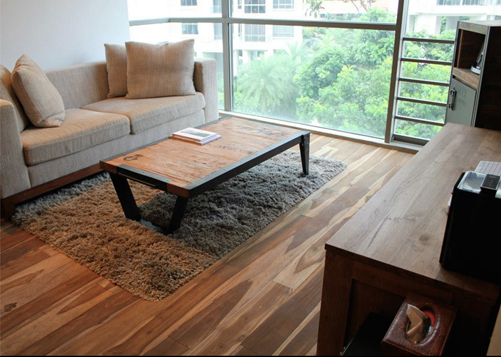 Photo Credits: Wood and Wood Flooring
Typically, no two pieces of wood flooring are the same. While less noticeable in woods like teak, in others the unique patterns on each wood strip are more pronounced. Wenge flooring, for example, comes in dramatic patterns with distinct light and dark wood patterns. With a rustic, unfinished feel, it's perfect for the country-style or cabin-inspired abode.
Herringbone Patterns
For a number of years, herringbone patterns fell out of favour. Typically seen in halls and dance studios, this wood flooring design is making a much-welcomed comeback. With the strong lines that help to direct the eye, herringbone patterns add elegance and sophistication to interiors. Jazz up your industrial-style home or complement the contemporary home with the vibrant zig-zag patterns. This flooring design is also complex, so expect a longer time frame for installation.
Cement Screed Stencil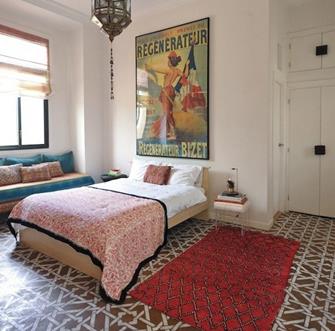 Cement screed flooring is great for many reasons. If you've installed your cement screed flooring in an even tonality but find it a wee bit dull, here's a wonderful way to liven it up. Stencilling it with patterns is an easy DIY project for the home. Try incorporating patterns in the living room in place of the carpet. Create a border by stencilling the corners of the room. There are plenty of ways to go about it, so get your creative juices flowing!
Chequered tiles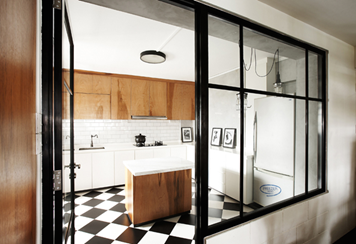 Photo Credits: Three-D Conceptwerke

Like herringbone patterns, chequered tile patterns are also bursting on the scene. This classic black and white floor design is common in French and other European homes. Therefore, it will not go wrong in classical-style or contemporary homes. Its return could perhaps be due to the rising popularity of Italian furniture design. Pay attention to the size of the tiles. Small tiles are best suited for small spaces. Remember, with large tiles, the patterns would not be prominent.
Uniform Wall and Floor Tiles

Photo credits: Free Space Intent

Another fun way to demarcate a space is to install the same tiles on the walls and flooring. Colourful tiles, from those inspired by anything from Peranakan and colonial to Moroccan and Mediterranean cultures, are fabulous for this purpose. With the vibrant colours or patterns, they would create a well-defined space that's different from the rest. Make sure that the tiles are meant to be used as floor tiles. Floor tiles, unlike wall tiles, are manufactured to withstand foot traffic.
Request for quotes and we'll match you with a selection of Interior Designers!
Previous
Nic & Wes Builders recreates the old world Colonial style
Next
7 Renovation Problems To Avoid