Creative Ways To Jazz Up Your Wall
Interior Design & Decor
3100 views
3100 views
Wish to dress up plain household walls but not sure to use which method to do so? Bored of your house interior design but averse at the thought of a massive overhaul? Be it wall decals, wallpaper or stencils, there's something for every household.
1. Wall decals
Wall decals are ubiquitous features everywhere for a long time. They are usually made of vinyl, but they don't always damage walls and cause peeling when being removed like wallpaper can.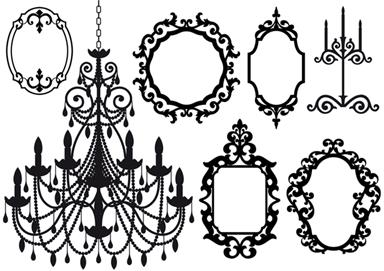 Don't have a chandelier? Get a decal to imitate one!
So when should you decal?
- When it's for a flat you want to rent out or not for your own stay.
- When you are planning to spend within a budget.
- Want to go for an elaborate decor without repeating patterns or designs.
- When you are indecisive (since it's temporary)
- When you wish to sport a different interior design every year
2. Wallpaper
On the other hand, wallpaper can be handprinted on recycled paper, which can be environmentally friendly and even cheaper, but is a more permanent decision.
Beautiful wallpaper designs from Thewallstory
When should you wallpaper?
- Want to accent the wall in a repeating fashion
- When you want to keep the wallpaper for a long time
- Want the textured or gradient effect that cloth-material wallpaper can achieve
- Have unfinished walls
- Want to protect walls in high-traffic areas, such as hallways and office spaces.
3. Stencils
Reusable stencils are suitable only for those who are willing to paint their wall. If you wallpaper or stencil and later decide you don't like it or that it's not a permanent solution, lots of paint and work follow that cost lots of dollars and waste supplies.
When should you stencil?
- When you want cost-effective options to add interest and depth without having to redo the entire surface of the wall
- Add visual interest to empty and boring corners of the house without refurbishment
- Paint on your stencil for a customised look
Credits: Dulux
Check out more gorgeous colour combinations from Dulux! Since stenciling is a relatively unknown method, here is how to stencil:
Where: Search online to find companies who can create customized stencils according to your design or those that are readily available at DIY stores and art shops. Opt to create your own design using lining paper with a personal touch.
How: Purchase the right kind of special stencil brushes with short and stiff bristles that can help to 'stipple' paint onto the wall easily, found at DIY or hardware stores.
Additionally: When stenciling on vertical walls, it might be helpful to use spray-on stencil adhesives which are available from most art shops and DIY stores. The adhesive gives a low-tack backing to your stencil, keeping it in place while you paint. Alternatively, masking tape works too!
Request for quotes and we'll match you with a selection of Interior Designers!
Previous
How to Create A Child-friendly Environment At Home
Next
4 Design Trends To Follow In 2016