Customise Your Cosy Home with COURTS 2019 Furniture Collection!
Interior Design & Decor
2018 views
2018 views
RenoTalk had the privilege to preview COURTS Singapore's 2019 Furniture Collection on 25 October 2018. Several pieces from this new collection were displayed in a mundane home setting to show us their designs and functions, with the preview event being hosted by Mr Ben Tan (Country CEO of COURTS Singapore) and Ms Norizan Sani (Head of Furniture Buying of COURTS Singapore).
What COURTS has to offer in this new line is a literal upgrade from previous collections, with customization options and smart technology built into this array of sofas, bed-frames, recliners, tables, and storage systems.
Image (c) RenoTalk Media
What To Expect:
The COURTS 2019 Furniture Collection aims to add a futuristic and personal touch to your home by infusing smart technology with customisable options. Customers will enjoy 600 leather and fabric options and at least 1,500 possible configurations for most of the collection's furniture pieces, including sofa sets, dining tables, bed-frames, and wardrobes. Waiting time starts from two weeks so that customers can receive their new furniture sooner.
For some models, technology is a major part of their functions; some recliner models now include USB charging ports for your mobile devices. Also, power-motion technology has been built into some of the collection's seaters for easier mobility and convenience; Ms Norizan and her team has tried and tested these models, and she predicts that they will be among the top sellers from the new collection.
"These are the kind of furniture that people are looking into," she explains. "Because nowadays, people want, for example, a recliner that does not look like a recliner but something that has the sexy and contemporary look of the sofa, but with recliner functions."
Other than the models with power-motion technology, team at COURTS observed that storage solutions sell well with today's market. "Storage solutions are popular because in Singapore, the living space is pretty tight," Ms Norizan added. "So we always have options for customers that require storage solutions. So other than having sofa and sofa beds with storage solutions, we also have the bed-frame options and Smart Box options, where you can customise your wardrobe. These are very important to fit into the customers' homes."
Ms Norizan also pointed out that while customisation has always been a standard in COURTS' furniture for a long time, this latest collection differs from previous lines as customisation does not just apply to sofas here, but other furniture pieces so that homeowners can own furniture that is an extension of their personalities.

Image (c) RenoTalk Media
The customisation options for the 2019 Furniture Collection are not just for self-expression's sake, but caters especially to multi-generational living. As Ms Norizan shared, everyone has different comfort levels and different uses for certain furnitures ("For a sofa, there are those who prefer to sit on the L-shaped side, and those who prefer a place to rest their head."), especially for homeowners sharing their homes with multiple family members. With its variety of customization options, COURTS' latest line of furniture has truly kept up with today's changing housing trends.
Our Picks:
Here are seven pieces from the COURTS 2019 Furniture Collection to look out for:
1) Eliza Sofa Set
The Eliza L-Shaped Sofa Set is the set to get if you are seeking a nautical-themed home or a pop of colour amidst a cool neutral design. Ocean-blue and in full leather, not only is the Eliza customisable, it also comes with removable headrests for when you need to rest your head or when you need to loll back on the sofa for a nap. This sofa set also utilizes power-motion technology in its seats - by pressing a button at the side, in-built motors will slide the seats back and forth depending on how you want to rest your legs.
Prices start from $3,499.

Image (c) RenoTalk Media

2) Skyler Sofa Set (With Waterproof Fabrics)
If 'spillage-resistant' and 'Scandinavian' are your favourite words, then the Skyler Sofa Set is a must-get for your home. Not only is this L-shaped full-fabric sofa set customisable (you can choose other shades if neutral tones are not your thing), it is also one of the new sofa models with sewn-in waterproof fabrics. Brought here from Belgium, these fabrics have water-repellent membranes that prevent seepage after spillage, making your sofa easy to clean and maintain even after spilling your drinks!
Priced at $1,349.

Image (c) RenoTalk Media

3) Genevieve Sofa Set
If you are looking for something compact yet cosy for a small space, the full-leather two-seater Genevieve Sofa Set is your best bet. Like the sofa sets in this collection, it is customisable and made-to-order, with leather options for your taking. The Genevieve Sofa Set also comes with an ottoman, where you and your loved ones can sit face-to-face for a good chat. If you have a small room, you can pair the Genevieve with full-length mirrors for a spacious look.
Priced at $1,899.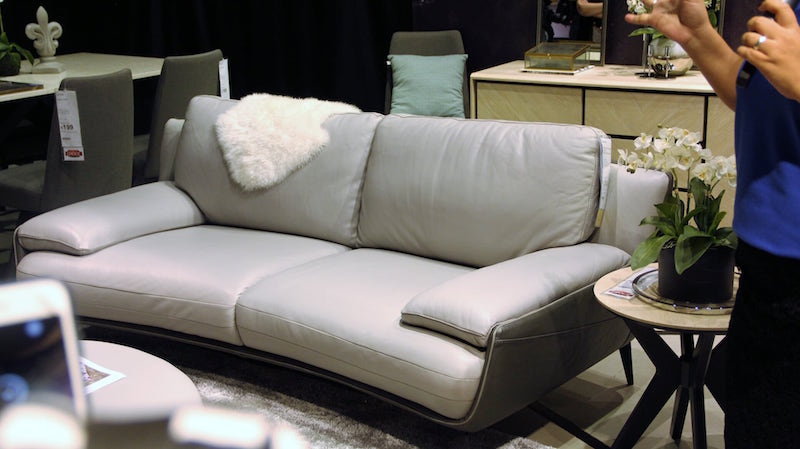 Image (c) RenoTalk Media

4) Crema Marble Dining Table
The Crema Marble Dining Table can be customized for any space and for any theme. The made-to-order set is available in up to five colour finishes and three bases. So if ivory-coloured marble is not to your liking, you still have four colours to choose from for your Crema tabletop.
Prices start from $1,199.
5) Bed Frame with Storage System
The COURTS 2019 Furniture Collection lets you customise everything about your bed. How tall and thick do you like your headboard? What is your preferred softness for your mattress? How much storage space would you like built into your bed-frame? There are over 1,500 customization options for bedding, with a wait time starting from 10 days. Plus, customisation is always free.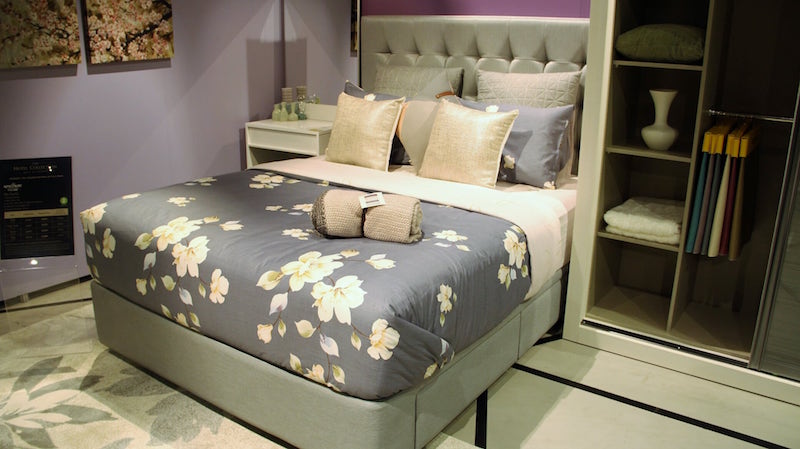 Image (c) RenoTalk Media
6) Smart Box P-Series
As living spaces in Singapore get smaller, storage systems must be smarter. Customise your wardrobe or cabinet with the Smart Box P-Series, where you can choose from an I-shape, L-shape, or U-shape. If you are space-restricted, you can just go for a single cabinet with a sliding door.
You can also decide which colours and doors you want to use for your storage's exterior. All doors come with 'soft-close' so there is no slamming (in case you have people in your home who are easily frightened by loud noises). Box-up options are also available if you have too much space at the top of your cabinet.
Built-in options are also available for permanently fixing your cabinet to your wall, or just leave it as a stand-alone so that you can move it wherever you please.
Prices start from $849.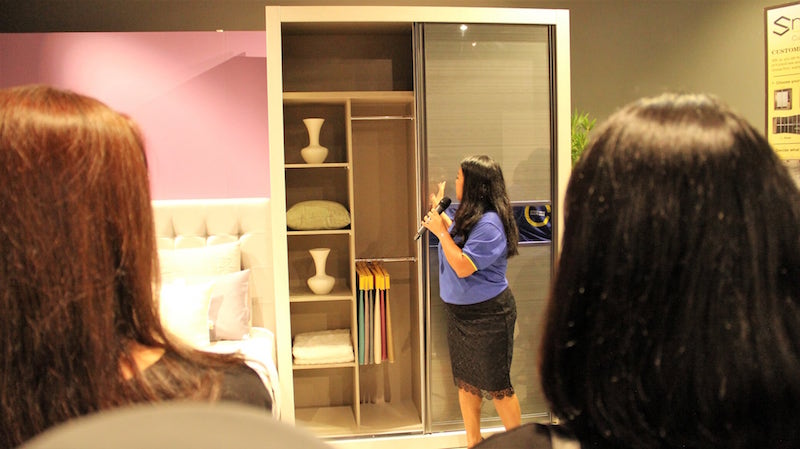 Image (c) RenoTalk Media

Image (c) RenoTalk Media

7) Peyton Power-Motion Recliner
This recliner is described by COURTS as a 'leather power lift chair', and predicted to be a popular product from this collection. Thanks to the power-motion technology built into its model, all you have to do is press the built-in button and the recliner will lift you up onto your feet or ease you down gently into a sitting position. It is the perfect seater for loved ones from the silver generation or those with mobility issues. Plus, the Peyton is one of the recliner models with built-in USB charging ports, so you can charge and use your mobile devices while relaxing.
Priced at $959.

Image (c) RenoTalk Media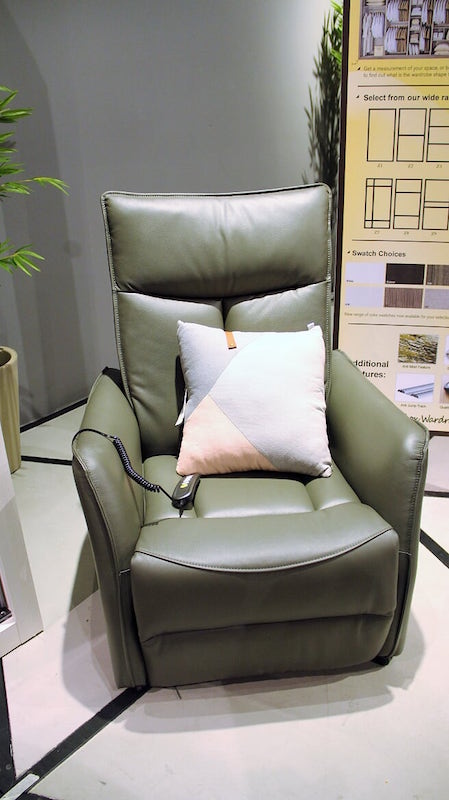 Image (c) RenoTalk Media


"Should I Try This Collection?":
Customization, storage solutions, and power motion technology are the selling traits of the COURTS 2019 Furniture Collection; this furniture line will make your home truly your home with these pieces that are not just customisable, but also storage-friendly and powered for the future. Sofa and mattress cleaning services from COURTS' in-house solutions provider GURU are also available.
The COURTS 2019 Furniture Collection can be viewed and purchased at the COURTS Megastore at Tampines. Deals include up to 20% off sofas and dining, with 20% off recliners and up to an additional 30% off bedding.
---
Shoppers keen to experience the new range can have a ball with the family while at it at the COURTS' Year-End Shopping Carnival, a two-month-long bonanza of freebies and great deals that kicked off on 27 October 2018 at COURTS Megastore in Tampines, other select COURTS stores as well as online. During this period, shoppers can enjoy activities that include free Movies Under the Stars screenings, candy floss, fun, games and food at the COURTS Mega Carnival at COURTS Megastore in Tampines, and select activities at various COURTS stores throughout the island. Visit http://courts.com.sg/ShoppingCarnival for the schedule of activities.
Request for quotes and we'll match you with a selection of Interior Designers!
Next
Bringing 'Hotel' Into Your 'Home'