Decorate Your Windows and Balcony with Premium Protection and Privacy From Belgium!
Interior Design & Decor
6962 views
6962 views
We value two things when it comes to our homes — privacy and protection. We need protection from soaring temperatures (a regular occurance here in perpetually sunny Singapore) and privacy from prodding (read: 'kay-poh') passerbys. Throughout the history of housing, we have made use of various materials to achieve that — netting, plastic sheets, adhesive screens, curtains, makeshift textiles, and so on.
With the rise of blinds and zip-tracks in today's homes, protection and privacy for your home is progressing. And with the introduction of our featured brands here, that progress is taking a big step forward.
On 2 November 2018, the Renotalk team had the privilege to visit a local household name in home technology, and witness them introduce two renowned brands to homeowners here in Singapore — mc2, a local retail gallery specialising in the retail of indoor and outdoor blinds, has worked closely with two Belgium-based brands to launch their products here in Asia, with Singapore being its first stop (and local celebrity Mark Lee being one of their first customers from Singapore!). Meet Renson and Squid.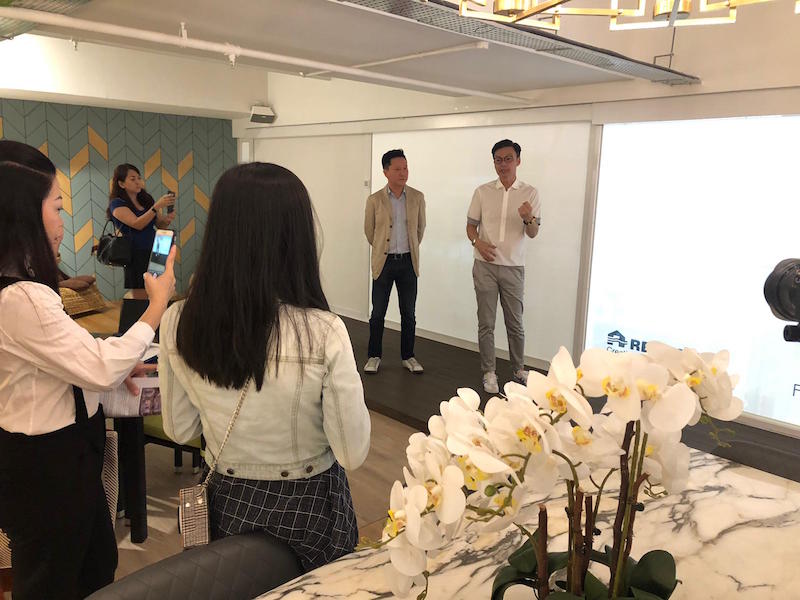 Local celebrity Mark Lee in front of Renson blinds. Image © RenoTalk Media
What is mc2 Up To?
If you are in the arena of IT and smart home technologies, mc2 would sound familiar. Once a retailer of IT products and gadgets, mc2 has shifted its focus to smart home technology and solutions, particularly in blinds. 
Foyer of mc2. Image © RenoTalk Media

For its founder Mr Wilson Chew, making the switch was a no-brainer — he shares while they still deal with technology (albeit more on the residential side), it was about adapting to the market, improving customer experience, and observing what consumers are looking for. These observations led to them focusing their retail efforts on blinds, to answer local homeowners' call for privacy, protection, and functionality. Partnership with other brands also boosted their goals of meeting these demands.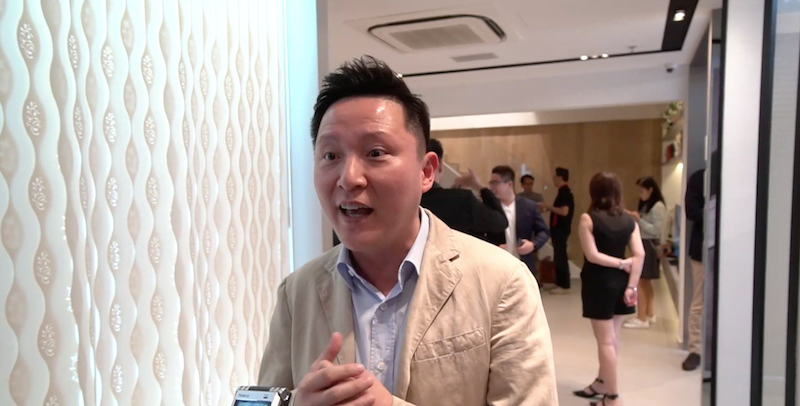 Mr Wilson Chew, founder of mc2. Image © RenoTalk Media

"We were looking at the smart home technology and we discovered that there was this space at home that is under-utilised, which is the balcony," Mr Chew explained. "And from there, we have this secure zip solution." He refers to their in-house product, the ALTEX SecureZIP blinds, one of the best-selling outdoor blinds in Singapore.
"We then had customers asking us, 'Can you also do the decking for us?' and 'If we want child-safety, can you also do the invisible grilles for us?'. So we slowly look for more partners to come up with a more comprehensive solution. That is also why we keep on sourcing worldwide for brands like Squid and Renson, so that we can have a more comprehensive solution for all our customers."
"We look at the demand first, then we think, 'Do we have the solution for them?' We want to have a complete solution for them, and we want our customers to be satisfied and happy."
Renson - Smart Blinds for Smart Living
If you are worried about neighbours peeking in — whether intentionally or otherwise — installing blinds increases the protection of your privacy and keep those sneaky glances away. Outdoor blinds are especially useful in keeping wandering eyes out, as you can have them installed outside your windows or outside your home. Renson's outdoor blinds could do that for you, and more.
Renson Fixscreen ® in action. Image © Renson

Renson's outdoor blinds were widely used in both residential and commercial priorities prior to landing here in Asia. They now bring their innovation to homeowners here in Singapore, ensuring that homeowners are not just protected, but protected with the right technology.
Renson carries a variety of outdoor blinds, designed for different demands, including: 

- Fixscreen ®, which is wind-tight, protective against UV rays and insects, and can cover surfaces up to 22m2
- Lagune ® and Lapure ®, protective against UV rays and built with hidden water channels to drain away rain water in stormy weather. Good for terraces and landed properties with big outdoor porches. LED lights and speakers can be built in for a more vibrant atmosphere
- Panovista ® Max, fabric sun protection that works for full-length corner windows and sliding glass corner windows, up to 6 metres at each side and 3.4 metres high
- Slidefix ®, outdoor blinds that slide sideways. Yes, sideways. Good to have if you have sliding doors, full-length windows, or wide windows.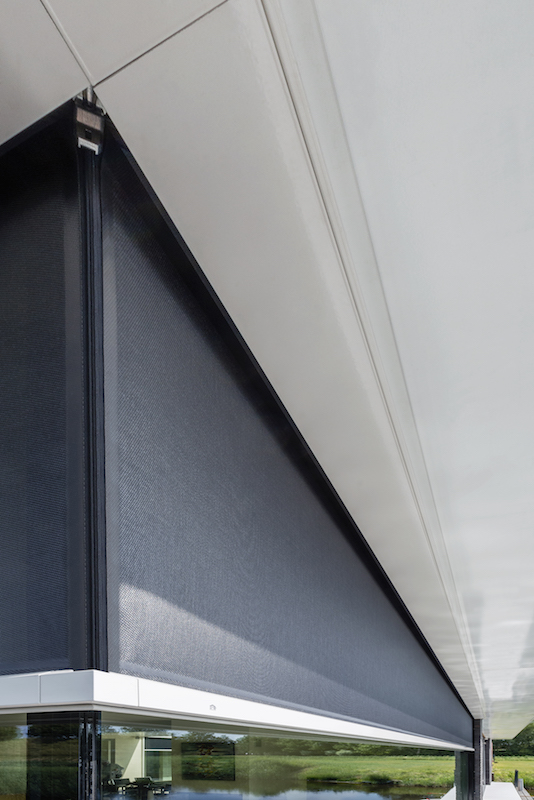 Renson Panovista ® Max. Image © Renson

Mr Rick Heintjes, Area Sales Manager Asia from Renson, was present at Renson's launch at mc2, and he shared more about the capabilities of the brand's blinds. He especially spoke about Slidefix, Renson's outdoor blinds that slide sideways; having observed how windows today are as wide as eight metres, and how the window coverage of vertical blinds may be limited due to that, the Renson team came up with these horizontal sliding blinds as a solution.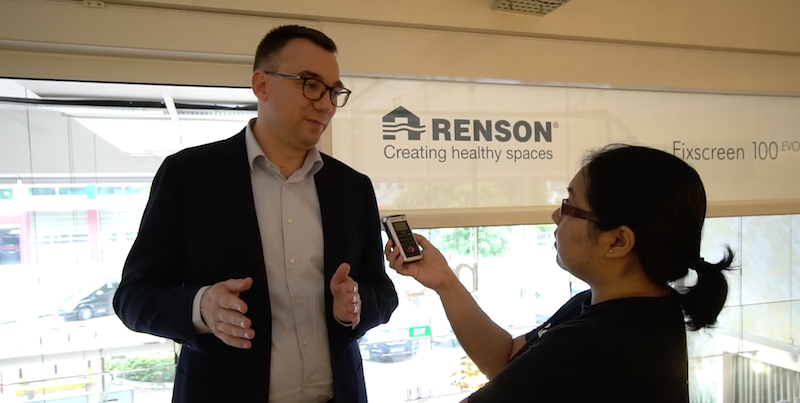 Mr Rick Heintjes, Area Sales Manager Asia for Renson. Image © RenoTalk Media

"When combined, with blinds coming in from the right and from the left, four metres each, they basically can cross eight metres," Mr Heintjes explained. "We can cover these large window sections that we see in the market, and this is especially the market of the more modern, contemporary style of housing, which we also see here in Singapore."  
Another big plus from Renson's blinds is that they come with built-in sensors which pick up on weather and temperature changes, operating automatically or at the click of a button when it gets too hot, too cold, or stormy. This is especially convenient for those of us who hang laundry outside on the balcony or porch, as it means no more rushing to get your laundry inside if rain suddenly strikes.
"The sensors make our blinds intelligent," Mr Heintjes pointed out this smart technology in Renson's products. "They make the blinds close when it rains. And to prevent overheating in your home, when it gets hot, there's a sun sensor so the blinds also come down, and so on. I think Singaporeans like that high-tech kind of feeling, making an intelligent home." 
So, how can Renson benefit homeowners here? "Singapore is a wealthy country with a large middle-class," Mr Heintjes had observed. "People want to invest in their homes, and they see the value of their homes. Life is not cheap in Singapore, and space is limited. So people want to make the most of that space. And I think with the products we have to offer, like the vertical blinds or the terrace-covering products, we want to offer Singaporeans a way to enjoy their outdoor space with friends and family, no matter the weather conditions. I am sure we can provide very nice solutions."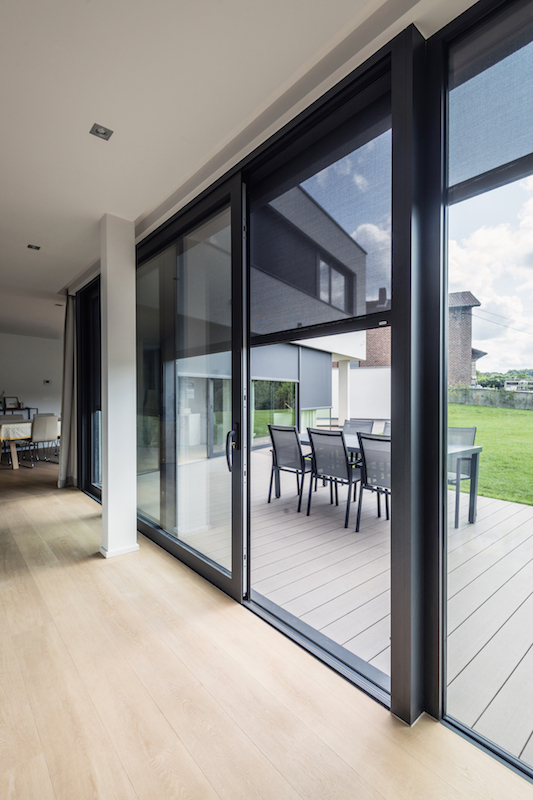 Renson Fixscreen ® in action. Image © Renson
Renson's options for fabric for blinds. Image © RenoTalk Media

Renson has provided smart solutions for us homeowners who want better protection and privacy for our homes. However, there is a catch: Renson's blinds are best used for condominiums and landed properties.
Squid - Dressing Your Window with Home Privacy and Protection
This Belgium-based brand specialising in
fabric window coverings
started out just four years ago; when Thibaut Lampe, son of textiles engineer and Lampe_textiles founder Philippe Lampe, was
disallowed from drilling holes
into his dormitory walls to
hang curtains
, he and his father had to think of ways to use textiles that work just like
curtains
but without the railings and holes. After two years of developments and tests, they patented Squid —
self-adhesive textile window coverings
that you can stick on your window panes so that they keep sunlight in, sticky fingerprints out, and your privacy intact.
Squid, made from lightweight thin polyester and resembling 'frosted glass', currently comes in five neutral shades, kept in simple tones to blend with any interior:
- Bone (white)
- Chalk (a little darker than Bone)
- Oak (light brown-grey)
- Ash (light grey, darker than Oak)
- Rock (dark grey)
Its feel is similar to netting, making it easy to stick onto windows due to its weight and porous surface. The standard roll size is 50 metres, so you can easily cut it to suit any window size and shape prior to application. 
Squid and its five colours on display. Image © Renotalk Media

Squid does not just stick pretty; it is also effective in keeping UV rays out while still letting the sunlight in. Plus, due to its thinness and transparency, you can still look outside of your window so scenic views are uncompromised. Not only that, Squid is adapted to Singapore's humidity; it is resistant against moisture and heat, so it does not fall off easily and reduces temperatures in your rooms by up to 3°C. It is also anti-bacterial and comes with fire classification. 
However, while Squid is moisture-resistant, it is not entirely waterproof, as Mr Johan Bonner, Director from Squid, warns. "If just a little bit of water lands on Squid's fabric, nothing will happen," he said. "It will evaporate and it will disappear so there is no issue. Of course, if you have a shower area, you should not put it at the wet side of the shower pane. You should put it at the dry side."
Mr Johan Bonner, Director from Squid, next to one of Squid's colours. Image © Renotalk Media

So any plans to make it entirely waterproof? Mr Bonner says that while there are ideas (like putting a coating on the fabric), the priority is in retaining the soft, breathable, fabric feel that is Squid's trademark. "We have those who want to take care of the remaining textile look and feel," he explained. "So from the moment if we coat it, then you are going to have a plastic look and feel. And that is what we don't want, because we want to have textiles, not plastic."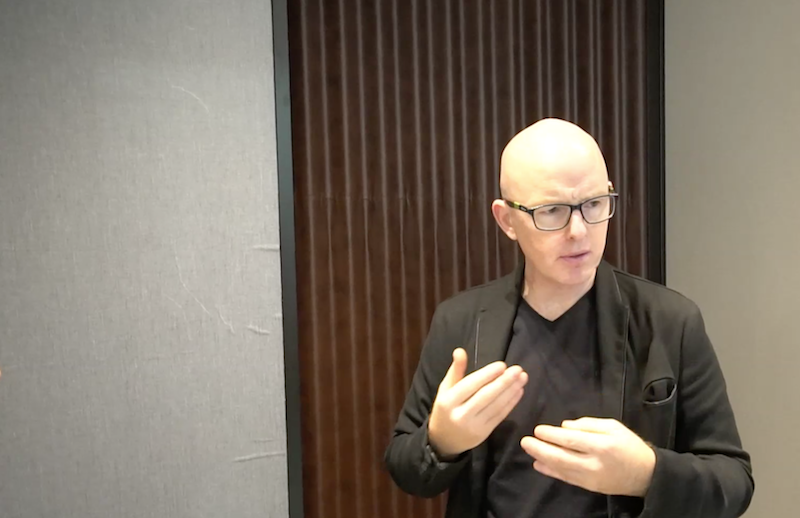 Mr Johan Bonner, Director from Squid, next to one of Squid's colours. Image © Renotalk Media

So if Squid is like a sticky window curtain, is it possible that we can give it the same kind of designs so beloved in traditional curtains? Think giving your Squid screen a light pastel tone like lavender, or a funky colour like neon pink. Or even putting your favourite photo or hand-drawn design on the fabric.
Mr Bonner revealed that through digital printing, customisation can be done to suit homeowners' tastes. "We have partners who have already done a number of tests," he shared. "So we know what machines we can use to do that. We have already done a number of customization projects."
Unfortunately, such customization options are unavailable to Singaporean customers at the moment. Mr Bonner aims to bring that service here in the near future.
Like Renson, Squid aims to create more solutions and push their innovation further. Future plans include releasing a fuller range of services and products through their partnerships. "We are always looking for solutions to keep forcing the textile even more," Mr Bonner shared. "So we will have some designs in which you will see more changes in the texture, which will accentuate the textile look and feel because that's what makes our product really unique." 
Squid in the bedroom. Image © Valérie Clarysse
Squid in the kitchen. Image © Squid

"Today, we will just be launching the five colours. We are going to see, together with mc2, how far Squid can go. And from the moment we think we can launch something extra, it's going to be easy for us...that's our plan for now."
---
Nifty products aside, there are lessons we can pick up from mc2, Renson, and Squid —
observing our surroundings, adapting to changes, thinking on our feet, and never ceasing to learn and create something new
. These are traits that we can apply not just to our
homes
, but to our lives as well.
Renson's blinds and Squid's window screens are
now available
at 33 Ubi Ave 3, #01-28 Vertex, Singapore 408868. You can also visit mc2's website
here
.
Request for quotes and we'll match you with a selection of Interior Designers!
Previous
BFCM 2018: Crazy Year End Deals!!
Next
LG's Premium Quadwash Dishwashers | Powerful, Quiet and Efficient