Designer Secrets In Creating Fabulous Interiors On Small Spaces
Interior Design & Decor
32583 views
32583 views
Finally getting your dream house gives you stability and a peace of mind. Having a roof over your head and a permanent place you can call home also gives you a sense of security, as well as flexibility. Having your own place instantly makes you the king of the house which allows you to decorate your home any way you want that also agrees with your budget. Based on the current ongoing rates, apartment rental in Singapore is still comparatively higher than most home mortgages offered in the market. With that, most people find it more logical to invest in beautifying their own homes.
Having a tight budget doesn't mean your tight space has to compensate. There are numerable solutions out there to make the most of a limited space. Here in RenoTalk, we have collected some awesome design solutions that will help you cleverly design your home without burning a hole in your pocket. If style and cost is your concern, you can be sure to pick some excellent ideas below that will inspire you to renovate your home and transform your house into a beautiful sanctuary worthy of envy from your friends.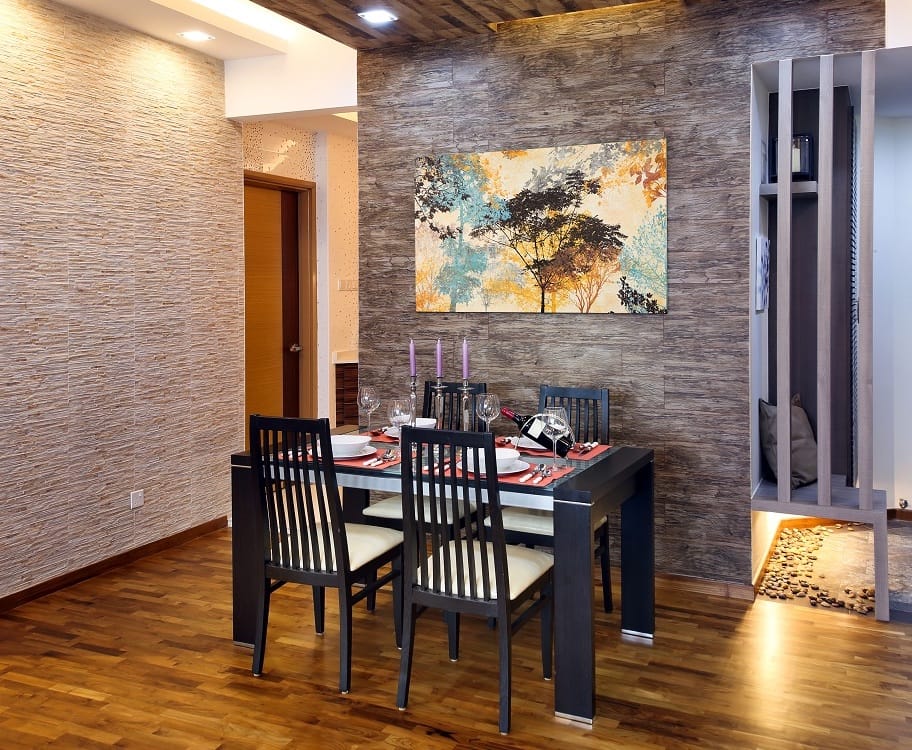 1. Sectional Sofa
Modular sofas can provide functional and flexible seating options for limited spaces. Comes in various color and configuration, choose neutral colors to easily adapt to any type of home styling.
2. Standing Mirror
A giant mirror in front or near a window helps spread the light in a modest apartment. A thinly framed mirror or a borderless one will add a modern character to your space.
3. Accent Chair
A designer furniture piece like a small chair or side tables can trick the eye when it comes to scaling. Use sparingly and as an emphasis on your style.
4. Lounge Chair
A lounging chair can also serve as a focal point to any type of interior. Choose a tufted chaise or divan for a more dramatic look.
5. Flip Open Desk
Multi-use desk that doubles as a bookshelf can hold books and other personal belongings when not in use. Retractable ones easily stow away just by folding. Pair it with a nice writing chair to complete the look.
6. Work + Dining Table
A beautiful dining table makes a beautiful working desk for work-at-home types. Infuse your residence with a stylish table to add a focal point and character to your home design.
7. Stenciled Flooring
Make your small apartment look glamorous by adding big patterns like stenciling your floor or walls. A great DIY project, choose from various patterns you can download from the internet or make your own for a custom aesthetic.
8. Patterned Carpet
Or just simply throw a carpet crawling with worldly patterns. Great for layering your floor styling, rugs can easily be changed season by season for a home that is your own unique arrangement.
9. Bold Curtains
A curtain with big patterns can also impart a sense of grandiose in a tiny apartment. Opt for a bold motif or any alternating colors that suits your mood.
10. Upholstered Wall
You can also incorporate big patterns into your home by upholstering your walls with a floor-to-ceiling headboard. Paneled or with chevron motif, upholstered walls will also make your home more inviting.
11. Wall Of Mirrors
Make it seem like you have a big bathroom by displaying an array of mirrored antique frames. Paint the frames in gold to elevate the lavish appeal and glamour of your tiny toilets.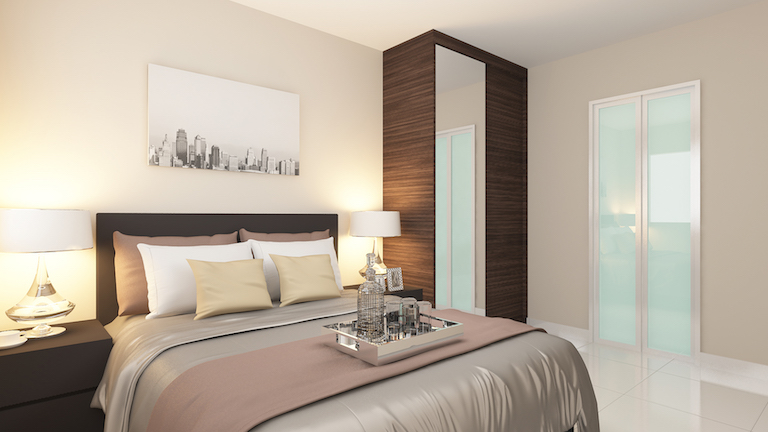 12. Glossy Paint Finish
Or use glossy lacquered paint finish on your bathroom walls to help bounce off the light. A polished wall also makes a great styling option for small living rooms and bedroom.
13. Wool On Wall
Small spaces can be warmer and more inviting by dressing up your accent walls with wool or velvet. Choose a matte fabric or with subtle patterns for an added personality without being too overwhelming.
14. Dramatic Lighting
Soften your small spaces like the bathroom or bedroom by utilizing a well-placed lighting fixture to accentuate your design while creating a warm atmosphere without compromising function. 
Request for quotes and we'll match you with a selection of Interior Designers!
Previous
27 Visually Appealing Small Kitchen Designs
Next
The Ceiling Fan Debate: 18 Stunning Ceiling Fan Designs