Designing With A Heart
Living & Lifestyle
4827 views
4827 views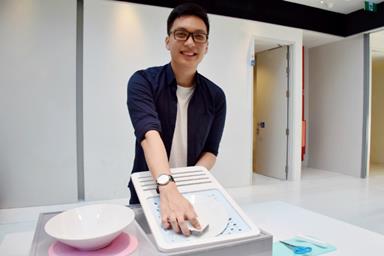 Loren Lim with his winning entry for the IKEA Young Designer Award 2016 competition: the Oneware series consisting of a silicone mat, a table pad and a coaster. He designed it to make the work of doing chores easier and safer for single-hand users. (Photo: Loh Yong Jian)
---
His competitors came up with a gardening pot armed with solar-powered lamps, a watering tank that can be controlled from an app on a smartphone and a kitchen rag holder equipped with germ-killing UV LED lights.
Compared to these cutting-edge devices, Loren Lim's designs look simple – primitive almost.
His product? A silicone mat with bumps on it to hold plates and other utensils in place while they're being scrubbed.
It's designed to make dish washing easier for amputees and others – such as stroke sufferers, those with arm injuries and even mothers carrying babies – who are able to use only one hand.
The 25-year-old created it as part of his Oneware series, a collection that also includes a table pad with a curved surface and a coaster with a hump on one side.
With these, single-hand users can more safely pick up delicate items like scissors, knives and piping hot bowls of food.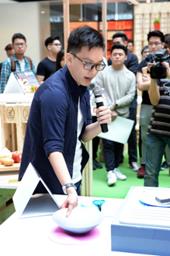 Loren Lim pitches his designs to the judges and the audience at the finals of the IKEA Young Designer Award 2016. His three-piece collection eventually won him the competition. (Photo: IKEA Singapore)
---
He beat out 19 other contestants in the finals of the IKEA Young Designer Award 2016 held at the National Design Centre on Thursday (11 Aug).
Lim, who graduated with a Bachelor of Arts degree in industrial design from the National University of Singapore (NUS), clinched $1,500 in cash and a trip to IKEA's headquarters in Sweden.
For Lim, winning the competition all but confirmed that someone had finally heard his plea for an "all-inclusive society".
RESEARCH
He first toyed with the idea of designing for single-hand users during his final-year thesis.
Even before embarking on his thesis, he had already partnered with a classmate to design a finger splint. It was part of a collaboration between NUS and the National University Hospital.
The project allowed him to work closely with patients, who expressed their difficulties in dealing with chores.
Lim says the patients were worried that everyday products just aren't suited for people with disabilities, leading many to feel like they were burdening others around them.
Egged on by their feedback, he decided to try to break the social stigma.
As part of his research, he visited the Disabled People's Association Singapore and SG Enable, a day centre that provides care and skills training to people with disabilities. He would talk to these people and observe them perform everyday tasks.
But Lim admits that the process wasn't easy.
"Some were quite reserved," he says. "But I eventually got to know them better, and they started to share a little more of their lives with me."
He's certainly not new in persuading strangers to open up about themselves.
When he was in secondary school, he would volunteer to help clean the homes of the elderly and chat with them. He also took part in Flag Days when he was studying in NUS.
Loren Lim designed this silicone table pad with a curved surface that allows delicate items to be picked up with ease. (Photo: IKEA Singapore)
---
In the end, it was an unexpected event – a visit to the home of a woman with a congenital arm defect – that gave him the breakthrough he needed.
Lim had showed her his design sketches, and so convinced was she of his passion that she invited him to her house.
There, she showed him how she did her chores, at the same time revealing a few occasions where she had nearly dropped the plates while scrubbing them.
"I got to see how someone with a disability actually lived, and this helped me with the development of my products," Lim says.
He recalls another encounter he had during the research process.
"I gave this amputee whom my friend had run into on the streets a prototype of my product (silicone mat), and it solved his frustration of not being able to keep his plates still while he washed them."
Song Kee Hong, who was Lim's thesis supervisor, says he enjoyed working with Lim because of the motivation Lim possessed.
He says: "He's (Lim) a skillful designer who's able to create a great user experience by addressing real user needs.
"No matter how busy he is, he always makes the extra effort to understand the needs of the people he's designing for."
KEEPING IT SIMPLE
When asked if he had planned to keep his designs simple all along, Lim says he has always strived to create products that could be "picked up and learnt very easily".
The main idea is that the users don't feel weird using the products and that they enjoy using it, he says.
In fact, he feels that tacking on bell and whistles to his designs could make the products more tedious to use – so much so that he entered the competition with only one product.
During a consultation with one of the competition's judges, Lim was encouraged to expand his range to beyond just products that help with tasks in the kitchen.
The result is a table pad that can also be used to elevate stationeries for easier picking up.
Already, Lim is thinking of "service design", a term used to describe the organisation of different components in an experience so as to make it seamless for users.
For example, strategically placed lifts and travelators in a MRT station can help passengers transit smoothly and quickly between multiple train lines.
He says: "As long as there's a way to help people, I think that's enough for me."
Loren Lim's coaster makes it safer for single-hand users to pick up a piping hot bowl of food. (Photo: IKEA Singapore)
---
ONE STEP AT A TIME
Through broadening the functionality of his products, Lim hopes the public can eventually see them as items that pander to not just people with disabilities but also the convenience of the everyday person.
He also aims to work with local manufacturers and retailers to turn his products into mass-market items.
But Lim maintains that "he'll just do his best and see what happens".
For now, he's excited about the trip to IKEA's headquarters in Sweden, where he hopes to showcase his designs, explore the country's culture and learn from the furniture chain's 15 in-house product designers.
Request for quotes and we'll match you with a selection of Interior Designers!
Previous
This BTO flat In Tampines is Traditional, Yet Modern
Next
10 Must-See Ideas for Your Upcoming BTO Renovation