DIY Floor Lamp Planter
Living & Lifestyle
4458 views
4458 views
When it comes to sprucing up your home, you don't have to be limited to the furniture store. Hand making your own furnishing can be a fun way to add more personality and flavour to your space. DIY enthusiast Witono Halim dishes out the know-how to make this shabby chic floor lamp planter a reality.
Read more: He Builds Own Furnishings from Scraps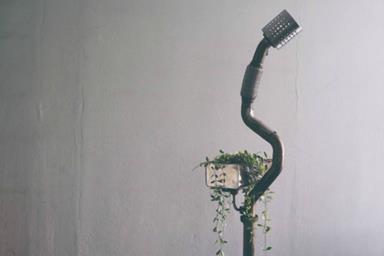 What you need
Wheel rim
Aluminum extrusions
Rubber seal
Exhaust pipe
Aluminum cutlery holder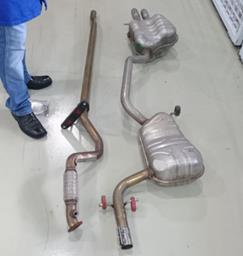 Halim salvages the wheel rim, the rubber seal and the exhaust pipe from a friend's car that was bound for the scrapyard. Many vehicle workshops offer dismantling services, so be sure to visit one before scrapping a vehicle.
Because the wheel rim has a wide diameter, it's able to bear the brunt of the structure, making it a good candidate for the base. Here, Halim reinforces it with leftover aluminum extrusions.
I don't have the tools and equipment or enough space in my HDB flat or condominium unit to build things. Where can I go?

Photo: Facebook / XPC
A makerspace is a public workshop that's aimed at DIY hobbyists and professionals. It's equipped with specialised equipment that isn't usually accessible to the public, including production work benches, bench vices, power tools, welding machines and 3D printers. Raw materials may also be available for purchase.
I've never made stuff. Where do I start?
Before using a makerspace, you're required to go through a basic course. Technicians are also on hand to offer assistance whenever you're in doubt. A makerspace has the added benefit of being a community-centric place, so don't be afraid to ask your workshop neighbours for tips and guidance.
Where can I find a makerspace?
XPC | www.xpc.sg
Sustainable Living Lab | www.sl2square.org
Mettle Work | mettlework.co
To prevent the base from scratching the floor, Halim glues a rubber seal that's recycled from the car's window to the edges of the wheel rim. He also black tapes the aluminum extrusions for extra grip.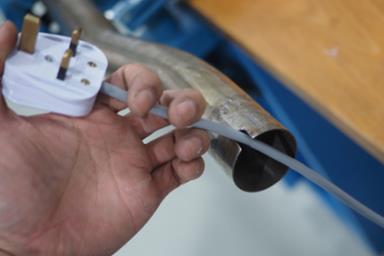 Halim slices a small gap from the bottom of the exhaust pipe in order to accommodate the electrical cable that runs up the pipe to supply the light bulb with power.
For the lamp shade, Halim sources this off-the-shelf aluminum cutlery holder. The holes on it allow the light to escape in several directions, making for a more useful floor lamp.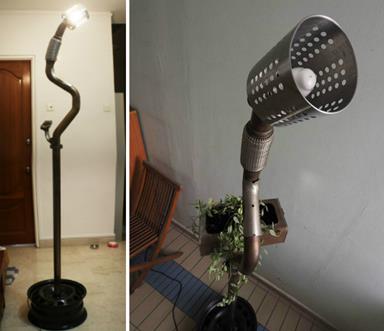 This being a planter, the look isn't complete without a pot of plants. Halim fashions a pot out of a matching kerosene tin, but if you're new to DIY, he suggests – for safety reasons – using a ready-made pot of plants instead.
---
All photos by Witono Halim unless specified otherwise. Instructions originally published here.
Request for quotes and we'll match you with a selection of Interior Designers!
Previous
5 Ways to Separate Spaces In Style
Next
He Builds Own Furnishings from Scraps