D'SOL Deco – The Heart of Eclecticism
Furnishings
1985 views
1985 views
Our home means many things to us – and it would mean even more with the right ambience and atmosphere.
But in a world replete with a limited variety of designs and styles, it's possible, amidst the deluge of conventional styles, to find yourself alone and deprived of aesthetics that truly speak to your soul.
If so, you will understand the excitement we felt when we came across D'SOL, a design and décor proprietor specialising in the unusual and curious.
A True Proprietor Of Real Eclecticism
A proprietor, designer, and retailer of some of the most eclectic design collections in Singapore, D'SOL carries a relatively small but unique selection of decorative designer lights, meticulously curated from the world's greatest collections.
The D'SOL team believes that lighting can do more for homes than just shine; as they say, lighting is not just illumination, but it is also the fundamental of decoration.
Customers can leverage D'SOL's expertise in their home design by engaging the firm's services and purchasing their uniquely designed products. The firm's website hosts a plethora of interior images to inspire homeowners to set up their own spaces with these wares.
Unlike most eclectic stores, D'SOL specializes in products of exceptional quality, sometimes comprising limited luxury designer items. You won't find anything that looks cheap, which won't do any favours for your home.
D'SOL has both an online and a brick-and-mortar shop that customers may patronize at their convenience. They also have a Facebook page where they post news, updates and promotions.
A Gorgeous Selection of Lights
Most notable of D'SOL's collection is their wide selection of lights (which served as the inspiration for the shop's name).
From elegant lighting pieces that complement a stylish space to the unusual which combine symmetry and surrealism into something strangely captivating, there's probably something for everyone. Keeping up with modern sensibilities, most of D'SOL's lights are LED-powered, making them bright and energy-efficient.
Here are some of the beautiful lighting fixtures you can find both at their online and physical stores: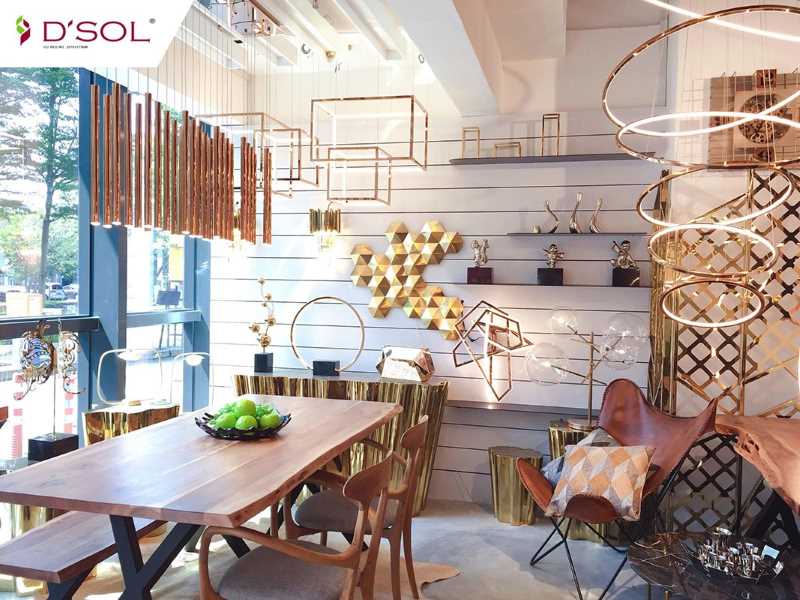 Image ©️ D'SOL Pte Ltd
More Recent Developments
As the demand for luxury goods increases with every passing year, D'SOL has worked hard to improve their services and meet their customers' needs.
This system includes:
The use of D'SOL's extensive experience in interior design to curate and combine the best elements from various design trends to create specially-tailored novelty spaces that would fit perfectly with your personal style.
Provision of interior design advice, from aesthetics to functionality to purchasing.
So, what has D'SOL been up to lately?
They are focusing on new lighting trends, particularly on the use of LED lighting, its benefits to interior spaces, and how to build it into homes for best effect.
The firm has also recently acquired designer-inspired lighting made for any ceiling heights. That means whether your ceiling is short or high, D'SOL's lighting will fit right at home.
These ceiling-friendly light fixtures come in stainless steel and rose gold, adding a luxurious, chic style to your space.
However, all of D'SOL's lighting fixtures are currently only for indoor use; leaving them outdoors may result in material tarnish. The firm is currently working to add outdoor lighting fixtures to their line-up.
Getting In Touch With D'SOL
If the above information has got your interest piqued, you can contact D'SOL via the following channels:
Address: Block 61 Ubi Road 1, #01-06 Oxley BizHub, Singapore 408727
Hotline (by appointment only): +65 8684 6616 / +65 6384 6616
Website: www.d-soldeco.com
Email Address: sales66@d-soldeco.com
Facebook: https://www.facebook.com/dsoldecoshop/
Request for quotes and we'll match you with a selection of Interior Designers!
Previous
SIDS Symposium - IFI World Interiors Day 2020
Next
Top 10 Furniture Designs For Your Living Room