Eclectic Haven - Singapore Homes Design Inspiration
Interior Design & Decor
23513 views
23513 views
This open-plan excutive mansionette is home to a pair of lovebirds and their eight furry friends. See how an immaculate renovation transform this abode to a spacious and charming vignette that you see right now.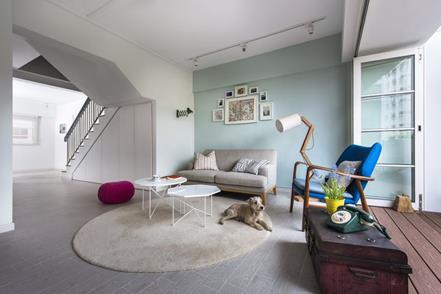 Space Executive Maisonette
Size 146 square metres
Location Yishun
Who stays here A husband and wife, and their 8 pets
Total reno costs $90,000
As Ann Summer and her husband had definite ideas about style, the renovations that were done on this old executive maisonette were mostly concentrated on opening up the interior. Walls and old cabinets were stripped down to allow freedom of space, provide ample room for the pet-lovers' dog and cats to roam around freely, and ensure plenty of showcase area for their collection of cameras, figurine and toy collectibles, vintage accessories, and books and magazine. The result is an eclectic haven styled in a mix of old and new – filled with character and brimming with love.
What do you love most about your home?
Ann Summers: Apart from the space, we love having the freedom to move things around when we feel like having little makeovers. This is why we kept built-in furniture to a minimum, and steered clear of feature walls. We style our place with our favourite items instead, allowing room for change.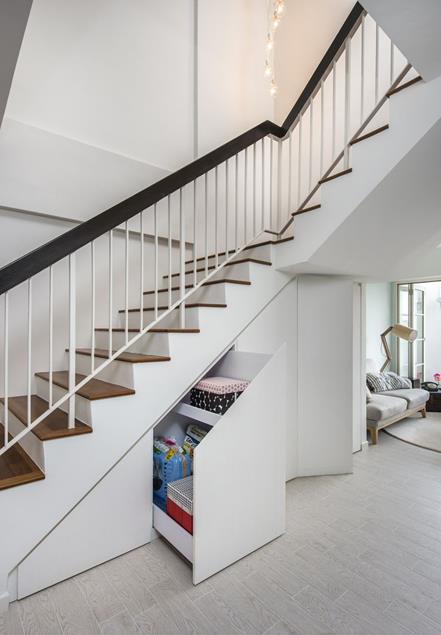 Secret compartments streamline a home, and hides away everyday essentials that are none too pretty.
We love the storage space at the base of your staircase! Talk to us about it.
Credit goes to our designers! They're excellent at planning a living space and maximising the potential of a unit. This space at the base of our staircase was originally a standard compartment with regular swing doors. Our designers suggested replacing this with pull-out drawers to make reaching into the rear easier.
Apart from your guinea pigs and gerbils, you have one dog and two cats. Any advice for fellow homeowners on choosing furniture that's pet-friendly?
We try to stay away from leather furniture because our cats like to scratch and they might mistake a leather sofa, for instance, for a really huge scratching post. This is why we stuck to regular fabric sofas. On another note, picking furniture that's pet-friendly is similar to selecting one that's child-safe. We simply took care not to purchase things with sharp edges, and stayed away from tall, unstable furniture.
Where did you source for your vintage furniture?
They're from all over Singapore. We scored the bigger items from stores like Make Room and Like That One. The vintage accessories are procured locally and from our travel trips. We love to look out for quirky knick-knacks for our home when we go abroad. The beauty of vintage is that you can discover gems almost everywhere if you look carefully enough.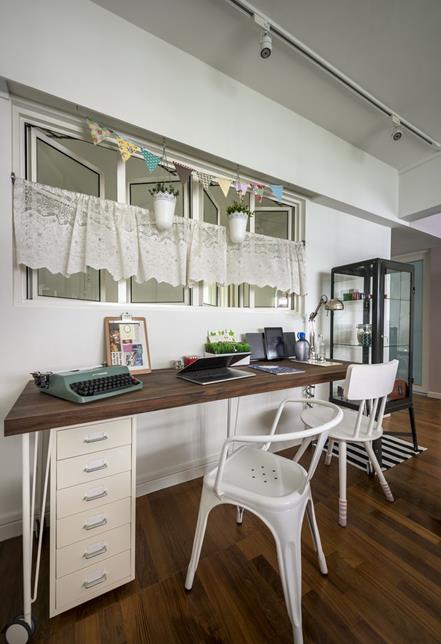 The fabric bunting that hangs prettily over the couple's work desk is a result of Ann's handiwork.
What makes a house a home to you?
A home reflects its owners. It sure won't feel like one if the place is too neat and tidy, and is devoid of character. A lot of people renovate with a specific theme in mind, but the house only truly becomes a home when you inject your personal style into it. The design and space planning of our personal dwelling was centred around our lifestyle and preferences – and this is precisely what makes it a haven we want to rush home to. It helps that we have eight pets that make coming home a real pleasure everyday!
Looking to renovate your home or commercial space? Request for renovation quotations.
Love to contribute a story on your renovated home? Simply send to editorialjam@renotalk.com
Request for quotes and we'll match you with a selection of Interior Designers!
Previous
Bathroom Design Ideas for Small Spaces
Next
Kitchen Design Inspiration - Making Small Kitchens Bigger