Excel Hardware: Hardware Trading to Concept Designer
Furnishings
2162 views
2162 views
Excel Hardware is a Singapore premium furniture hardware wholesaler and distributor founded in 1998. They started as a hardware supplier with 50 humble products, and today they provide quantity and unmatched quality to more than 12000 products and services. Just like its name, Excel is now the leading pioneer in the premium furniture hardware industry and excels in every product and services they provide.
Setting Singapore as their headquarters, they have expanded their subsidiary operation warehouses and factories to countries like China, Malaysia and Philippines to extend the company's market size across borders. Excel products and services have also been exported and distributed to the various countries including China, Fiji Islands, Indonesia, Korea, Madagascar, Malaysia, Maldives, Myanmar, Panama, Philippines, Thailand, Timor-Leste, Venezuela and various more. Excel Hardware foresees that they will be expanding their market segment into more countries for the next 5 years.
Why You Should Choose To Work With Excel Hardware
With 22 years of glorious history, Excel is currently expanding their services into the concept design field for kitchens. As such, they are focusing on syncing the research and development of their products with interior design concepts, such as making their products more customization to fit personal needs and functional space-saving solutions. They are working towards the idea of helping homeowners to conceptualize their kitchen space flow and maximizing space in the kitchen.
This is why in Jan 2018, Excel has launched a Go-Direct Excel Preferred Designer Program, exclusively for local Singaporean interior designer firms. Designers who go onboard this program will be educated on Excel's space-saving solution concept for kitchens and gain extensive product knowledge through continuous training. By joining this program, local interior design firms will be furnished with knowledge on how to help their homeowners conceptualize their kitchen space flow and increase kitchen productivity through Excel's products.
As an Excel preferred designer, designers will be able to enjoy various benefits offered by Excel as below:
Exclusive Discount On All Products
Designers will be able to obtain more competitive pricing and more space for price markup.
Full Marketing Support
Marketing support includes showroom displays and all types of marketing content for designers to pitch ideas and best selling products to homeowners with ease.
Wide Range Delivery
With this feature, designers don't need to worry about picking up the products themselves. Excel covers delivery to job sites, carpenter factories, showrooms and offices.
Lifetime Warranty
Designers will no longer be afraid of any defect complaints from homeowners with this benefit. Excel offers a lifetime warranty on all of their products which covers manufacturing defects and provides full replacement on products if applicable.
As their vision to create an enhanced everyday life for countless humanities, Excel ensures all their products are in tip-top quality, durable, immune to rust or corrosion, and user-friendly. Their shelves and cabinets are even equipped with soft closing systems which shuts all the loud banging noises caused by normal shelves and cabinets.
In conjunction with this program, Excel has developed 12 stunning best selling items that provide elegant looks, customization features and functional space-saving solutions to up the homeowner's kitchen game.
1. Soft-closing hinge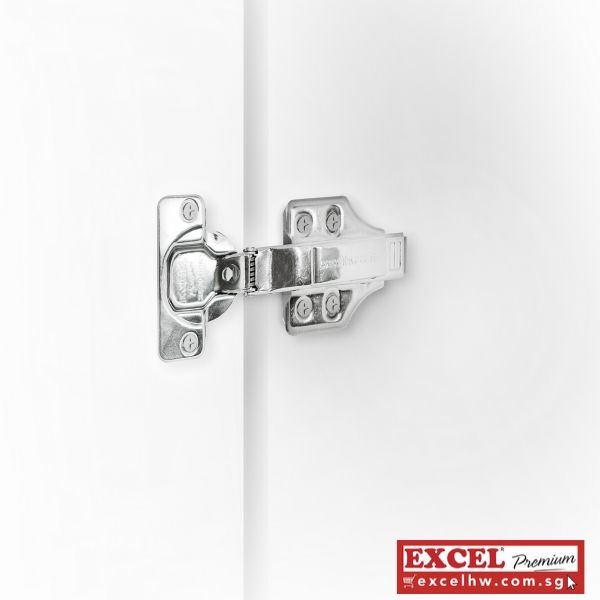 Excel soft-closing hinge is a beneficial mechanical tool that offers superior flexibility in operating movable items like cabinet doors.
Excel soft-closing hinges are built from an alloy of steel and aluminium with stainless-steel grade 304 finishing, the robust material charter of the hinge makes it a reliable, long-lasting and sustained high performer. The tool comes with an adjustable mounting plate that can be tweaked to three dimensions varying the pressure needed to apply on the movable parts connected to the hinge.
Once these are installed into any doors, no more door slamming sounds will be heard anymore.
2. EXCEL Betrando Italian Series SUS304 Magic Slimline Slabs Pull Out System 2 + 2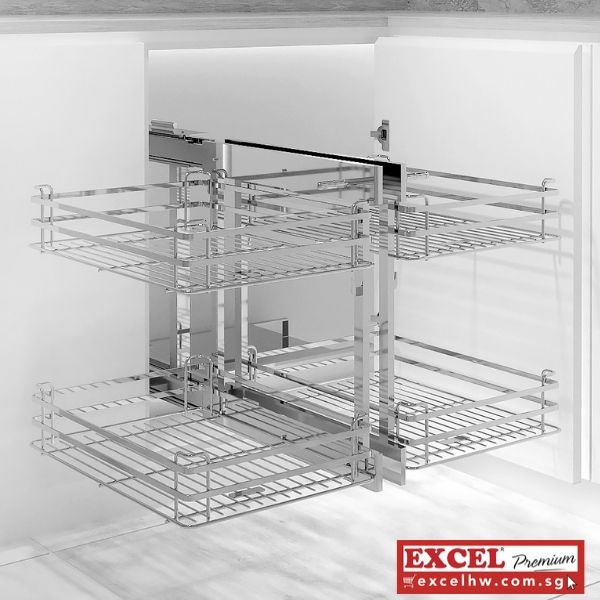 The Excel Betrando pull out system is the real deal for L-shaped or U-shaped kitchens with awkward corners. With four spacious racks, it allows space maximization up to a stunning 90% in a slide pull slide pull action. Just pull the first set of racks out, slide to the left, and the second set of racks easily pulled out and everything placed inside will be visible. It works for both left and right opening cabinets.
3. EXCEL Fiorealla Sus304 Permutation Multipurpose Slimline Slabs Pull Out Kitchenware Basket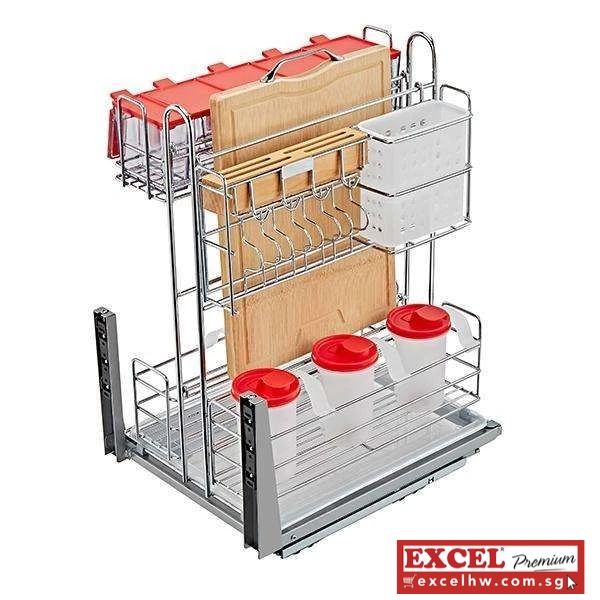 For food preparation needs, the Fiorella slimline pull out basket provides homeowners with easy access to chopping boards, knives and condiments. It is highly practical with various compartments with different depths that can be used to stack plates, pans, bottles, cooking utensils etc.
4. EXCEL Panfilo Italian Series Sus304 Multipurpose Slimline Slabs Pull Out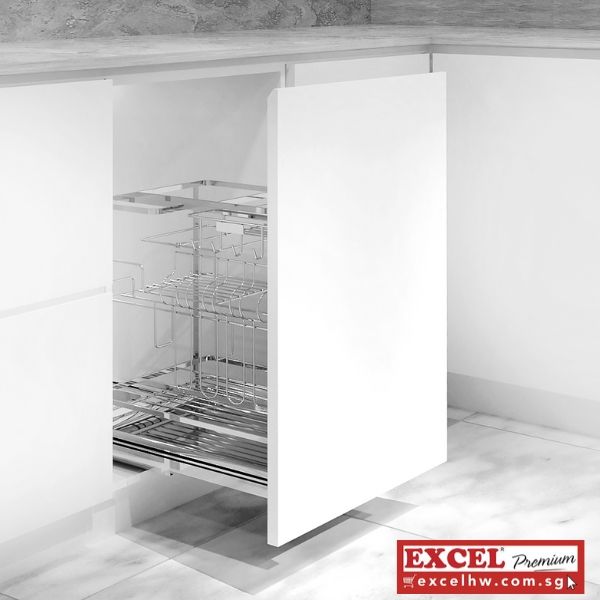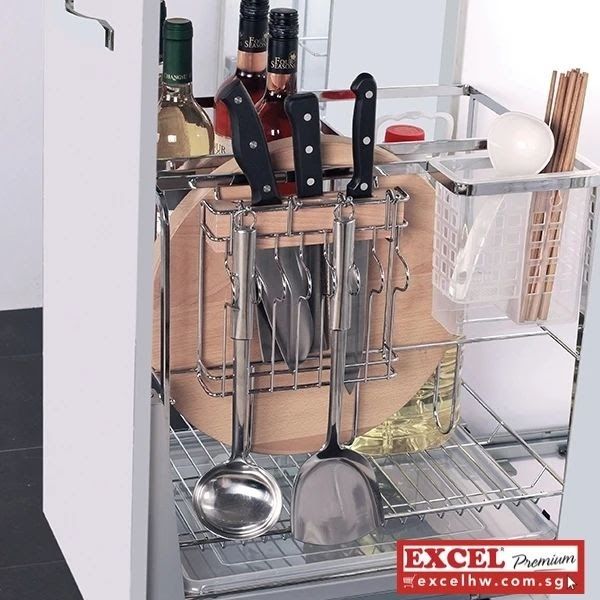 In the same range with Fiorella, the Panfilo slimline pull out basket is also an alternative option for kitchen utensils storage. Both pull out baskets are designed for easy access to food preparation and cooking needs.
5. EXCEL Rufino Italian Series Sus304 2 Tier Multipurpose Slimline Slabs Pull Out Kitchenware Basket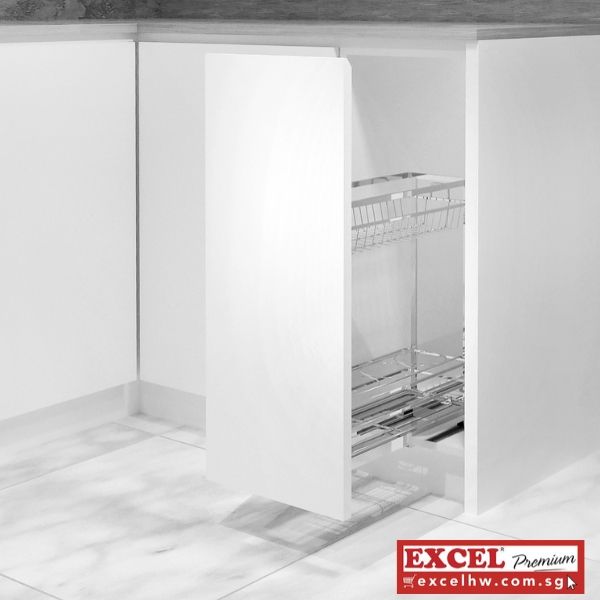 Rufino kitchenware basket is just 150mm to 200mm in width. Homeowners can easily position it to the bottom left of the stove and place their condiments inside. If they were to forget their soy sauce, they can just simply reach to this basket easily so they will never have to leave their wok unsupervised.
6. EXCEL Unico Three-sided Stainless Steel Basket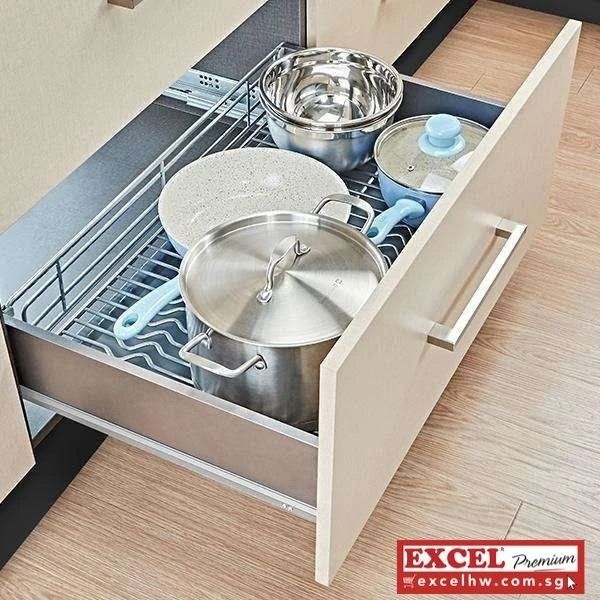 The Excel Unico three-sided stainless steel basket offers abundant space to accommodate heavy pots and pans up to 25kg. This steel basket is designed with a shock-absorbent structure which protects fragile utensils from vibration when opening or closing the cabinet. In this case, utensils won't be damaged easily.
7. EXCEL Bene Three-sided Stainless Steel Basket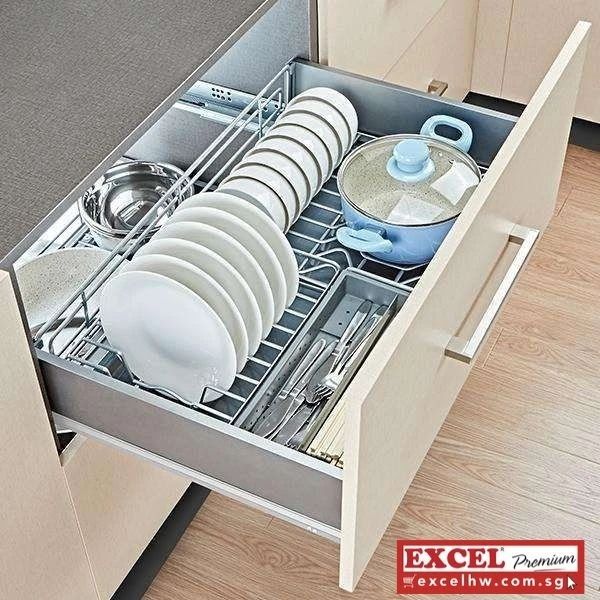 Above Unico, another matching steel basket - the Bene Three-sided Stainless Steel Basket can be placed. This multi-purpose three sides stainless steel basket optimizes space and accommodates various kitchen items. It comes with a cutlery tray, plate grid and dividers so kitchen items can be arranged without sweat after a sumptuous meal.
8. SUS 316 Stainless Steel Dish Tray + Aluminium Die Cast Connector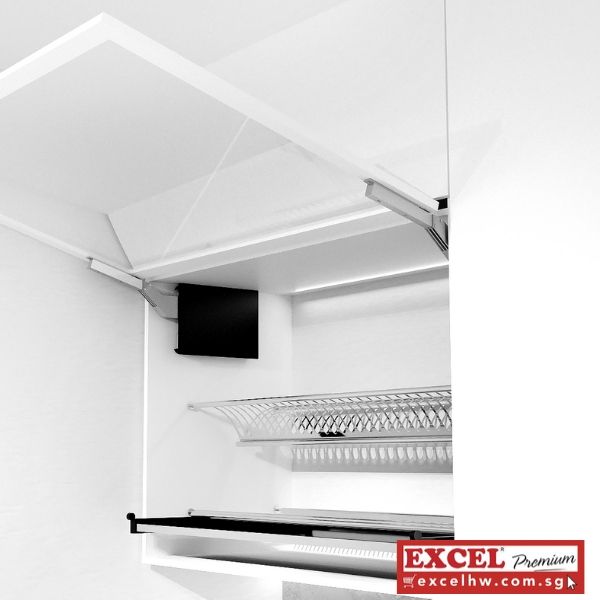 Homeowners often come across with messed up kitchen sink areas when utensils are placed in a cluttered manner. A slight bump will cause the utensils to tumble off and shatter into pieces. To overcome this challenge, the SUS316 stainless steel dishtray has been strategically designed for the rescue.
Position this above the sink so it can be a seamless process for keeping plates away immediately after washing. This reduces the risk of homeowners bumping into their plates and breaking it.
9. EXCEL Costanzo Pneumatic Arms Operated Doors
Taking stuff from the top cabinet is now an easier job with the Costanzo pneumatic arms operated doors. This incredible piece of modern engineering provides the convenience to open top cabinets without having to support the lid using another arm. It has a wide opening angle of 107 degrees, and it stays at the desired angle while homeowners look for the item they need.
10.EXCEL Azzurra Italian Series Sus304 Soft Closing Lift Basket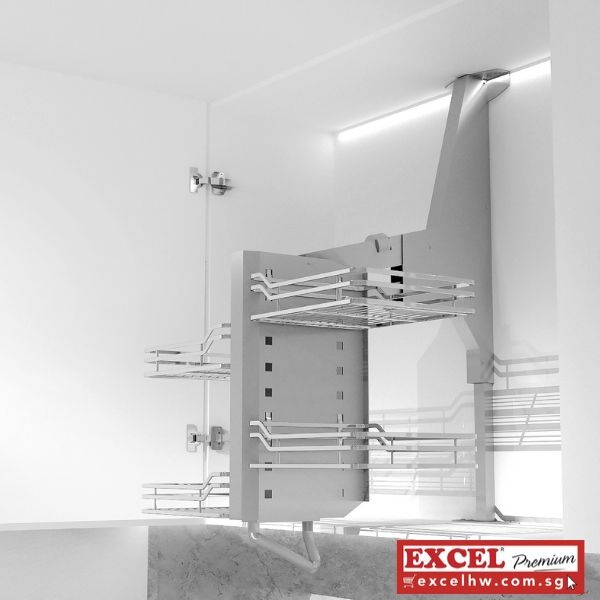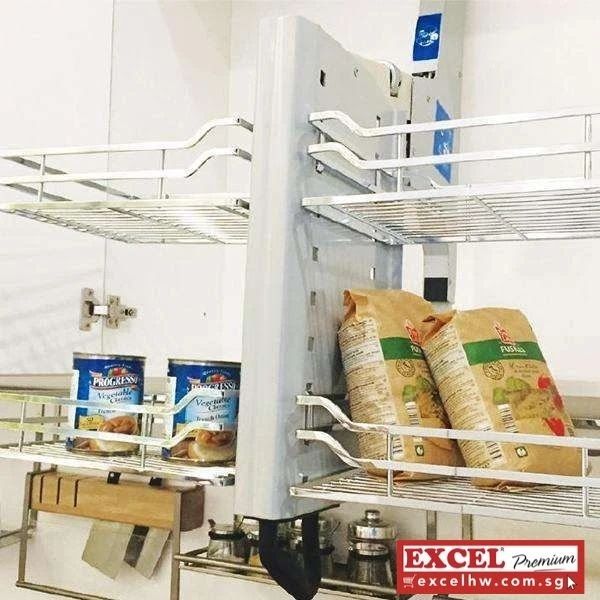 The Azzura is a lift basket placed in top cabinets, providing convenience and ease for homeowners when accessing top cabinet items. The best thing about Azzura is that it is user-friendly. Just simply pull the handle and the racks will be brought down in an instant. No more back-breaking moments.
Practicality and durability are ensured for Azzura. It can withhold up to 18kg of items and has passed a lifting test 30,000 times.
11. Excel Vicenzo Nero Black Series Double Wall Soft-Closing System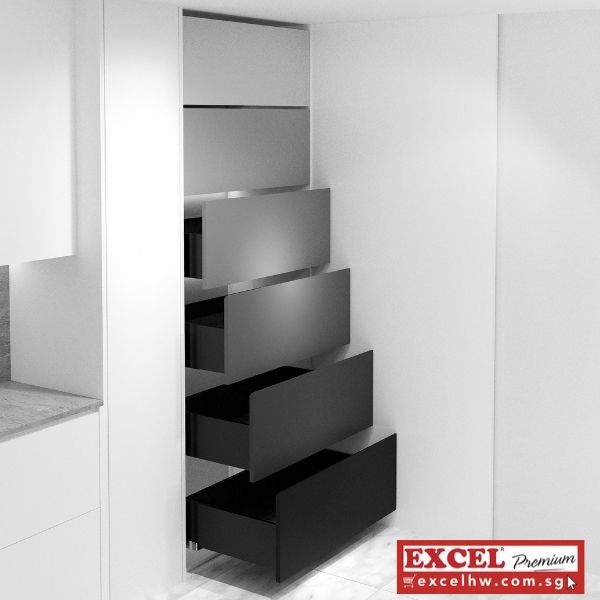 Excel Vicenzo Nero black series is unbeatable when it comes to runners for drawers. The silent system feature guarantees a smooth run without making any noises. It gives peace of mind that no one has ever imagined before. A durability test was implemented on this soft closing system and it has withstood 80,000 open-close cycles, which proves that it is very long-lasting. Boasting a dynamic load capacity between 40kg and 60kg, it can be customized to the laminate and colour option of your choice. It is a creative invention with the most up-to-date colour scheme.


12. EXCEL - Tall Unit With 5 Basket W/Soft Closing Slides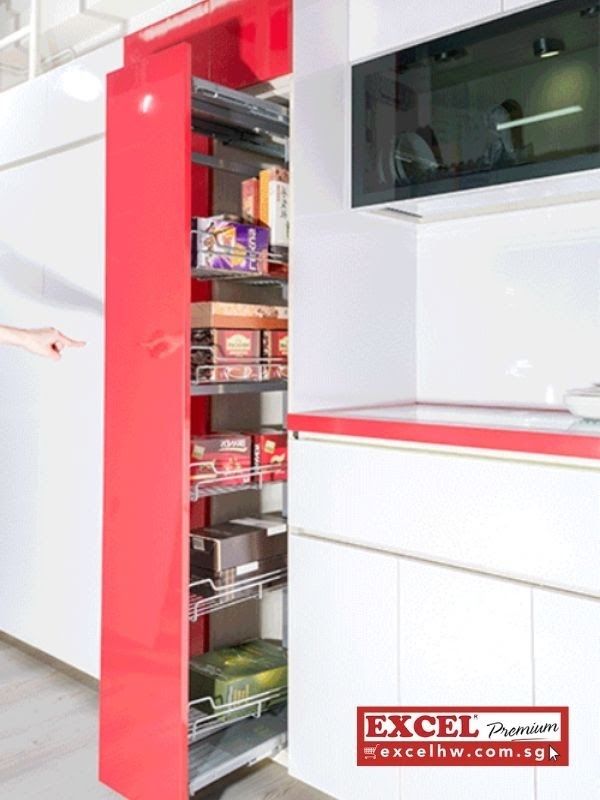 The Excel soft-closing tall storage unit system is the best choice among all tall storage unit systems. It comes with five baskets that maximizes kitchen storage. Due to its minimalist nature, the soft-closing tall unit storage system is fuss-free when it comes to maintenance.
Another great feature of this system is that you can adjust its height between 1580mm and 1760mm to adapt to the homeowner's desired height. In this case, all the tiers of baskets are conveniently reachable.
Request for quotes and we'll match you with a selection of Interior Designers!
Previous
A GREEN HOME WITH A VARIETY OF PLANTS
Next
[WEBINAR] YOU ARE INVITED! Insights Into The Post COVID Retail Market And Google Shopping by Google...