Extravagant Hotel Interior Design Inspiration For Your Home
Living & Lifestyle
2789 views
2789 views
We can't help but feel a tinge of envy when looking at hotel interiors. Just the lobbies themselves are elegant enough to leave us gob smacked, let alone the rooms, which have a tendency of outclassing all other common areas.


But why drool over these interiors when we ourselves can incorporate the same designs into our very own homes? These thematic elements from various rooms at New Majestic Hotel will no doubt blend into your abode effortlessly.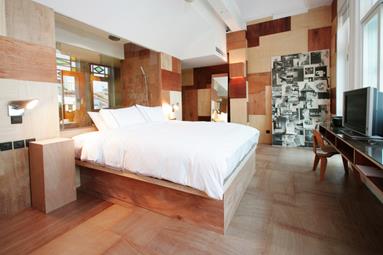 Work
This is what happens when wood meets modernity. Minimalists in particular will love this clean layout and the style's ability to last through seasons. If you're an artist, rooms like these can also act as blank canvases to display completed projects.

Pussy Parlous
Those with big personalities will adore this space. Bold and beautiful, the Pussy Parlous features extravagant streaks of fuchsia and turquoise. The outrageous room looks like it could very well be a scene from the 70's, owned by someone who frequently dresses up in anticipation of a chaotic and fun-filled night. To construct a place with similar vibes, we suggest furnishing it with French chandeliers, brass beds and neon lights.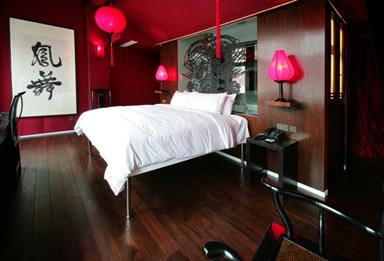 Wayang
Wayang exudes such an oriental feel that remains unmatched by any other room. It's definitely fit for royalty with its silk-draped walls, calligraphy displays and lanterns – all of which look like they belong to a king's room back from a dynastic reign. Channel these vibes into your own abode if you wish for some oriental opulence.

Oriental Girls Go West
The oriental theme continues with Oriental Girls Go West, featuring women from the olden days handling modern equipment. Juxtaposed with a badminton racket and a mobile phone, this room has found the balance between Eastern and Western influences. Interestingly, just like old times, the bathroom blends the need for privacy and the affinity for nature. If you know anyone skilled enough to create a similar mural, we bet it'd make for a really funky focal point in your room.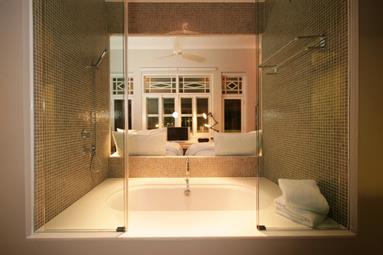 Aqua Room
The bathroom is the centre of attention for the Aqua Room, and given utmost priority. It features a glass-encased central bathtub in the middle of the bedroom, which acts as a visual window for guests to look out to the beds and the balcony, perfect for those that just want to spend hours soaking it in. Homeowners obsessed with open concept interiors should really integrate this idea into their apartment.

New Majestic Hotel is about to undergo a major makeover come June, but you can stand a chance to win a 2D1N stay with them before they temporarily halt all operations. How? Simply head down to our RenoTalk Live event this coming Saturday! For more information, click the banner below.



Request for quotes and we'll match you with a selection of Interior Designers!
Previous
Shop for your Easter Renovation Deals
Next
Hasten The Speed Of Household Chores With These New LG Products