Five 3-Room Flats With Attractively Spacious Designs
Interior Design & Decor
5800 views
5800 views
3-room flats are some of the most sought-after properties in Singapore, especially for couples aiming to grow and nurture a family. While the compactness of the space may be appealing for some, its smallness may also be an obstacle to freely expressing the personalities of its homeowners. But fret not; for homeowners of these cozy flats, designers all over Singapore have come up with ways to utilize their small sizes while weaving in unique interior ideas. So take a look below at some of these special, spacious spaces; if you are waiting for your own 3-room flat, let the photos below inspire you in creating a home that is truly yours.
1. Go Wall-Less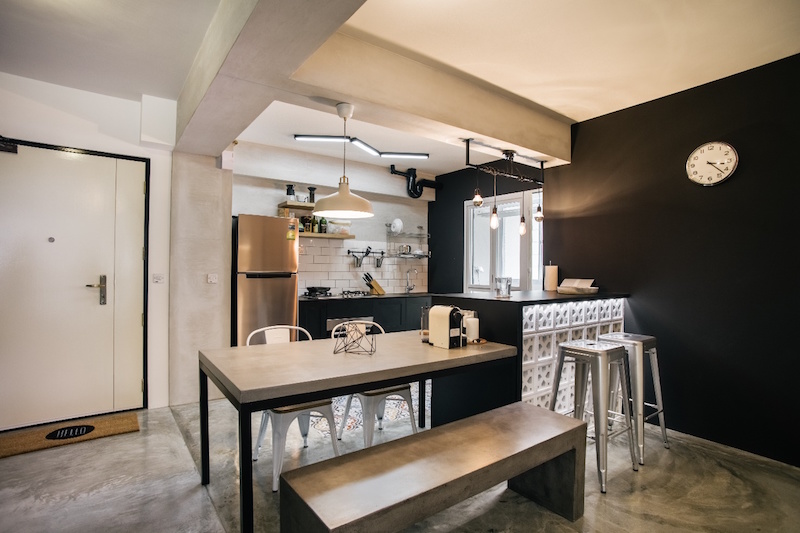 Walls segregate spaces, keeping them tight and confined. While that creates privacy, walls also take up space and thus shrinks the area of your three-roomer. These walls create psychological as well as physical boundaries that make the spaces look claustrophobic. As seen above in this dining-cum-kitchen designed by H2O Interiors, going without walls frees the space and makes it spacious, leaving you with a variety of design choices. It's called an 'open floor concept' and it makes a 3-room flat seem infinitely spacious. If going without walls seems uncomfortable for you, go for divider screens, curtains, or glass panels instead. While the space remains open, differentiating areas of the flat can add structure and security.
2. Two-In-One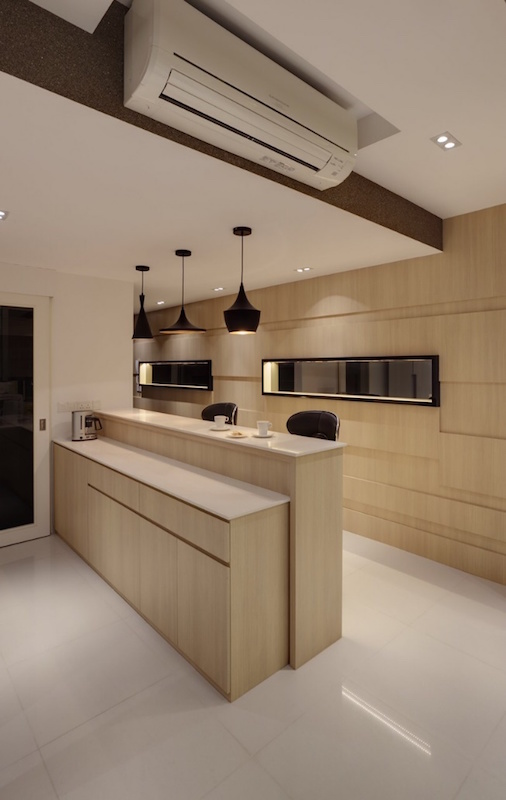 This tip is handy, especially if you have children sharing a room. This arrangement may also work for individual bedrooms and other areas in the flat – use a bunk bed instead of a platform bed, and you can tuck a study space under it. You can use furniture, floor pedestals, low-height consoles, and varying colour and/or material schemes to create a two-in-one effect within your 3-bedroom flat. This interior design by 3D Innovations uses a breakfast bar to create a formal, elegant and chic looking two-in-one space. Using these techniques to create dichotomous spaces can enhance the visual quality and spatial character of your 3-bedroom flat. You'll find that it will also create an element of transparency in your home interior design.
3. Let There Be Light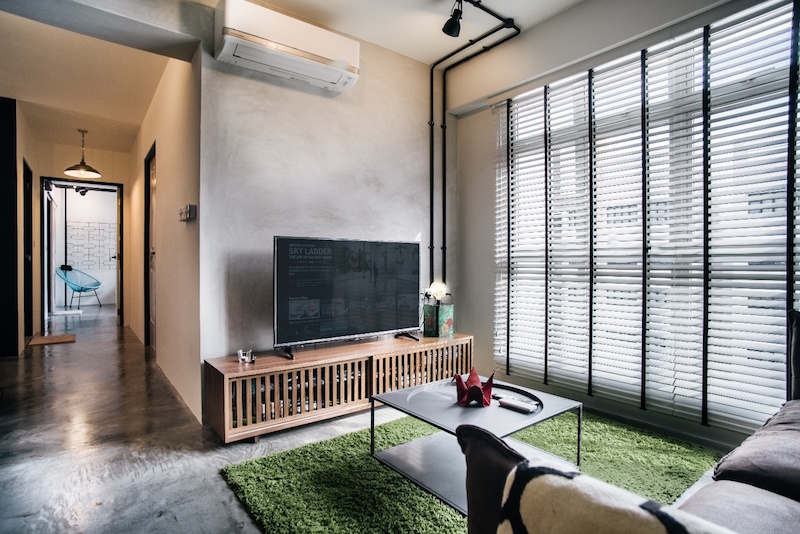 Light is literally the fourth dimension, and if you're looking to enhance the visual and tactile quality of your 3-bedroom flat, then always invest in a good lighting plan. You must make the best of both natural and artificial light sources. This means that you should go for larger window portals; they'll increase your daylight savings and make your open-concept seem even more spacious. As for artificial lighting, you can go for statement light fixtures like chandeliers or pendent lamps. You can even use various false ceiling designs to individualize the various parts of your 3-bedroom flat. This will make your interior design seem stylish as well as spacious. Take a look at this stunning living room interior design by H2O Interiors. They've used a combination of all natural light in the form of French windows combined with artificial accent lighting to create a gorgeous space.
4. Keep It Light, Keep It Neutral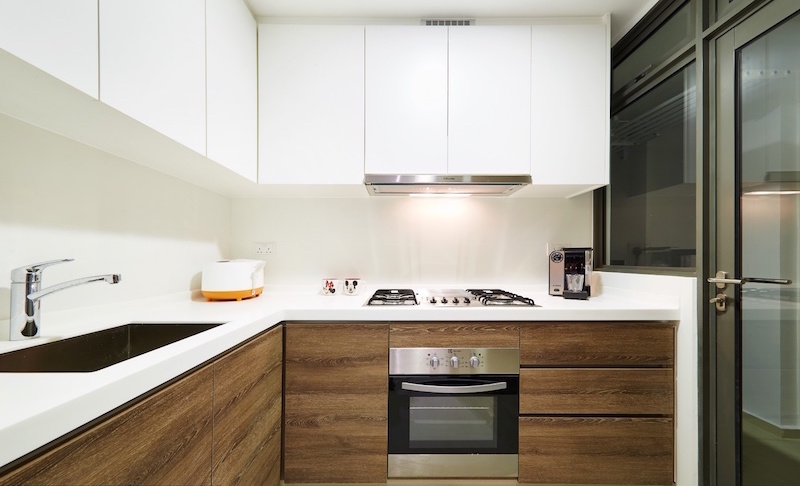 A lighter, more neutral colour scheme means that your 3-bedroom interior design will inherently look bigger. Lighter colours tend to have a vast reflective quality, which visually enlarges the space. So you should definitely go for lighter colour schemes – white, frost grey, and even beige are nice choices to go for. To liven up your white walls, you can go for monotone murals or wall decal stickers. You can even use lightly textured wall tiles or decorative shelving to make your home interior designs seem trendier. This image shows a gorgeous kitchen design by Design 4 Space. They've used a stunning juxtaposition of white and wooden laminates to create a bright, airy and cheerful space that features the perfect colour scheme.
5. Mirrors Are Your Best Friends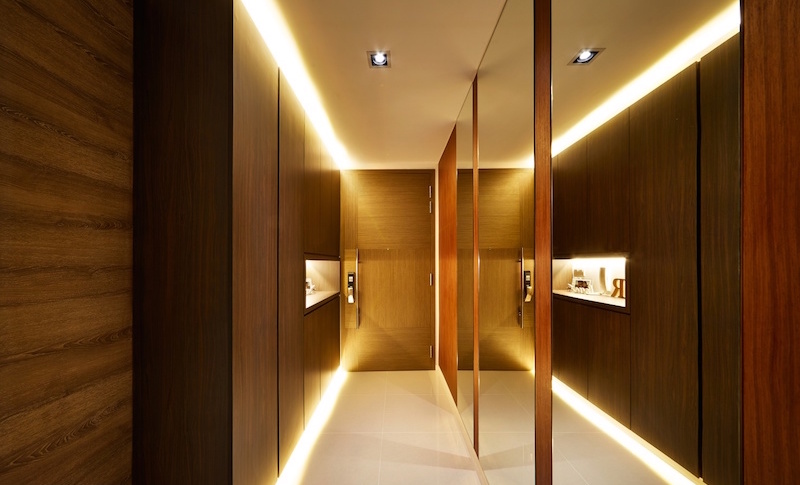 The reflective surface of a mirror doubles the length of any room, thus giving it the illusion of extra space. This illusory effect is the perfect way to make the most of your compact 3-bedroom flat. Most designers clad an entire feature wall in mirrors to fully double up the size of a space. But you can also use small cut-outs of mirror-work to create attractive designs within the wall as well. This narrow closet space designed by Design 4 Space is the perfect example of how you can artfully utilize looking mirrors to add a whole new dimension to your interior designs.
~
Got some tips and ideas for designing a 3-room flat to share with our RenoTalk readers? Share them in the comments below!
Request for quotes and we'll match you with a selection of Interior Designers!
Previous
Choosing the Perfect Countertop
Next
Selecting The Right Tiles For Your Bathroom