Framing Photographs Without Conventional Frames
Interior Design & Decor
3190 views
3190 views
Framing pictures up the conventional way has started becoming passé, and we're witnessing more creative and contemporary methods springing up instead. So if you're in the midst of ditching regular frames, but still undecided what you might do with all those photos you want displayed, scroll down for some visual inspiration!
1. Washi Tape Borders
credit: designsponge.com
A new (and extremely colourful!) trend, creating image borders with washi tape is a fun activity you could spend a whole afternoon indulging in These tapes can be found in most stationery stores, and are available in a huge variety of patterns. Also, since they aren't sticky enough to tear or destroy your walls, you're pretty much given a free pass to experiment endlessly until you're satisfied with all washi tape placements!
2. Clipping It
credit: styleitlikeyoustoleit.com
Imagine filling up an empty wall with an assortment of clipboards. It'll look oddly sleek for a study area, especially if you choose their colours right. Simply clip on a series of photographs you wish to display, easily replacing them with new batches as and when you please. This idea may sound a little wayward, but the uniquely stylish effect will definitely grow on you!
3. With Driftwood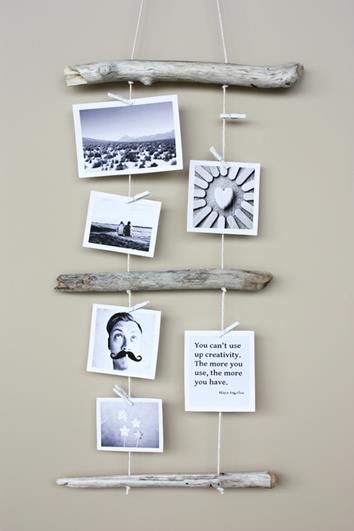 credit: morningcreativity.com
If your home contains some serious beach vibes, or if you're just big on using lots of wood, you may want to consider hanging your pictures in between pieces of driftwood. It's a DIY decorative project that's not particularly hard to achieve, and you'll just need to drill holes into a couple of driftwood, linking them via twine. Then, clip photographs onto the twine in between the empty spaces, and tadah you're done!
4. Hangin' Around
credit: home-designing.com
Another alternative you might love is using hangers as makeshift frames. It'll be best to use wooden clip hangers, creating a beautiful aesthetic that looks incredibly natural and modern. Putting about five or six of them together does the trick, a lovely decor idea which easily stands out when placed in any room.
5. Chalkboard Wall
credit: picbackman.com
This one's a little easier to implement if you're still in the midst of home renovation. Turn an entire wall into a giant chalkboard, then begin decorating with a variety of coloured chalk. We would suggest drafting the design with photo placements in mind, so you won't end up realizing it doesn't quite work midway. Once you're done drawing, simply paste your photographs onto the chalkboard!
6. Wire Racks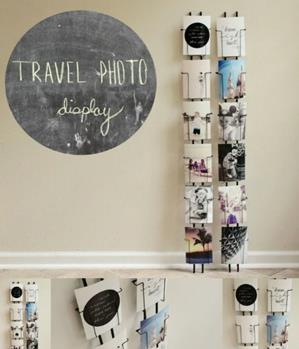 credit: diyncrafts.com
If you're a bit of a traveller, or just insanely into postcards, create a display corner consisting of merely two wire racks. Put your postcards into its pockets so your entire archive is on display. This makes it easy for you to look through travel memories, and we're sure guests will get a kick out of it when they visit too! But of course this idea doesn't just apply to postcards, and you can use any other types of photos too!
7. Mapping It Out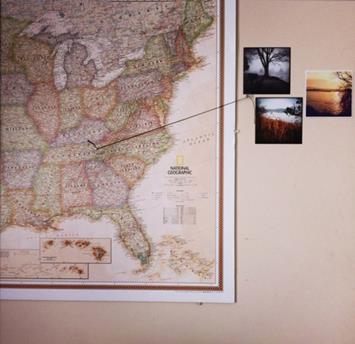 credit: instagram.com/olivesandpickles
Another one that's fantastic for travellers, this one involves purchasing a large map to attach to your wall. Then, pin onto the map the areas you've visited, before linking, with string, the pins to several photos you've taken in the related cities. This idea will look very visual once you've done it up, reminding you of your global adventures with a single glance! For all you know, it might even spark ideas for your next big road trip or something!
Request for quotes and we'll match you with a selection of Interior Designers!
Previous
7 Unique Ideas For The Perfect Balcony
Next
How To Work A Studio Apartment