Germs Busters: It's time to put on your cleaning gear and wipe out germs in the kitchen
Maintenance & Repair
5404 views
5404 views
It's easy to point accusing fingers at the bathroom when one is probed about the dirtiest place in a household. The fact is the kitchen is far more inhabited with germs than any other areas in a home, especially if it is a bustling one. 
It is however not all that surprising considering the amount of activity that goes on in the kitchen; from whipping up three meals of the day and the subsequent washing up, to snooping around for snacks in the fridge. 
Before you start sanitizing every nook and cranny of the space fervently though, we suggest that you first take a look at the sources and hiding spots for these nasty germs – and then practice the simple ways to combat them.
The source of germs in the kitchen?
Sponges at the Sink
We use a sponge to soak up all sorts of grime and for many other cleaning duties. These sponges are left at the sink, making it the perfect breeding spot for bacteria.
The vicious cycle continues, as this very same sponge that's teeming with the nasties, is then used to wipe countertops and dishes over and over again.
Pop the used sponge into the microwave or boil it for a couple of minutes to eliminate lurking germs. The best way though is to replace the kitchen sponge as frequently as necessary. 


Refrigerator Produce Drawer
Research based on swab samples from top and middle shelves, meat and poultry drawers, veggie bins as well as bottom shelves; concluded that the vegetable bins were the most contaminated, followed by the bottom shelves and meat drawers.
Thus, it is wise, to wash, and sanitize those compartments regularly with detergent mixed with warm water. Combine one teaspoon of unscented bleach with one cup of water, and leave the bins flooded for ten minutes. Rinse the bins after and leave it to dry. 
Handles
Handles get the most direct contact as compared to the other fittings within the kitchen. These include those knobs and pulls on your cabinets, as well as the handles on your fridge, oven, and microwave.
Remember to run your warm soapy sponge or paper towel over these at the end of every meal to eliminate their potential as bacteria breeding grounds. 

Plastic Cutting Boards
True to its namesake, the cutting board is subject to deep grooves and gouges due to daily use. Lapsing to clean it thoroughly after each use could lead to dire consequences such as cross-contamination. Consider a separate board for your meat and vegetables, and ensure that you lather them up with hot soapy water for hygiene purposes.
Despite a thorough clean, studies have proved that a plastic board leaves more bacteria behind as opposed to a wooden one. Unlike wood, plastic stays wet for a longer time and provides the right environment for bacterial survival. Wood also boasts antibacterial agents that retard its proliferation.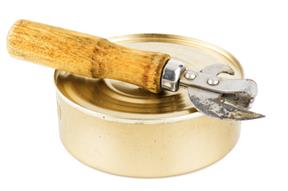 Can Openers
Chances are, you might be guilty of keeping the can opener immediately into the drawer without rinsing it after each use. This can opener will collect food debris over time and will become a thriving spot for germs.
Rinsing the can opener under running water is not sufficient to remove the lodged remnants. As it is a piece of essential equipment in the kitchen, be sure to disinfect your can opener thoroughly before placing it into the drawer.
This crucial step will protect you and your family from any food-borne illnesses. 
Back to Basics
A change in the right direction – hand-washing – is always good.
To achieve a germ-free environment in a kitchen, it begins with the necessary habit of hand-washing. Apart from lathering your hands with warm soapy water before you start preparing food, it is also best to wash your hands in between the preparation of other food types too.
For example, once you've got the chicken roasting in the oven, practice washing your hands first before you start chopping the vegetables.
Recommendations
Some of us might grow up having meals on a table in our kitchen. It was the place where we had our meals. Almost all meals. We might not realize it, but more and more are forgoing this 'table' and had decided to install a kitchen island instead.
This part of the article is not attempting to justify the need to install an expensive-looking kitchen island, but instead, it will list down, albeit briefly, the benefits of a kitchen island.
The kitchen island is the hub or a nucleus of a home. It draws occupants of the house around it, and more so if food is served. It encourages friends and family to gather, and they can either sit or stand to allow for more casual interaction.
Let's briefly take an example of the household favorite – the granite kitchen island. The price of granite might seem pricier compared to other materials, but it is the best return on your kitchen investment.
Practically, granite does not need maintenance, so it is more affordable than wood or steel. Granite can get its real shine with basic cleaning methods – soap and water!
On the same vein, it might not be possible to achieve an utterly bacteria-free kitchen, but you can make this part of the house, the kitchen, a cleaner and more comfortable place for you and your loved ones.
And with a granite kitchen island that also comes with a charming visual appeal, it will feature excellently in your kitchen. It will not go out of style and gives any kitchen a refreshing and clean personality. 
Stone Amperor: 100% Unbiased Advice & The Widest Range of Countertops

Request for quotes and we'll match you with a selection of Interior Designers!
Previous
Renovation Contractor Tips