Gorgeous Work Space Interiors
Furnishings
2568 views
2568 views
Work spaces aren't the most crucial parts of a home, but believe us, when you do utilize it and a deadline is looming, you'd wish you made it able to serve you better.
Many times productivity levels correlate with how you're responding to your surroundings, and a space which keeps you satisfied and motivated definitely quickens your work pace.
We've listed down five work space ideas which may appeal to you, acknowledging and understanding that inspiration comes differently to different individuals. We hope after scrolling through these suggestions you'll be able to craft the perfect work space for yourself too.
1. Simplicity Works
Credit: DECOmyplace
Some people do their work best when surrounded by clean, white walls. This particular room is majorly decked in white, with only a few quirky decorations thrown around the space. Overall, it's kept rather enclosed and minimalistic, which does really well at cutting out various forms of unwanted distraction.
If your work is the kind that needs utmost concentration, then we'd recommend having a work space like that. Imagine how ideal this work area will be, with a little bit of classical or even jazz music playing in the background.
2. Keeping It Organized
Credit: DECOmyplace
The most obvious advantage an organized work space brings is high levels of efficiency. Knowing exactly where your necessary stationery, equipment and even documents are kept makes completing your tasks a whole lot faster.
We'd suggest getting lots of labels to mark your storage systems, so things can be found really quickly. Frustration levels are then kept low as well, because you're less likely to get annoyed when you need to search for something but are staring at five similar storage boxes when only one contains a specific item you need.
3. Keeping It Messy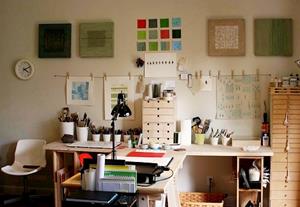 Credit: DECOmyplace
Or, you could do the exact opposite. We know some people work best admits their own organized mess, it's something that fuels them, more so than if things were kept really neat. Sometimes it's inevitable too, when work takes up an overwhelming large amount of time, to put everything back in order and organize the area.
We'd say paint the room white or a light cream colour, since any other stronger colour will end up making the space look even more congested. Invest in little drawers and pen holders, so you can throw any unsightly items into them really quickly as well if your table totally runs out of space.
Buy fabric tape or a bunch of wooden pegs, and make use of the wall space to paste ideas of mind maps cluttered around your table. They make your mess look artistic and may even help you think better as you're staring at the documents stuck on your wall.
4. Inspiration From The Streets
Credit: DECOmyplace
If you're lucky enough to have a great view of the street below your house, by all means have your work desk placed directly in front of the window. It definitely beats facing a plain wall when you're in need of inspiration.
People watching while configuring ideas in your head may serve as a great source of inspiration, the little things people on the street do may fuel ideas at the most random of moments. Even if it's a day or merely plowing through boring paperwork, people watching between breaks helps calm your mind too.
5. Throw In Colour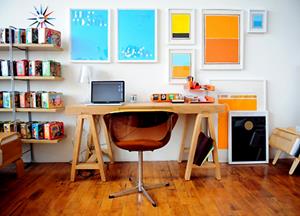 Credit: DECOmyplace
If your work constantly requires thinking up crazy concepts and wacky ideas, then injecting a whole lot of colour into your work space may be the best cure for the occasional brain block. Having all that colour may possibly stimulate your brain in more ways than one.
It would be great if you could do up a feature wall, by personally painting a mural, or getting someone talented in art to help you with it. That's gonna make your room look amazing, and we're sure sitting in the middle of that amazing room is bound to kickstart some awesome ideas.
If you want something simpler, frame up a ton of coloured paper, it works all the same too. It's cheap and easy yet does so much in brightening your room.
Request for quotes and we'll match you with a selection of Interior Designers!
Previous
5 Creative Natural Decors for Contemporary Homes
Next
This Infograph Will Show You Why Your Basic Fire Insurance Scheme Is Not Enough