Guide To A Luxury Themed Home
Interior Design & Decor
4015 views
4015 views
You may not own a fabulous mansion the size of a football field, but who's to say you can't doll your house up until it looks fit for a princess? Adopting a luxurious theme for your home is a trend that's currently on the rise, and here's our foolproof guide to achieving it.
1. Rich Colours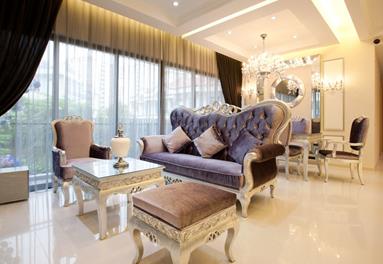 Credit: United Team Lifestyle Pte Ltd
Colour selection probably plays one of the largest roles when it comes to turning your home into a fancy looking space. Turn to rich colours; some of the more common choices include purple, deep red or even midnight blue.
If you're looking for something more classic, then red works the best, especially when paired with a bit of gold scattered around the space. Some examples could include deep red curtains with gold trimmings, or a deep red bedspread with the addition of gold cushions.
For modern vibes, purple may be a good option, and you could try it against a majority of white. Although it's a colour which symbolizes royalty, the trick is to keep the purple to a minimum, because too much may either turn the place too gaudy or childish.
2. Materials Used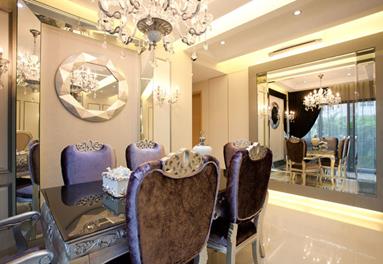 Credit: United Team Lifestyle Pte Ltd
For starters, marbling would make for a good choice when it comes to flooring, and the shine it produces is a definite plus point. There are a variety of patterns available for marbled flooring, and it's advisable to select one which isn't too over the top.
Glass items are great for luxurious themes too, be it in the form of lavish dining tables or gorgeous mirrors hung on various walls. Suede and leather are perfect for any kind of seating, and you can even have a bit of both in the same home.
3. Lighting
When you think of lights in this context, we're pretty sure your mind automatically drifts to chandeliers. Magnificently grand, chandeliers are a beautiful addition to a luxurious home setting. Ensure to select one which not only matches your overall colour scheme, but whose size also fits your home.
With houses which posses high ceilings, selecting exaggerated chandeliers will aptly add to the room's grandeur. If your ceiling is particularly low or your space is pretty tight, opt for a much smaller chandelier option, preferably one with less detailing.
However, if you're not a fan of chandeliers, fret not, for there are other luxurious alternatives. Table lamps are great lighting options as well, especially ones with crystals or trimmings hanging off the lamp shade. Intricately designed oriental lamps made out of porcelain are also a superb choice with its graceful allure.
4. Bathrooms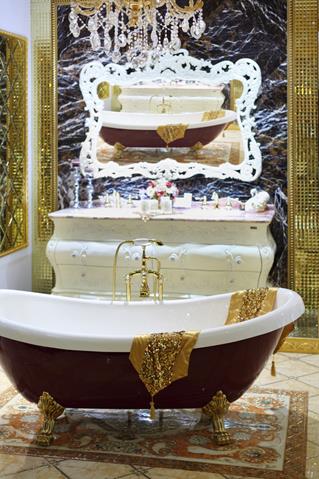 Although bathrooms are one of the tiniest rooms in the entire house, they can sometimes be the most frequented space in the household. Therefore, it has to look presentable and fitting with the theme.
Besides being consistent and keeping up with the apartment's colour scheme, every piece of furniture put in there has to be coordinated too. Vintage bathtubs are the best fit, something simple will do; even the most minimalistic ones are elegant enough. The sink area could do with traditional Victorian inspired basin taps and knobs too for added effect.
5. Fancy Headboards
Credit: United Team Lifestyle Pte Ltd
This may be merely a subtle element compared to the rest of the house, but almost every luxuriously furnished houses come with a lavishly decorated headboard.
Leather and suede are two great options to consider, and you could even add embellishments like crystals, dotted along the headboard to make it look a little more luxe. This particular photo showcases a headboard which stretches from the top to bottom of their wall, which we think is a clever and impressive design.
6. Additional Accessories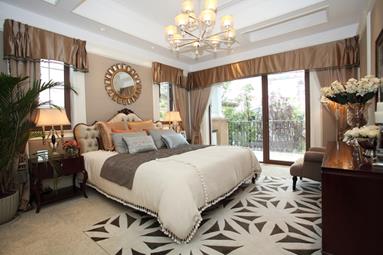 Even if marbling looks stunning when done throughout your house, an added carpet could actually take it up a notch. You don't necessarily have to place it in all rooms, just where the need for extra texture is essential.
Paintings are also a great accessory to have, especially portraits featuring the Victorian age, rimmed with golden frames. It helps brighten up the place and gives it an opulent flair too.
The last accessory we suggest may not be an obvious choice, but we highly encourage the addition of fresh flowers. Pick an elegant mix from the florist, with minimal colours added into the bunch. Place them in glass vases, with silk ribbons tied around for a more fancy outlook. It may sometimes feel like a hassle to constantly purchase fresh flowers, but they do add more life and energy to your home.
Of course there are countless other ideas you can simultaneously use with the above guidelines, after all the fun's in seeing how grand your space can get as you slowly inject life into every corner. We may not all have the luxury to live like kings, but we can definitely surround ourselves in a posh setting and continue to dream.
Request for quotes and we'll match you with a selection of Interior Designers!
Previous
Uncommon Ways To Lessen Noise Pollution In Your Home
Next
Exploring Different Types Of Wood