He Brings Artwork Into the Kitchen
Interior Design & Decor
12276 views
12276 views
Interior designer Ken Beh (right) poses with first-time flat owner Xavier Tan (left) and the portrait that he hand drew for Tan's kitchen backsplash. Beh hopes that his works will encourage local home owners to be more open to and adventurous about displaying art in the kitchen. (Photo: Loh Yong Jian)
---
Here's what you can find in the kitchen of first-time flat owner Xavier Tan: a stove, a chimney hood, a sink, cabinets and two pieces of artwork.
On one side – facing the stove – is a hand-drawn portrait of a hillside village overlooking a couple in embrace. On the other – sitting by the sink – is a mash-up of espresso machines from different eras.
These works are among a growing catalogue of designs that interior designer Ken Beh, 57, produces on kitchen backsplashes as part of his 'Designer ArtDeco Kitchen' package for home owners.
Beh, who counts himself as an amateur artist, started installing art in the kitchens of home owners 2 months ago with the aim of breaking down the perception that the kitchen is a "place of work".
When it comes to displaying artwork, he feels that this leads to home owners often neglecting their kitchens in favour of other spaces in the house such as the living room and even the bathroom.
"When you cook and do your dishes, the mood is different (after art is installed)," Beh says.
For Beh, nowhere is art more important than in the kitchen.
The kitchen's traditionally small size in a BTO flat or condominium unit prevents it from being configured as freely as other spaces in the house, leaving art as one of the few ways in which home owners can express their personalities and differentiate their kitchens from others', he explains.
THE ART OF KITCHEN ARTWORK
Although Beh has been in the renovation industry for over 30 years, he admits that he hasn't always looked at it from an artistic standpoint.
For the most parts of those years, he ran a carpentry firm, toiling behind planks of wood, hammers and nails.
He was forced to close it down in 2013 in order to take care of his wife, who had been diagnosed with leukemia.
During this time, he travelled extensively and became fascinated by art galleries and museums in the US and Europe.
He cites the works of late artists Andy Warhol and Jackson Pollock, famous for their pop art and abstract drawings respectively, as his inspiration.
Upon returning to Singapore, he designed and constructed a rotating easel stand in his flat.
Beh, who describes his style as a cross between drip art and line art, started spending his free time in front of the easel stand, churning out artwork that he gave away to his friends.
The feedback was good.
Fed up with the plain spray-painted glass backing in his kitchen, Beh decided to experiment with his backsplash, studding it with pop culture icons like characters from animated comedy 'The Simpsons', cartoon-ised drawings of superheroes and stylised logos.
But his first artwork didn't survive the gruelling conditions of the kitchen. The enemies? Heat and moisture. It wasn't until his fifth artwork that he got the formula right.
Today, he works with a local printer to turn his artwork onto vinyl stickers that have been specially treated to prevent peeling and fading of colours.
Each sticker is then layered onto a stone backsplash before being capped off with a sheet of tempered glass.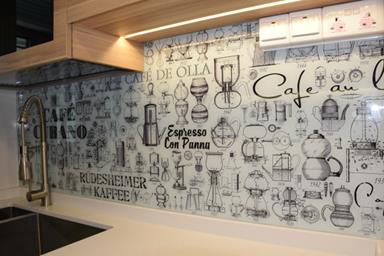 Interior designer Ken Beh assembles this mash-up of antique espresso machines after combing through hundreds of stock images of patent drawings. Beh, who has a diploma in mechanical engineering, was fascinated by the evolution of the machines over the centuries. (Photo: Loh Yong Jian)
---
TOO CONSERVATIVE
Despite seeing an uptick in interest in his 'Designer ArtDeco Kitchen' package, Beh thinks that Singaporeans are still reserved about displaying art.
He believes that Singapore "hasn't yet fully developed an artistic culture".
The common misconception is that artworks are big and that most dwellings in Singapore simply don't have the space to accommodate them, according to Beh.
Even if local home owners are willing to install art in the kitchen, Beh notes that they usually go for simple designs. "I've encountered customers who told me that they can't see dirt on their backsplashes if the artwork is too messy or complicated," he recounts with a laugh.
Beh, who currently has over 1,000 designs in his catalogue, wants to change that mindset by continuously coming up with new artwork. He estimates that he now produces over 50 designs monthly.
Likening his range to limited-edition apparels, Beh says that he intends to stop selling a design once it becomes too popular because he wants home owners and their guests to have a "one-off experience".
He hopes that this practice will instill a sense of privilege and exclusivity in art owners and push Singaporeans towards better appreciating art.
THE VALUE OF ART
However, Beh says that cost remains the biggest obstacle. "How many people are willing to pay S$700 for a piece of art?" He asks.
To that end, most local home owners depend on carpentry to carry their creativity and the character of their homes, according to Beh.
Switching the laminate can easily change the look of the house, and it's functional too because the laminate comes with the furniture.
But Beh, who used to be a carpenter, warns that renovation costs could easily go up once home owners get too creative and decide to add "curves and slants" to their furniture.
In fact, Beh believes that most carpenters prefer to stay away from overly elaborate home projects at the risk of quoting a price that's too 'high' for owners.
For this reason, Beh, who takes between a few days and a month to produce a kitchen backsplash art, includes his artwork in his kitchen renovation package.
Asked if the complexity of the artwork affects the cost of the package, Beh says that he charges a flat rate because he "wants to make the pricing scheme less confusing for people".
With no discrimination between different art pieces, he hopes that Singaporeans can become "more open and adventurous" in renovating their homes.
Stone Amperor: 100% Unbiased Advice & The Widest Range of Countertops

Request for quotes and we'll match you with a selection of Interior Designers!
Previous
Beautify Your Home With These 8 Creative Pegboard Ideas
Next
Lovely Ideas That Will Make You Crave An Indoor Garden