He Builds Own Furnishings from Scraps
Living & Lifestyle
10174 views
10174 views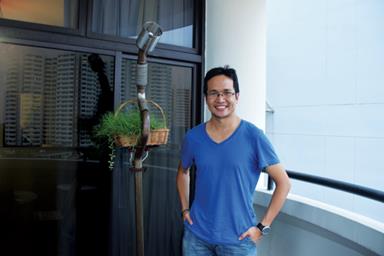 Witono Halim with the floor lamp that he built out a wheel rim and an exhaust pipe. Halim builds his own furnishings out of unwanted materials in a bid to move away from the 'buy and throw away' culture. (Photo: Loh Yong Jian)
---
When the lamp in his balcony broke down, Witono Halim, 32, didn't buy a replacement; instead, he built a new one from a wheel rim and an exhaust pipe that he salvaged from a friend's car which was bound for the scrapyard.
Other furnishings that he has designed out of unwanted materials include a chandelier made from parts of a bicycle such as a chainset and chains and a planter made from brass pipes and a broken glass bulb.
Halim, who works as a researcher and a freelance photographer, has been dabbling with do-it-yourself (DIY) projects for over 10 years. He uses leftover materials as much as possible.
One of his first projects was a study table, which he constructed from scrap wood when he was 17.
Learn how to make: DIY Floor Lamp Planter
For Halim, it's about defying the 'buy and throw away' culture that he feels has become increasingly prevalent in Singapore.
At the same time, he's inspired by a lesson that his father had taught him: resourcefulness.
"When I was a kid, if my toys spoiled, my father won't just buy me a new one," he says.
"He put aside a box for me. Whenever my toys spoiled, I'd put them inside this box and he'd fix them during his free time. We called the box the toy hospital," Halim recalls with a smile.
When it comes to damaged furnishings, he aims to first repair them and only buys from the furniture store as a last resort.
OPEN-MINDED
Although his works usually require specific components, Halim says he hasn't had any difficulty gathering the necessary materials.
He shows us his diverse mix of resources: bicycle tyres, bicycle chains, wine bottles and even a coconut husk.
His favourite material? Bicycle chains. They're strong and versatile, Halim says.
The avid cyclist admits that he enjoys a close relationship with the owners of the various bicycle workshops near his house, making them more willing to donate surplus bicycle parts to him.
But Halim feels that being open-minded when collecting materials is equally important.
He stockpiles scraps without knowing when he would get to use them, if ever. "I still don't know what to do with the bicycle tyres and wine bottles," he says.
He likens himself to a chef who cooks with seasonal ingredients.
When such a chef cooks, he or she only gets to work with what's available at the time and still combine the different ingredients into a dish that works, he says.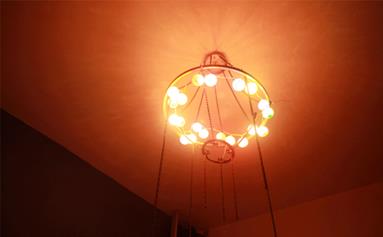 Witono Halim, who is an avid cyclist, created this chandelier out of a wheel rim, a chainset and chains. He gathered some of the components from his own bicycles but received the rest as donations from the owners of the bicycle workshops that he patronises. (Photo: Witono Halim)
---
ONLY WHEN NEEDED
Because of this methodology, Halim's works can often end up resembling pieces of designer furniture, with unusual shapes and styles that rebel against the looks of conventional furnishings.
But he says that what he does isn't upcycling, a term used to describe the process of turning discarded materials into a product of higher value.
"It (my work) always comes with a need," he says.
"It isn't just about making things for the sake of aesthetics; it has to be functional."
A DIY furnishing has to be "structurally strong and corrosion-safe", two characteristics which Halim feels are often overlooked by those who pursue projects solely in the name of art.
A work that doesn't hold up can end up causing people to consume even more building materials or, worse still, buy new furniture, leading back to the 'buy and throw away' culture that Halim is trying to avoid.
He also declines to commercialise his works, instead believing that DIY projects should be open source and simple enough for anyone to undertake.
To encourage people to try their hands at making their own furnishings, Halim publishes instructions to his projects on his blog.
A PLACE FOR DIY PROJECTS
But Singaporeans have yet to truly warm up to the concept of building their own furnishings, according to Halim.
Unlike the US and Europe where people usually have their own workshops or garages to experiment in, most Singaporeans simply don't have enough space in their HDB flats or condominium units to accommodate the necessary tools and equipment, Halim says.
Members of the public work on their DIY projects at XPC, a workshop operated by homegrown hardware retailer Home-Fix. The workshop features several specialised tools and equipment that are not usually accessible to the public. (Photo: Home-Fix)
---
At least one company is aiming to change that.
Homegrown hardware retailer Home-Fix converted 10,000 sq ft of its headquarters in Tai Seng to a public workshop called XPC in 2014.
Known as a makerspace, it features specialised equipment such as production work benches, bench vices, power tools and computer-controlled cutting machines that the public can use to design and produce objects for a fee.
A daily pass costs $20, while a monthly pass costs $250.
It can accommodate up to 50 people at any one time.
Those using the workshop for the first time have to attend a course that introduces participants to the basics of creating their own works. Sessions are held twice monthly.
XPC also rents its space to professional makers, who conduct DIY classes and provide guidance to workshop users.
One such maker, Tony Goh, 54, teaches the electrical and plumbing classes at the workshop but makes table lamps out of wine bottles during his free time.
As Singapore has no glass recycling plants, glass waste is usually sent to the landfills or exported.
Goh hopes to reduce wastage by reusing wine bottles instead of throwing them out.
Request for quotes and we'll match you with a selection of Interior Designers!
Previous
DIY Floor Lamp Planter
Next
10 Facts & Myths About Green Cleaning