Here's How This Interior Design Company Produces Top-notch Furniture
Interior Design & Decor
2540 views
2540 views
Wood is by far one of the most popular materials used in home renovation, but how can you guarantee the wooden furniture you're paying good money for is exceptional in quality?
Two is Better Than One
Most times, interior designers outsource the production of customised furniture to carpenters in the industry. However, Darwin Interior, an interior design company with their own carpentry division, produces their share of wooden furniture completely in-house.
The advantages of doing so? Communication is more effective and efficient, ensuring fewer hiccups are likely to occur, putting you, the homeowner, at ease. Any request for changes in design can be worked on immediately, allowing for a speedy process – much faster than if an interior designer had to liaise with an outsourced carpenter.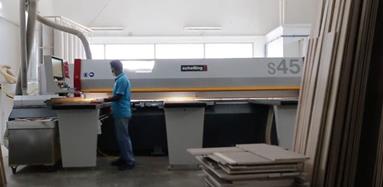 100% Accuracy
There can be nothing more precise than using a machine to manufacture furniture parts, and Darwin Interior's Schelling S45 cuts all pieces of wood right down to the nearest 0.1mm. For example, if you're planning on customising an entire set of identical wooden chairs, the Schelling S45's accuracy ensures every piece will turn out exactly the same. It can also cut at an angle, expanding the range of furniture it's able to produce.
Since all cuts are done by a machine, Darwin Interior's carpenters have more time on their hands to concentrate on the finishing touches of your furniture, which in turn ups the quality of their products.
Termite-free For Sure
Termite infestations are one of the most problematic issues associated with owning wooden furniture. However, Darwin Interior's supply of wood comes in fresh every single day, and before it reaches their hands, it's kept in conditions that are AVA approved.
Originating from Indonesia, their wood supply goes through two fumigation processes in total – one before and one after heat treatment. The only time it's more susceptible to infestation is when it's placed in their factory itself, but Darwin Interior makes sure to utilise their entire wood supply on the same day it arrives, eliminating any chance of a termite invasion.


If you''d like to learn more about Darwin Interior, scroll down to check out what they do:

Main Branch                                                    East Branch
70 Bendemeer Road, Luzerne                   5 Tampines Central 6, Telepark
#01-01 Singapore 339940                          #01-12 Singapore 529482
Tel: 6393 8558                                                 Tel: 6781 8558
West Branch                                                     North Branch
Block 634 Bukit Batok Central                   18 Yishun Ave 9
#01-100 Singapore 650634                        #01-80 Junction 9, Singapore 768897
Tel: 6786 8558                                                 Tel: 6252 8558

Alternatively, you can email the team at: sales@darwininterior.com.sg 
Request for quotes and we'll match you with a selection of Interior Designers!
Previous
Cosentino x Iggy's: A Match Made In Heaven
Next
6 Cool Tips To Organize Your Tiny Home