Here's How You Can Make Ironing An Easier Process
Living & Lifestyle
2825 views
2825 views
Wash, spin, dry – and hello rumpled pieces of laundry awaiting the iron. Did you know that heavy duty ironing can be minimised simply by tweaking your typical washing routine? Read on, and take heed!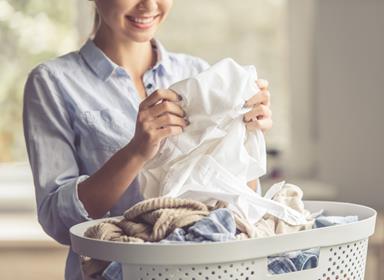 BEFORE
Split your washing into smaller loads. Remember that everything you put inside the washer ends up spinning around together. The bigger the load, the less free space there'll be – and that causes those unsightly wrinkles.
Separate light and heavy fabrics. Apparels with bulk will press onto lighter materials like silk or chiffon blouses, resulting in an overload of creases. Washing them separately ensures less rumples formed on more delicate materials.
DURING
Quality fabric softeners will do the trick, but those interested in a more natural approach can try using vinegar. Simply pour white distilled vinegar directly into the fabric dispenser during the rinse cycle and let it work its magic! You could even add a drop of your favourite essential oil for fresher smelling clothes.
AFTER
Overdrying your clothes will heat them up, leading to problems like shrinkage and wrinkle formation. This is especially true if they're left in a pile together. What you should do instead is to remove all apparel from the dryer when they're slightly damp and rely on natural sunshine.

Request for quotes and we'll match you with a selection of Interior Designers!
Previous
4 Interior Ideas For The Fickle
Next
This 4-room Flat Blends Raw And Retro Together Perfectly