Hints To Add Warmth to Large Homes
Commercial Services
3233 views
3233 views
Do you own a landed property with cavernous floor space but yet facing a problem on how to fill up these spaces, how to make it looked cosy and make you feel like home? Read on to find out on tips to to add warmth to large homes If you're a landed property homeowner with cavernous floor space, you would have a different set of considerations when planning your interior decoration compared to say, someone who's living in an HDB or a condominium. Though it might seem like a challenge to fill up those large spaces, trust us, it's a very fun challenge indeed!

One of the foremost challenges you will be facing will be how to make the space feel cosy as large rooms, particularly those with high ceilings, can exude aloofness and seem stark. Read on for design rules to add balance and warmth while taking advantage of the space that your landed property loft offers.

1. Choosing warm colour palette
Let's start with the obvious one first. Colour is a powerful tool to manipulate how a space feels.
Quick Tip: Paint two-tone walls. By using two colours - one for the bottom part and another for the top, creates the illusion that the ceiling is lower and thus making the room feel cosier.

2. Don't leave the ceiling bare
A large, white ceiling can make the space look endless and boring. Adding visual interest can break the monotony and add definition to the entire interior design of the home.
Quick Tip: Ceiling beams can complement almost any style. Best of all, they don't have to real. Faux ceiling beams are quick and easy ways add to the architecture of your home.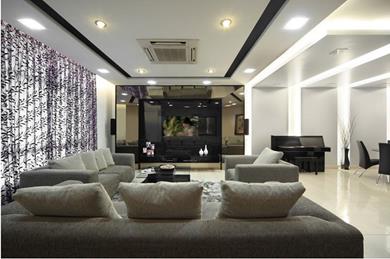 3. Defining areas
Zoning is a great trick to When you a space that is big enough to host multiple functions, you can play around with several ways of defining the space from one function to another.
Quick Tip: Consider using rugs, room dividers or, bookshelves even a console to section off certain parts of the room.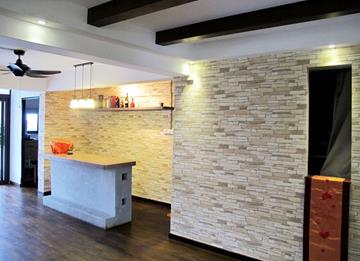 4. Wonders of foliage
Plants are an inexpensive way to accessorise your home as well as to infuse vibrancy into your home.
Quick Tip: Placing a tall potted plant against a bare wall or in empty corners can be a good way to add punch to your interior. If you're feeling adventurous, you can even try to place it in the middle of an open room to soften the space.
5. Nooks for play and rest
If space permits, create zones for activities for different family members, for example an area for playing computer games, an area for reading and another area to kick back and chat with each other.
Quick Tip: If you have an awkward spot which you're not sure what to do with, chances are, it's a perfect place to create a cosy nook! A comfortable chair, a lamp and a side table and voila, you have a reading corner.


6.Oversized furnishings
Avoid small furniture as they will just make the room appear larger and cluttered. Instead, choose overstuffed armchairs, a solid coffee table.
Quick Tip: L-shaped furniture pieces are perfect for filling huge floor spaces as they provide extra seating and facilitate group conversations.
Request for quotes and we'll match you with a selection of Interior Designers!
Previous
Maintenance Checklist For the HDB Home
Next
Choosing a Renovation Package