How To Layer Your Room In 4 Effortless Ways
Interior Design & Decor
2154 views
2154 views
A little layering around the house goes a long way, and while many have the misconception it looks both tedious and complicated, it's actually a pretty simple task. We've gathered a few easy layering tricks you can try, and we guarantee they'll help pump up the atmosphere in more ways than one!
1. With Mirrors
Credit: stylecurator.wordpress.com
Layering with mirrors can go two ways. The first's one's easier, you just need to purchase about two to three mirrors of different sizes, leaning the biggest one against a wall, while having the others lean against it according to size.
The second method includes buying a mirror with a preferably fancy design, and having frame several images around it. This works better if your frames are of various sizes, and you can fill them with either prints or photos.
2. With Rugs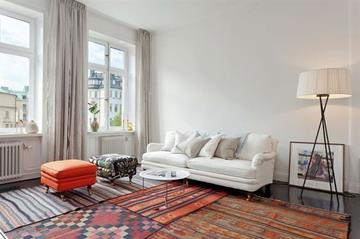 Credit: highfashionhome.com
Ever thought about having two rugs occupy the same space in the same room? Our guess is probably not, since the idea sounds bizarrely complicated. But, if done right, the results can actually look pretty amazing.
Of course you'll have to try to match the rugs right, and here are a few ways to go about it. First off, you could try placing a large neutral aug at the bottom, before having a loud patterned rug sit on top of it. Or, you could try filling up most of your room with a giant rug, and have a bold rug sit where the focal point of your room lies so people's eyes start zooming in on the area.
3. Bedding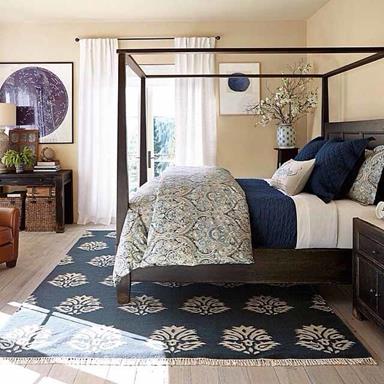 Credit: meadowlakeroad.com
You know how some pictures of plush bedding make you want to just dissolve into the sheets and never crawl out of bed? Well, that's the effect we're going for! Creating a cozy looking bed is relatively easy, and layering is the key.
Start with solid coloured sheets and pillows, with the easiest choice being white. Then, pick out a patterned quilt, as well as cushions of various sizes and designs. Strategically place these cushions around, making it look as comfortable as possible, while drapping half the bed with your quilt.
When choosing your colours and patterns, just make sure they play off each other in colour, style and texture. This simple rule will help you achieve a gorgeously layered bed!
4. Plates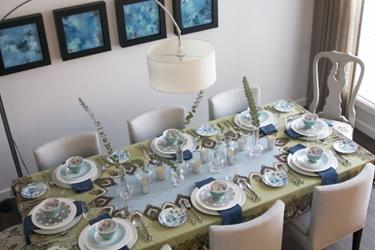 Credit: nylafreedesigns.com
You've hosting a lavish dinner tonight and you're in the midst of making everything look right. It isn't the easiest of tasks, but here's a simple method that will instantly uplift the aesthetics of your dinner table.
Gather your beautiful porcelain plates, and start stacking them, instead of proving guests with one plate each. We'd suggest using one or two plain white plates for the base while placing a smaller patterned plate on top of them. Or, if you so happen to have two to three different patterned plates which both complement each other, that works even better.
To enhance the overall layered effect, maybe add to the table a two or three tiered dessert stand, where you could place mini cakes.
Request for quotes and we'll match you with a selection of Interior Designers!
Previous
5 Ways To Bring Out The Best In Your Bedroom
Next
According To Feng Shui Masters, This Is How Your Work Desk Should Look Like