How To Soundproof Your Bedroom With Style
Interior Design & Decor
34279 views
34279 views
Bedrooms are the most private zones of any home, and their interior design has to be pragmatically relevant in order to provide a wholesome ambiance for the user. Most people tend to focus only on the visual qualities of their bedroom interior designs during renovation  and overlook a very important functional aspect – soundproofing.

Since HDB's tend to be small in size, it's completely possible that you won't get any privacy even in your bedrooms. Therefore, it is important to invest in proper soundproofing. Here are 5 relevant ways you can soundproof your bedrooms with style.
1.

    
Headboard tufting
Fabric can absorb sound on impact, which means it's a great sound proofing device. It's also the foremost choice for designers to soundproof a room with style. You can clad entire walls in fabric as a design feature. You can even use curtains to add some extra effect.
Have a look at this image – it features a bedroom interior design by Northwestern Interior. They've soundproofed the bedroom by using various alterations of fabric classing – curtains and stylish headboard tufting. All of these elements are completely relevant with the overall theme, and only add to the beauty and style of the ambiance.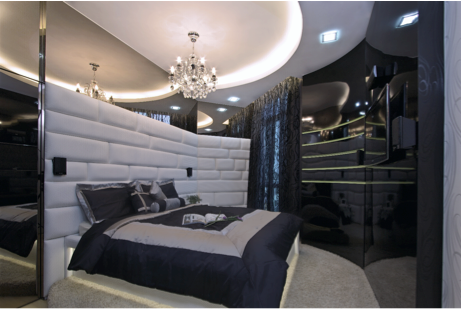 2.

    
Paneling
Wall paneling is an efficient and trendy way to soundproof your bedrooms with style. The best part about this technique is that there are quite a few finishes available in the paneling, so you can choose according to the aesthetic you want.
This bedroom interior design by Design 4 Space is an excellent example of how you can use a combination of laminates and paneling to create a holistic looking interior design that also functionally relevant.
3.

    
Shelving
Shelving creates a stylish barrier between the space outside and the sounds inside. So it's quite a trendy way to soundproof your bedrooms. You just have to make sure that the thickness of the shelving unit is wide enough. If it's narrow, then it may not be good enough.
The shelf in this bedroom interior design by 3D Innovations is a great example. It features a completely trendy and unique shelving unit that creates a barrier between the bedroom and the rest of the home interior, thus adequately soundproofing the space.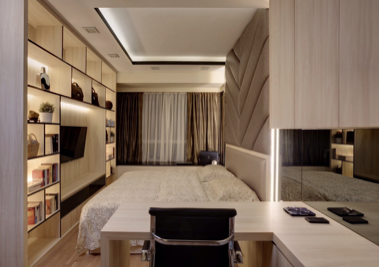 4.

    
Wardrobe insulation
This technique helps you get a fine in-built wardrobe system and stylish sound insulation all in one. It's a completely logical and aesthetically relevant way to soundproof your bedroom in style. The wardrobe helps create a buffer zone between the sounds in the room and the rest of the apartment.
This bedroom interior design by Designer House is a great example of how you can use wardrobe designs to create noise buffers between your bedroom and the rest of the space.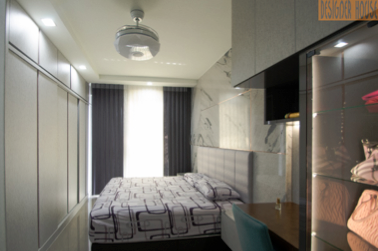 5.

    
Spacious by design
An alternative way to soundproof your bedrooms is by making them spacious enough that the space itself becomes the buffer between the outside noise and the bedroom. You can even use the rest of the above mentioned techniques in the same space to get improved acoustic results.
This bedroom interior design by Designer Guy group shows just how you can use spaciousness by design to incorporate the best soundproofing and acoustics within a space.
Request for quotes and we'll match you with a selection of Interior Designers!
Previous
Renovation Ideas For A Show Stopping Ceiling Design
Next
10 Exceptional Home Renovations