How To Work With Compact Spaces
Interior Design & Decor
3110 views
3110 views
It's not the easiest task designing a two bedroom apartment meant for a family of three, but it's not impossible either. The home owners of this two bedroom SOHO unit at Boathouse Residences succeeded, even managing to make their house look like a dream.
Firstly we have their common spaces, all squeezed into one room. It may sound claustrophobic, but in actuality feels rather cozy. Of course you'll have to keep furniture to a bare minimum, since there may not be enough space to work with.
We love that the television area has a simple colour scheme tagged to it; their light coloured TV console and sofa paired with a solid black rug. The home owners even managed to find a sleek coffee table tiny enough to fit in.
Since their walls have mirrored panels, the reflective effect also makes the area feel a little larger than it really is.
Their kitchen and dining areas are kept simple and stylish, the home owners having added bright cushions, a gorgeous pendant light and pots of cacti to the space. They've even managed to fit in a ceiling to floor display shelf near the door, making their home feel much more personal.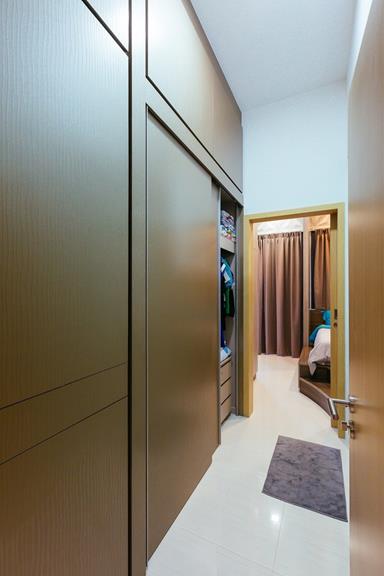 The bedroom may not be large, but it comfortably fits a bed and television set, and with a textured wall the space doesn't come off as flat. They've even made use of the elongated corridor, placing a built in cupboard that's spacious enough to store quite a number of things.
They did a splendid job with their daughter's bedroom, having split the area into two levels, maximizing the space. In the end there's even enough room for a piano, proving that even with a huge challenge like space restraint, anything can be worked around.
---
Project by NID Design Studio
Request for quotes and we'll match you with a selection of Interior Designers!
Previous
Amazingly Beautiful Ideas For Typography Decorations
Next
8 Effective Home Workouts To Burn Off That CNY Bulge FAST