Ingenious Products That Save Space in Your Home
Furnishings
2703 views
2703 views
Singapore homes are constantly dealing with the uphill battle of maintaining liveable square footage. Your battle is about to meet a few game-changing weapons. When conserving space in a home, you will always get the same old generic advice: "minimalism is your friend". Living clutter-free and creating multifunctional spaces is a step in the right direction.
Here at RenoTalk though, we've found some pretty snazzy items that transform your living spaces without looking cheap, tacky or disposable. The best part? They can be conveniently tucked away, until you need them the most.
1. Turn Corners into Bookshelves
In interior design, the corner is the focal point of the room. Many corners are staged with a vase, a sculpture, or some decorative artwork. Be a rebel and add some functionality to your corners, with this strangely shaped but trendy wall-hanging wooden corner shelf.
(Source: Dornob.com)
Your living room could always use more storage, and this unique shelf can also be used to display ornaments. The underrated shelf is a mighty hero, that can house your boastful book collection or that eclectic souvenir you bought on your many travels to countries most people can't even pronounce.
The big win? This handy dandy shelf is anchored against your corner wall, freeing up floor space for what matters to you.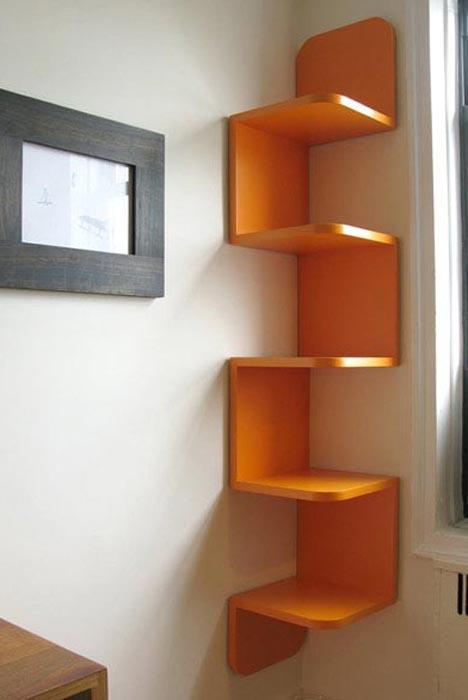 (source: Dornob.com)
This beauty is called the Lorna shelf, made by the William Feeney Studio, a boutique architectural woodwork furniture maker from New York and can ship to Singapore.
2. Upsize Your King-size Bed
Have you any idea the amount of floor space is taken by your bed? Sure, you sleep on it and it's a source of comfort and joy on a lazy Sunday morning, but it needs to accommodate your living. When living in cramped and congested bedrooms, the fight to store your valuables - be they the last season's Gucci collection or your grandma's ugly Christmas sweater - is never-ending.
Here is your new comfy bed: the MAWN, white storage bed. Okay okay so it doesn't sound luxurious but it's a heck of a bed. Offering storage galore, back support is just a sturdy mattress away and is hardly a compromise.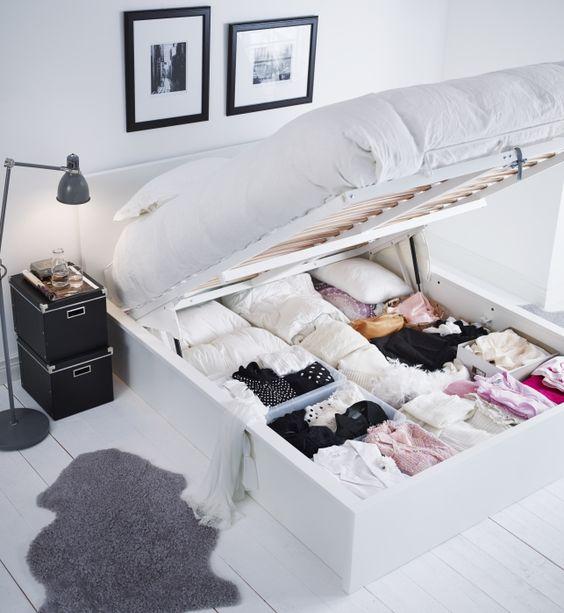 (source: IKEA)
Made by the quirky Swedish furniture company we know and love, its as if IKEA designers had space predators in mind when they prototyped this bed. Stop by your friendly neighbourhood IKEA to see if you can pre-order it.
3. A Retractable Kitchen Island
You've always wanted more kitchen countertop space despite having a slender kitchen. I mean, showing off the marble counters to dinner guests as you host a fancy dinner party is high up in the list of home envy dreams everyone has. Well, we've got you sorted.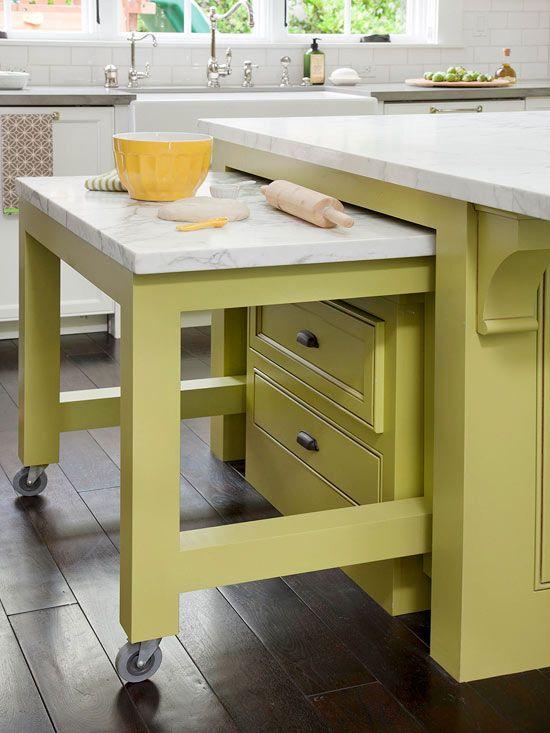 (Source: Better Homes and Gardens )
This retractable kitchen island can be drawn from the kitchen island like the picture or drawn from a peninsular countertop found in smaller and slender kitchens in HDB flats.
Its wheels are a convenient feature. Imagine being able to move your prepped ingredients across the kitchen, moving from station to station like a professional kitchen. When you're done, simply tuck it away and it will be out of sight, out of mind.
4. Staircase Storage
A mass craze is sweeping the interior design world. Staircase storage is pushing the boundaries of space conservation. The ridiculousness in this is not having thought of it sooner. Dutch architects are hollowing risers out and turning them into bookshelves, and this has been hailed as a revolutionary idea.
Family homes and HDB flats with split level stairs are turning their split landings into cupboards, much like the one in the picture.
(source: www.esspressen.se)
In conclusion, space conservation is a constant struggle, but we hope you stumbled across a few interesting ideas. Just remember to be bold and take a chance on remodelling and reconverting.
If you need to bounce off ideas, hit us up at Renotalk community to find a solution that fits.
Published: 26 June 2018
Request for quotes and we'll match you with a selection of Interior Designers!
Previous
8 Feng Shui Myths Debunked - 8000 Years of Feng Shui Wisdom for Modern Living
Next
Cosentino Releases an All New Dekton Industrial Collection and Updates the Natural and XGloss...