Inspiring Interior Design Theme Cafes and Restaurants in Taiwan
Interior Design & Decor
6417 views
6417 views
Apart from fantastic culinary, an appealing interior design can also help generate business for a cafe or restaurant. A special interior design will differentiate you from the ordinary on the market and leave a deep impression on the customers' minds.
The June holiday has arrived and if you are looking for theme restaurants in Taiwan with good food and atmosphere, try walking down the stretch of Wuquan Street in Taichung City which hosts a variety of interesting restaurants and cafes, ranging from Mexican to Mediterranean.
Little Fiesta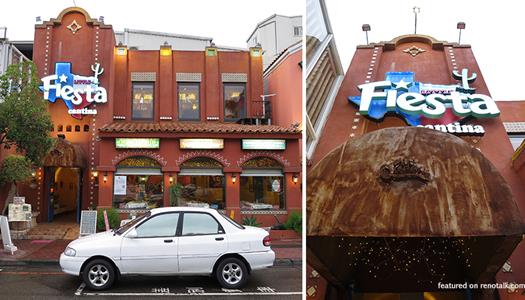 This Mexican café serves its famous fajitas, slow smoked briskets, ribs, margaritas and a whole assortment of Tex Mex dishes.
Step into this bright and cheery establishment and you will be immediately transported to a San Antonio cantino. Decked out in colourful furniture and eclectic lightings, the exuberance of the place will no doubt perk you up while you sip margaritas and chomp on fajitas.
Walkway. The wooden logs are used as decoration and for the wood oven fire
The bar counter serving margaritas, tequila shots and other mexican cocktails.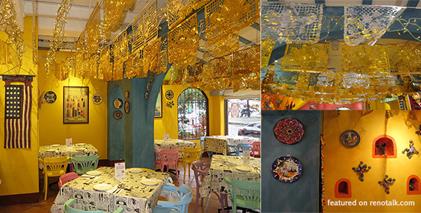 The ceiling is adorned with beautiful "papel picado" or Mexican perforated paper streamers.
106 Wuquan West 4th St, Taichung City Tel (04) 23785587
Interior Decor: 3.5/5 stars
Opening Hours
Mon - Fri: 11:30 am - 2:30 pm, 5:00 pm - 10:00 pm
Sat - Sun: 11:00 am - 3:00 pm, 5:00 pm - 10:00 pm
Little Italy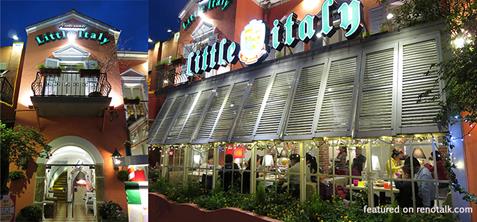 Little Italy's two-storey building has a seating capacity of about 120 and is equipped with faux fireplaces, wooden rafters, patterned wallpaper, vaulted doors, chandeliers and Italian music that allow you to soak up a full Italian atmosphere.
The handmade, thin-crust Manhattan-style and Stromboli pizzas are both baked in the restaurant's wood-fired pizza oven. While we were there, we saw many local patrons, especially families, streaming in for dinner.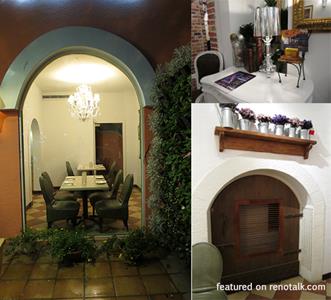 105, Wuquan West 4th Street, Taichung City (04) 23726463
Interior Decor: 3/5 stars
Opening Hours: Mon-Sun, 11:30am-9pm
Tao Huan Yuan Restaurant and Cafe
This restaurant boasts of a fusion of Japanese and country themes. Consequently, the interiors have a sleek modern country look with a touch of Zen appeal.
There is a wide range of food available from the highly popular German pork knuckles to Tahitian ice tea. You will get hungry just by looking at the menu.
107, Wuquan West 4th Street, Taichung City (04) 2371-8880

Interior Decor: 4/5 stars

Opening Hours: Mon-Sun, 11:30am-9pm
La Bretagne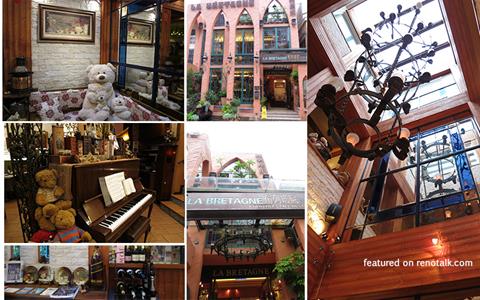 Gothic-style chandeliers, coloured glass windows and arched corridors mixed with a country- theme interior makes you feel like have just stepped into a castle home of a royalty.
This restaurant serves mainly French country-style dishes and the variety includes steaks, lamb chops, seafood and pork knuckles. Must-trys include the pan-roasted mushroom terrine chicken steak. Top up with a small amount to get bread rolls that comes in three varieties - Italian spice, French, Japanese green tea and cream flavours. These are freshly baked by hand after you place an order.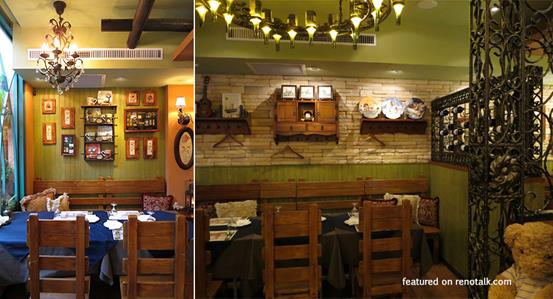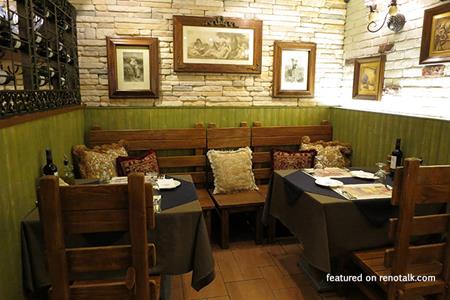 The old country look with that cosy cottage appeal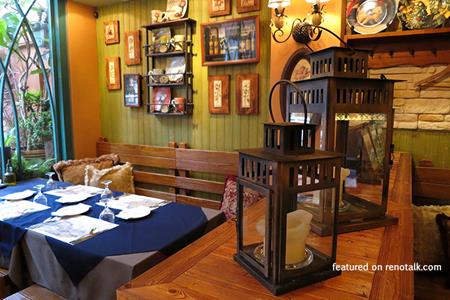 63 Wuquan West 4th St Tel (04) 2378-0489
Interior Decor: 4.8/5 stars
Opening Hours: 11 am-2 pm, 5-10 pm
Pumpkin House
The theme of this cafe is obviously pumpkins! Well, actually, pumpkins and pigs. Strolling into this brick cottage building will reveal a plethora of pumpkin and porky knickknacks all taking up strategic spots on the walls and ceilings.
Billing itself as a New Orleans and Italian bistro, its house specialties are the cheese baked potato meals and the pasta and paella offerings. Be prepared for a very filling meal!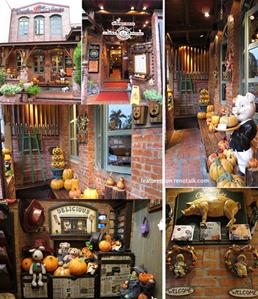 Knickknacks galore – pumpkins rule!
If you are looking for a nice place for afternoon tea in a country setting, you should try their signature pumpkin pie here.
Clever placement of bricks to double up as a shelf. Bottles of wine are stacked up neatly.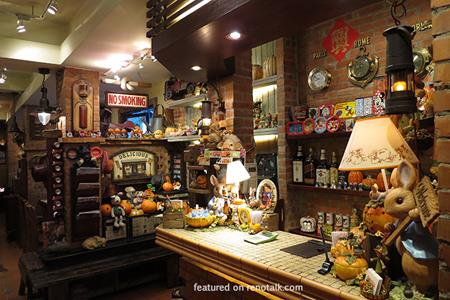 108, Wuquan West 4th Street, Taichung City (04) 23728456

Interior Decor: 4/5 stars

Opening Hours: Mon-Sun, 11am -3:30pm and 5:00pm-10:20pm
Walnut's Castle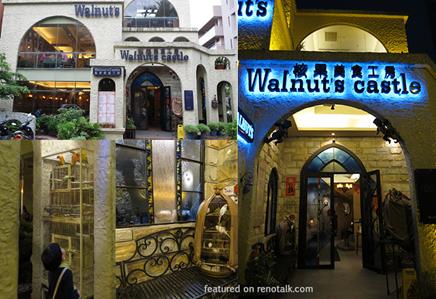 Walnut's Castle is a Mediterranean themed restaurant serving flavours from Spain, France, Italy and other European countries. The front entrance comes alive with chirping birds housed in bird cages, attracting both children and adults alike. Food is served in huge portions and the customer service is excellent. Must-try dishes include shrimp ball rice with raspberry and walnut, pork steak rice with rum and cherry, and salmon rice with cranberry and pine nuts.
Heavy European influence here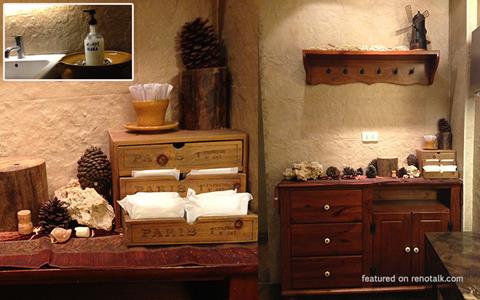 Clever usage of vintage vodka bottles as soap dispensers
61 Wuquan West 4th St Tel (04) 23781768
Interior Decor: 4.5/5 stars
Opening Hours: 11 am-3:30 pm, dinner 5pm -9 pm
Request for quotes and we'll match you with a selection of Interior Designers!
Previous
Loft-Inspired Living In A Small Space.
Next
Tips for Creating a Scandinavian Interior